"I hope Rajon Rondo shoots a lot": Mark Cuban jinxes Clippers star ahead of Mavericks' first round rematch with Kawhi Leonard and co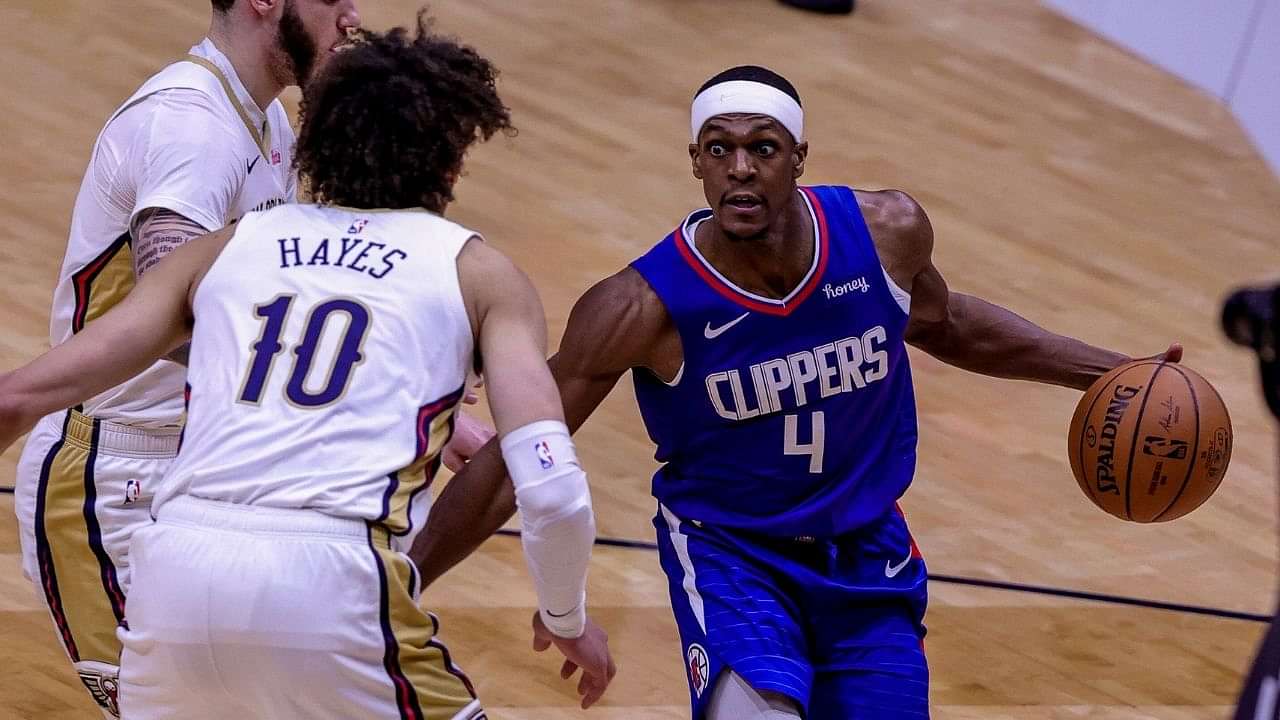 Rajon Rondo and Mark Cuban probably don't see eye to eye, as the former Celtics point guard gave up on Cuban's Mavericks in the playoffs once.
The Boston Celtics traded Rondo to the Mavericks at the start of the 2014-15 NBA season. This was supposed to be a move that extended Dirk's playoff run by a few more years in Dallas.
It didn't pan out how fans expected it to go, at all. The Rondo experiment turned out to be an unmitigated disaster as he didn't see eye to eye with Rick Carlisle. This boiled over during the playoffs as Dallas lost their first round series to Houston.
Also Read: Warriors head coach Steve Kerr reveals why their loss against LA Lakers will be helpful while facing Ja Morant and Co's Grizzlies
Rondo seemed to give up on his team during the series, turning the ball over intentionally and refusing to acknowledge Carlisle's instructions. Mavericks fans and Mark Cuban have understandably soured on Rondo ever since that time.
Mark Cuban wants Rajon Rondo to shoot the ball more
Cuban has seen the worst of Rondo's play, and he definitely isn't a fan of the former Celtics guard's shooting. The Shark Tank mentor didn't hesitate from encouraging his former player from shooting with a green light in this year's playoff series:
"I hope he shoots a lot. I hope he takes more shots than any guy on the team from outside the paint."
Loading embed tweet https://twitter.com/townbrad/status/1395386226912464898?ref_src=twsrc%5Etfw
Also Read: "Kwame Brown exposes hypocrite Stephen A Smith": Former Lakers center passionately breaks down exactly how the ESPN analyst demoralized him through his career
Cuban's strategy is easier said than implemented on court. Rondo has transcendental point guard capabilities. He's able to sniff out plays before they unravel in front of his eyes. Very few details escape his gaze, and he also has one trick up his sleeve or the other.
Rondo has also become a reliable shooter in the playoffs – or at least that's how it seemed in his run with the Lakers last year. Rajon Rondo led the Lakers in 3-point shooting in a few series – notably against the Houston Rockets and the Miami Heat.
---