"If Not For James Worthy, I'd Have Two Rings": Michael Jordan Wasn't The Problem For $100 Million Worth Knicks Legend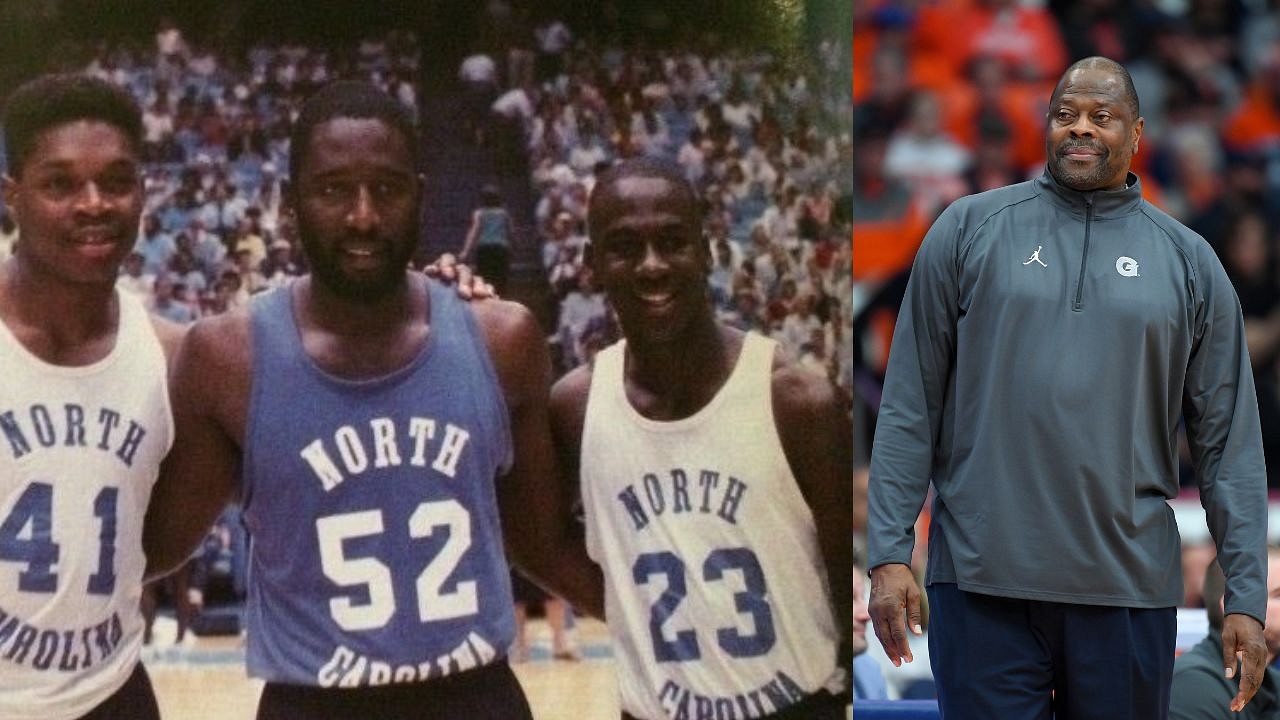 Patrick Ewing is one of the most iconic players in NBA history. The man was an unstoppable force in the paint and one of the most dominant players the league has ever seen.
There was one thing that eluded him while in the league, an NBA Championship. More often than not due to the fact that the GOAT Michael Jordan was always in his way.
But, while in college, Ewing had great success, winning an NCAA Championship. Although he could have had more championships if MJ didn't have a college teammate by the name of James Worthy.
Also Read: "I was Better than Michael Jordan for About 3 Weeks": James Worthy Recalls Bulls Legend Talking Trash Since Their Days at North Carolina
James Worthy was more of a problem for Patrick Ewing in college than Michael Jordan
In 1984, Georgetown University won the NCAA Championship under the leadership of Patrick Ewing. But, this wasn't the first time Ewing was in a championship matchup.
The 1982 NCAA Championship match saw Ewing's Georgetown take on North Carolina, a team that featured Michael Jordan. Unfortunately, Georgetown lost, but not because of MJ, rather because they had no one to stop James Worthy.
Ewing revealed just how tough it was to stop Big Game James on the Dan Patrick Show.
"If it wasn't for James Worthy. Everybody talks about Michael was. If it wasn't for James Worthy, I would have two championships. The one that we didn't have anyone to stop was James Worthy. He was too big, too quick. I think he had 30-something points against us. Everyone else we held relatively in check, but we didn't have anyone to stop him."
Safe to say that Worthy wasn't a popular name in Georgetown after that. Although, he did go on to cause his fair share of nightmares for teams in the NBA as well.
Worthy won three NBA Championships with the Los Angeles Lakers
Worthy may have caused havoc for teams at the college level, but he was even more of a problem in the NBA. Winning three titles with the Lakers, Worthy didn't get his nickname, Big Game James for nothing.
The man consistently turned up when it mattered most and was a crucial part of the Lakers' championship success.
Big. Game. James.

7x All-Star, 3x champ, 1988 Finals MVP and #NBA75 Anniversary Team member… James Worthy!

Watch more Worthy moments here: https://t.co/zxCPcI5U0W pic.twitter.com/zTLNjCpQXl

— NBA (@NBA) February 27, 2022
There can be no denying Worthy's greatness. He truly was a force to be reckoned with.
Also Read: "Magic Johnson Picked Me Up in a Deuce & a Quarter": James Worthy Got a $50,000 Ride Around Michigan From 1979 #1 Pick While Choosing College
---
Share this article