'I'm just standing here': Dwight Howard called out for spying on Nuggets' huddle during Game 1 vs Lakers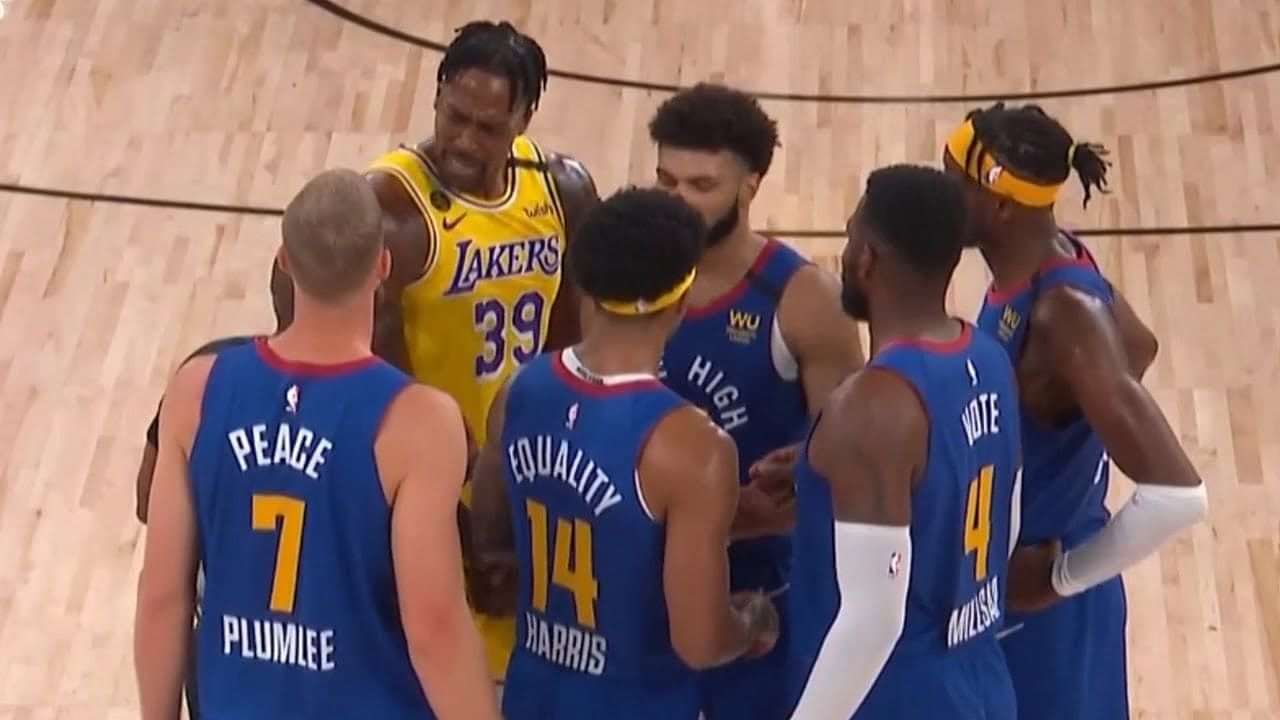 8-time All-Star Dwight Howard made a comeback today, after sitting on the sidelines for the whole Houston series. 
Coach Vogel had decided to sit Dwight Howard out for the Houston series, to match with the Rockets' small-ball lineup. Tonight Howard made a comeback against the Nuggets, getting off the bench. He has played 13min so far and has a +13 rating. He also has 2 steals, 2 blocks while being a defensive stronghold.
Howard seems to be having fun out in the court and it shows! He is playing amazing defense, handling the assignment of Nikola Jokic and he seems to be doing a good job there.
Dwight Howard caught spying around
In the 2nd Quarter of the game, a foul by the Nuggets got them to huddle up on the floor and discuss schemes. Dwight Howard stands next to the Nuggets huddle and when asked to move, he says, I'm just standing on-court.
This was one of the highlights of Game 1, as Lakers romped to a blowout win vs Nuggets.
Loading embed tweet https://twitter.com/BulletClubIta/status/1307135822144196608?ref_src=twsrc%5Etfw
Also Read: "LeBron should have won MVP, says Skip Bayless"
Nuggets foul trouble affecting their play
Nikola Jokic picked up his third foul within the first few minutes of the second period. He was benched following that. Jamal Murray got to #3 a little later in the same quarter, benching him. Soon Paul Milsap joined his teammates on the bench with his 3 fouls.
The Nuggets put the Lakers in penalty within the first four minutes of the 2nd quarter. The Lakers attempted 25 free throws in the first half itself. They made 17 of them, leading the Nuggets by 11 at the half.
Fatigue may be a factor in all of this. The Nuggets played their Game 7 on Tuesday and now are back on the court on Friday. Nuggets have played 14 games till now in this post-season, while the Lakers have played only 10. Hopefully, the Nuggets players figure out things soon and play better soon.
Can the Nuggets make their signature double-digit comeback in the second half?
---