"Imma show you what language I speak in": When Kobe Bryant talked trash to Argentina's Luis Scola in fluent Spanish at the Beijing 2008 Olympic Games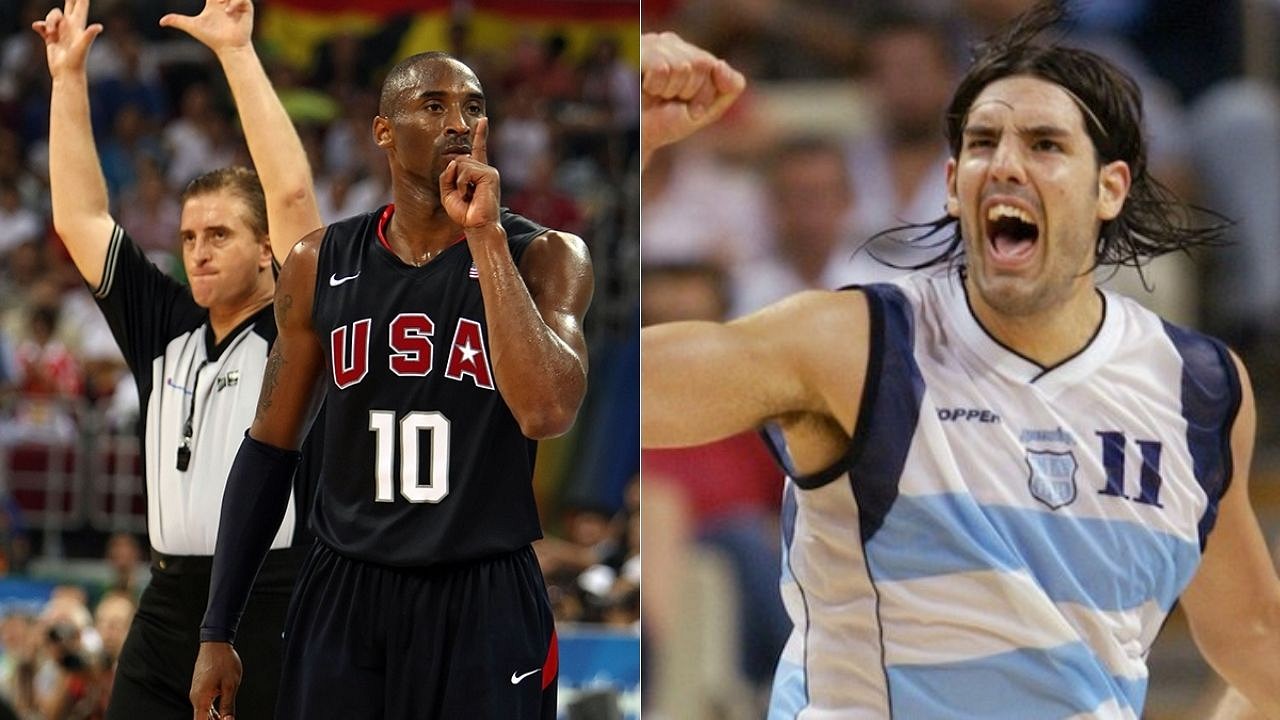 Kobe Bryant was not only one of the greatest at the game, but also was one of the very few players who could actually back up their trash-talking. In this particular anecdote, The Black Mamba had a verbal altercation with Luis Scola in Spanish at the Beijing 2008 Olympic Games.
Kobe Bryant was one of the most unique players the game has ever witnessed. Without any doubt, the Black Mamba was amongst the greatest players of all time. His crazy obsession for winning, sheer competitive spirit and passion for being the best version of himself at any given time was what set him apart from his opponents.
Bean dedicated uncountable hours in the gym to perfect his craft, helping him reach the pinnacle of the game. Because of this, Bryant is one of the most accomplished players of all time. The Lakers star left the game as an 18-time All-Star, 12-time All-Defensive player, 15-time All-NBA, 5-time NBA champ, 2-time Finals MVP, 2008 MVP, and was recently enshrined in the prestigious Hall-Of-Fame.
Also Read: Black Mamba's Adidas shoes worn on his Lakers debut set to go under the hammer
Kobe was genuinely a generational talent and a completely different breed. He would love to talk trash with his opponents and would end up embarrassing them after getting buckets or either dunking on them. This one time, the Mamba spoke trash to Luis Scola, in Spanish, at the Olympic Games.
"I love it, Luis Scola, that's how I like it": Kobe Bryant talking trash, in Spanish, to Luis Scola
Bryant was part of the "Redeem Team" which Team USA had sent to the Beijing 2008 Olympic Games. Alongside Kobe were several other future Hall-Of-Famers and megastars like LeBron James, Carmelo Anthony, Chris Paul, Dwyane Wade, Chris Bosh among many other legends.
The United States had suffered a disappointing loss to Argentina back in the Athens 2004 Games, which is why Team USA was looking for some revenge. After going undefeated all the way through the semi-finals, Kobe and co. faced a Luis Scola-led Argentinian team. The South American team were hoping to hand The USA a back-to-back Olympic semi-finals loss, however, Kobe Bryant had different plans.
The entire game, the two teams were going back-and-forth. And in terms of trash-talking, Kobe and Scola got into it during the first quarter itself. Bryant, who had picked up Spanish because of his wife Vanessa, decided to talk trash in Luis' native language. As Chris Bosh went to the charity stripe nearly half-way into the first quarter, Bean taunted the big-man:
"(In Spanish) I love it Scola, that's how I like it", Bryant mocked Luis.
"Speak in English, you do that better", Scola replied
"I'm gonna show you what language I speak… I'll make sure you understand this", Kobe spoke back.
As things were too chirpy between the two, LeBron decided to join in and calm the Lakers superstar. LBJ said:
"I got him (Luis Scola), I got him. That's it Kobe. That's it."
Also Read: NBA fans react to amazing stat that puts GOAT debate with LeBron James in perspective
And Kobe decided to reply in classic Kobe fashion. The very next play, Bryant managed to get lock up an Argentinian on defense, forcing a turnover, and ended the play with an emphatic dunk. Bryant got the last laugh as he dropped 12 points in a huge 101-81 semi-finals win over the Argentinians. And eventually bringing the gold medal back to his country, after defeating Spain in the finals.
This is just one of the several anecdotes showing Kobe's incredible on-courts antics. Clearly, there can never be any other player quite like the late Kobe Bryant.
---
Share this article