"John Stockton was a dirty b******d": Warriors' Head Coach Steve Kerr talks about the Utah Jazz legend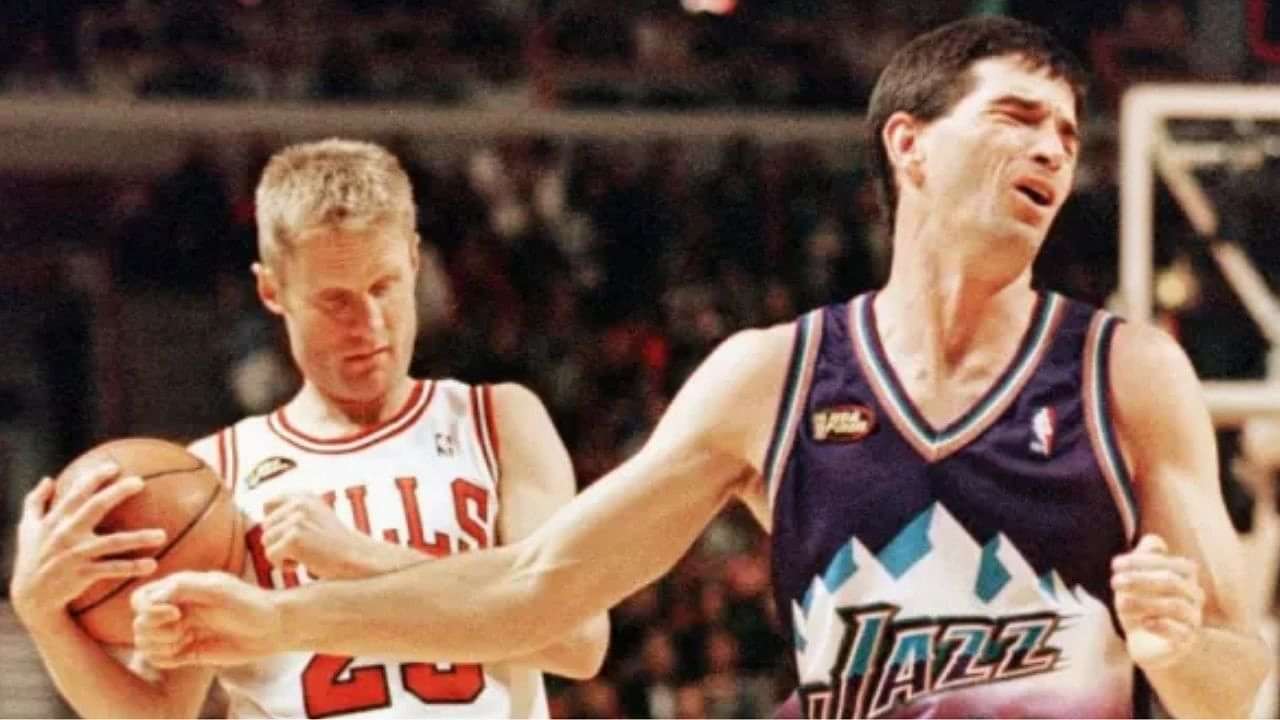 Warriors' Head Coach Steve Kerr recalls his matchups against the Utah Jazz legend John Stockton during the 1997 and 1998 NBA Finals
Steve Kerr has a rather impressive NBA resume to his name. After winning 5 titles as a player, he has three more to his name as a coach. During his time as a player, he has faced quite a few tough opponents. He played with the fiercest of all opponents in Michael Jordan. During his tenure with Michael Jordan and the Bulls, Kerr won three titles between 1996-'98.
Also Read: "Nets fans were loud, threw me off a little bit": James Harden explains why Blake Griffin and co couldn't score freely in the first half vs Celtics
Out of the three straight finals, the Bulls faced against the Utah Jazz in two of them. The Bulls squared off against the Jazz for two straight years, in '97 and '98. The dynamic duo of Karl Malone and John Stockton led the Jazz to two straight NBA Finals, only to perish at the hands of Michael Jordan and the Bulls.
Steve Kerr discusses John Stockton
John Stockton led a wonderful career, that was full of achievements. The only thing that eluded him in his illustrious career was a championship. Stockton came close twice but ultimately was rejected of the honor by the Chicago Bulls.
In the 12 games played against the Jazz, Steve Kerr had the assignment of guarding John Stockton the most. On a past episode of Open Court, Kerr opened up about his feeling about the Utah legend.
"We played Utah two years in a row, twelve games against John Stockton. I have the greatest respect for him. I see him away from the court. Love him. Great guy. But he was a dirty b*****d!" Kerr said on Open Court.

"I've never seen a therapist about this. This is my time," he added. 
Loading embed tweet https://twitter.com/NBATV/status/141704064185548800?ref_src=twsrc%5Etfw
Also Read: "Ain't nothing changing": Richard Jefferson comments on LeBron James' Covid-19 vaccine in wake of the Lakers star's photoshoot with Drake
Stockton was in Steve's path even before the NBA. Kerr was denied admission into Gonzaga, as he couldn't beat the then Gonzaga guard John Stockton. Kerr and Stockton faced each other off quite a few more times when Kerr was with Spurs and the Blazers. He has immense respect for Stockton but also considers him his nemesis.
---