"Kevin Durant, that combo was FILTHY": LeBron James amazed by Nets superstar's double crossover hesi pullup jimbo in Giannis Antetokounmpo's face in their blowout Game 2 win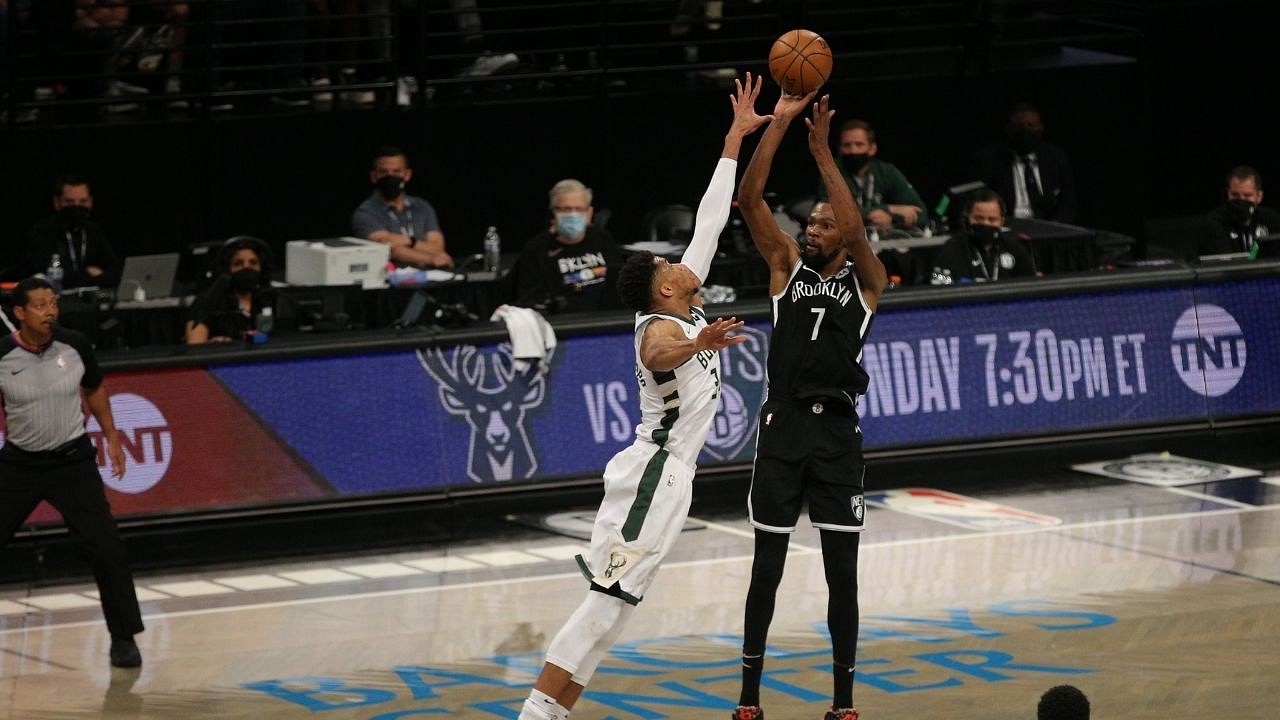 Kevin Durant pulled off a move that left Giannis trailing in his wake, and LeBron James loved it. James let the world know this on Twitter.
The Brooklyn Nets have pulverized the Milwaukee Bucks to no end in their 2 games thus far. It has been so lopsided even without James Harden that even skeptics have now crossed over into Nets fandom.
There seems to be no conceivable way of keeping this team from winning 4 games in a 7-game series. Especially if Kevin Durant is making moves of this sort and putting his primary defender in the blender like it's nobody's business. Just ask the Greek Freak.
— Ballislife.com (@Ballislife) June 8, 2021
Also Read: "I knocked over Michael Jordan's wine glass and it broke": Jayson Tatum recalls the hilariously embarrassing moment that ensued when he met the 'GOAT' for the first time
This move was far from the only time that Giannis was featured on a highlight during the game. Blake Griffin broke the internet with yet another poster, but this time it was in a game of consequence. And it came against the man who's the reigning MVP and DPOY.
LeBron James applauds Kevin Durant for his vicious move on Giannis Antetokounmpo
LeBron James, much like the rest of us, is chilling in his crib and watching the NBA playoffs with rabid interest. He's been on the receiving end of a couple of KD highlights. So he knows just what Giannis must've been feeling in the moment.
James took to Twitter to let us know his thoughts on the vicious double crossover, hesi pull-up jimbo for the and-1 that Kevin Durant filled our highlight reels with this evening: "That combo was nasty, Kevin Durant !! My GOODNESS!"
That combo was nasty @KDTrey5!! My GOODNESS!

— LeBron James (@KingJames) June 8, 2021
Also Read: "Charles Barkley tried to defend me and I laughed at him": When Michael Jordan hilariously did not take the Suns legend seriously on defense
James will privately be smarting at missing the opportunity to prospectively face the Brooklyn Nets and defend his NBA championship this year. Giannis, meanwhile will be wondering what on earth he could do to stop what seems to be an unstoppable juggernaut.
---