"Kiyan Anthony, you're just like your father": LeBron James puffs up his 'nephew' and Carmelo Anthony's son, posting his highlights on Instagram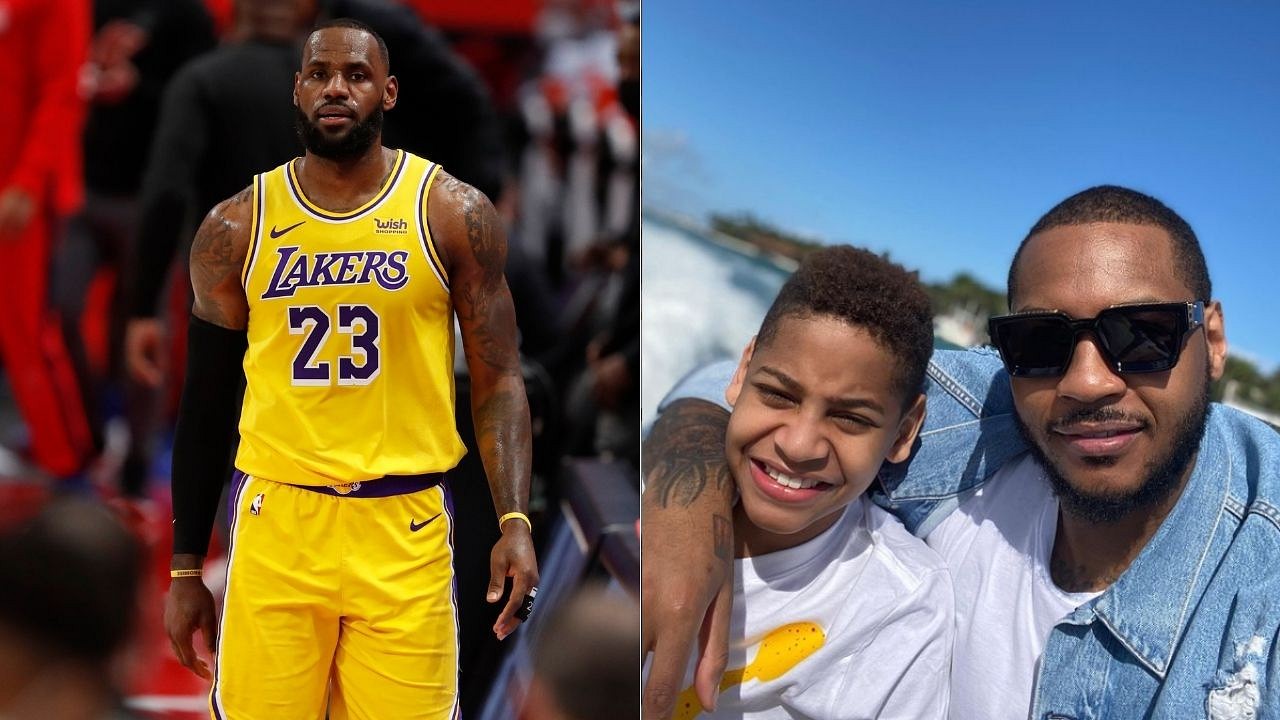 LeBron James hyped up Kiyan Anthony by sharing a video of Carmelo Anthony's 14-year-old son on his Instagram story.
Kiyan is Carmelo and LaLa Anthony's first-born son. He's currently a high school freshman, enrolled at The Calhoun School in New York City. He mostly spends his time with his actress mother as a result.
Just like D-Wade and LeBron's sons, Kiyan Anthony seems to be displaying a pretty handy acumen for the game. Both Zaire and Bronny James have various degrees of hype going for them.
Kiyan is the same age as LeBron's second son Bryce Maximus. Obviously, his real basketball education has only just begun, but there are certain signs that avid high school basketball fans can spot from a certain distance.
Also Read: "Charles Barkley kissed Dick Bavetta": When Chuck raced this 67-year-old referee at the 2007 NBA All-Star Weekend before they locked lips briefly
LeBron James hypes up nephew Kiyan Anthony by sharing his highlights on Instagram
LeBron seems to be a doting uncle, all things considered. Getting hype from one of the greatest players of all time should definitely spur Kiyan to new heights in basketball, should he be so inclined.
Kiyan has racked up a pretty decent mixtape through his time in high school basketball already. He's shown great maturity and composure while finishing – a quality quite reminiscent of his father.
Obviously, comparing him directly to Carmelo at this stage is plain hyperbole, but there are clear indicators of his aptitude to become a pro. You can see it in his finishing.
Kid has that drop step already 👀

LeBron James is all aboard the hype train for Carmelo Anthony's young son Kiyan.https://t.co/OCdqjSqb2e

— LakeShow (@LakeShowCP) April 19, 2021
Also Read: "Nice to play RJ Barrett but I was focused on my business": Zion Williamson deflects a question about his Duke teammate after Pelicans' 112-122 OT loss to the Knicks
Melo will himself finish as one of the 10 top scorers of all time in NBA regular season history. He has the opportunity to mentor his own son, hopefully into a fruitful basketball career. It would make for a truly compelling story.
---
Share this article