"Kobe Bryant Changed His Number": After getting Shaquille O'Neal traded, Mamba Avoided Cordial Relationship with New Teammate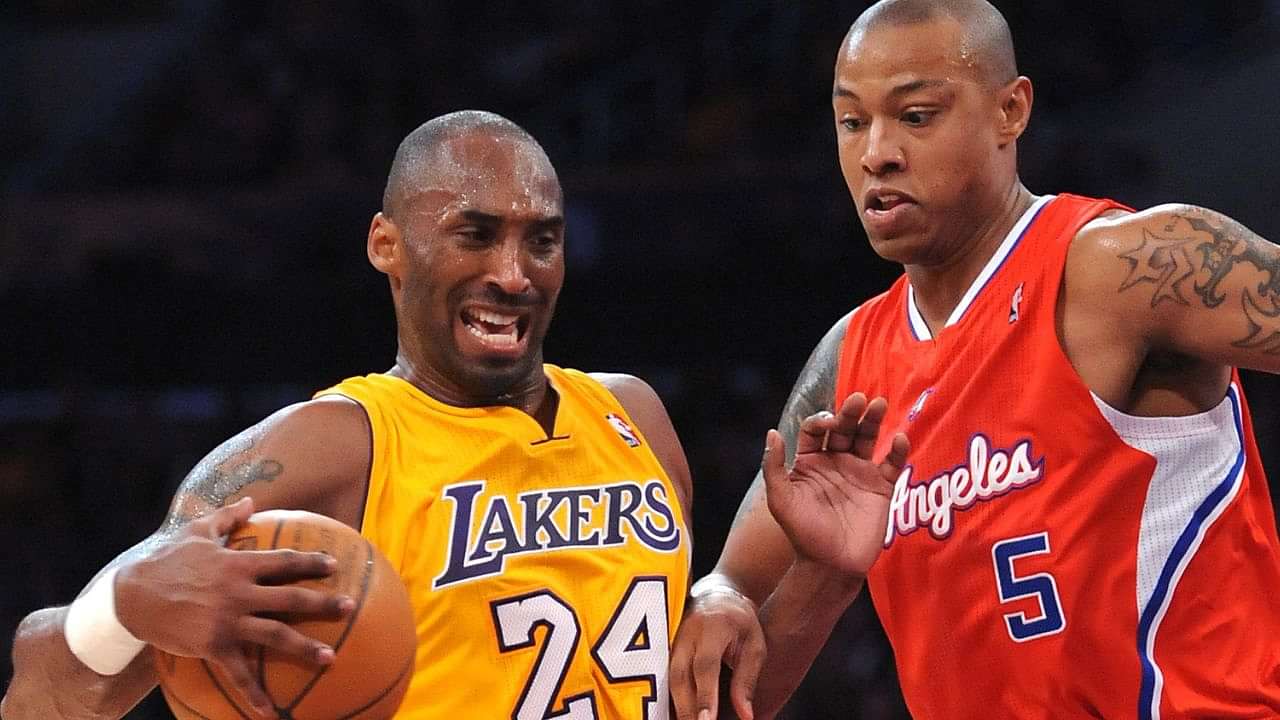 Kobe Bryant wasn't always the face of the gold and purples. Before he became their magnum opus, Bryant was just a youngster overly eager on taking the wheels of the franchise. But, back then, the keys to the Lakers belonged to Shaquille O'Neal. The most dominant center in history, O'Neal was the de-facto leader of the gold and purples.
However, Bryant was relentless in his pursuit. With each season, he improved and the improvement only led to a further divide between Kobe Bryant and Shaq. The 7ft 1″ center despised Mamba's desire of becoming the king of LA and this eventually led to one of the nastiest feuds in NBA history.
The feud eventually ended when Jerry Buss traded Shaq to keep Bryant happy and made him the face of the franchise in 2004. Having learned from his past, Kobe was especially wary of building cordial relationships with his new teammates. So, he developed some unique methods to keep them at a distance.
Also read: "He Called Me the Michael Jordan of Soccer": When Ronaldo Nazario Revealed That His Greatest Compliment Ever Came From His Airness
Kobe Bryant changed his phone number after Caron Butler called him
After Shaq left for Miami, Caron Butler joined the Lakers. Upon reaching LA, he dialed up his new teammate Kobe Bryant to talk and build a better bond with him. However, Bryant wasn't to keen on talking to teammates, especially not on calls.
Infamous for his cold, distanced personality, Bryant took it one step ahead after Butler's call. He changed his number the very next day.
In his book Three-Ring Circus, Jeff Pearlman wrote of the incident in detail.
Pearlman: "A few days after he arrived via trade from Miami, Caron Butler decided to reach out to Bryant and seek advice on the move to Los Angeles. A friend of a friend hooked him up with the superstar's cell phone number, so he called. Ring. Ring. Ring.
BRYANT: Hello?
BUTLER: Yo, Kobe. It's Caron Butler. Your new teammate.
BRYANT: How'd you get my number?
BUTLER: Oh, [fill in the name] gave it to me.
BRYANT: Oh . . . oh . . . okay. What's up?
The two spoke for several minutes. It all seemed friendly enough. The next day, when someone tried calling Bryant's phone, he was greeted with a message from AT&T. Bryant had changed his number."
Bryant and Butler eventually became great friends
In his entire career, only a handful of players have been able to break through Bryant's hardcore exterior. His early troubles with the Lakers had made him into a cold and defensive man.
He had one goal: to be the best and he had Vanessa Bryant to support him. In his head, Bryant needed no one else. But Butler wasn't the usual teammate. Butler was eager to learn from Bryant and eager to communicate. Soon enough, Bryant warmed up to his teammate and the two became really close.
Loading embed tweet https://twitter.com/NBA/status/651417992421576704?ref_src=twsrc%5Etfw
In fact, along with Pau Gasol, Derek Fisher, and Ronny Turiaf, Caron Butler is the only teammate Bryant grew close to. Kobe fondly called Caron his brother and maintained a close bond with him even after the 6ft 7″ forward left the Lakers in 2005.
Also read: "Couldn't nobody guard Shaquille O'Neal": Ty Lue Doesn't Think Even Wilt Chamberlain & Hakeem Olajuwon Would Stop a Prime Diesel
---