"Larry Bird was so cheap, he wouldn't let a $20 bet go": Danny Ainge narrates awesome story of how the Celtics legend won a bet to bank in a 3-pointer vs the Knicks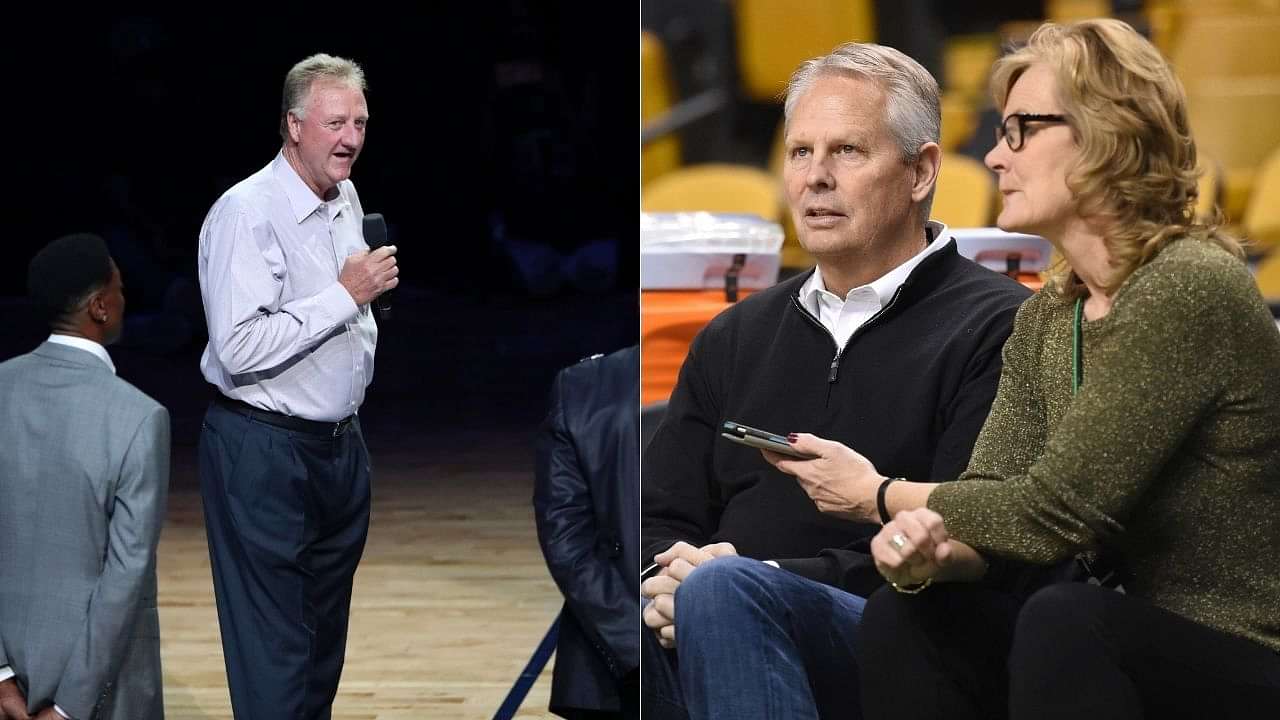 Danny Ainge praised Larry Bird as the most confident person he's ever met in a 2017 interview. Ainge stepped down as the Celtics' POBO today.
Danny Ainge was the Celtics' president of basketball operations for nearly 18 years. Before that, he was an NBA player for 14 years, 8 of which he spent with the shamrock greens.
Ainge is from the last golden generation of Celtics basketball alongside Larry Bird. So everywhere he's invited, the former ace shooter feels that he's obligated to share a story about Larry Legend.
Now that he's parting ways with the franchise from a full-time role, we're taking a look back at some of the memories Ainge left basketball fans with. And Larry Bird stories are always welcome to any basketball conversation.
Also Read: "We've got to flush this one": Dennis Schroder reacts to his abysmal performance against the Phoenix Suns in Game 5
Danny Ainge narrates an awesome story about how Larry Bird banked in a 3-pointer for a $20 bet
Danny Ainge rarely ever gave interviews, but when he did, the former 2-sport pro was always an amazing guest. His tale from an appearance on the Dan Patrick Show back in 2017 deserves a mention on a day when he's stepped down from his Celtics role:
"The greatest thing about Larry, I mean every time I just think of Larry, I just think of his extreme confidence. Of Larry. You know, I always thought I was confident, I always thought Kevin McHale was confident. But Larry just had a different level."
"There was a lesser-told story where he made a bet with the trainer of the New York Knicks. Before the game we were out shooting 3s. Larry and I were shooting 3s before the game, and he said 'Hey, I'll bet you $20 you can't bank one on in like that in the game!'"
"Larry goes 'You're on!' And so the game proceeds and we get ahead by around 20 points in the 4th quarter. Our bench comes in the game, and all of a sudden you know the Knicks are going to creep back in the game. And it feels like we have the game under control."
"And the trainer for the Knicks says to me 'Hey, get Larry's attention.' He looks at Larry and then he goes 'You owe me 20 bucks. You never banked in a 3-pointer.' And Larry goes 'Crap! I can't believe I forgot that.'"
"And so, sure enough the game gets down to 7 points. KC Jones puts in the starting lineup back in the game. And within the first 2 or 3 possessions, Larry banked in a 3 just like he said."
---