"Leave Nike and join me at Puma, Kyrie Irving!": LaMelo Ball makes his hilarious pitch to the Nets star after he makes frustrations with the shoe brand public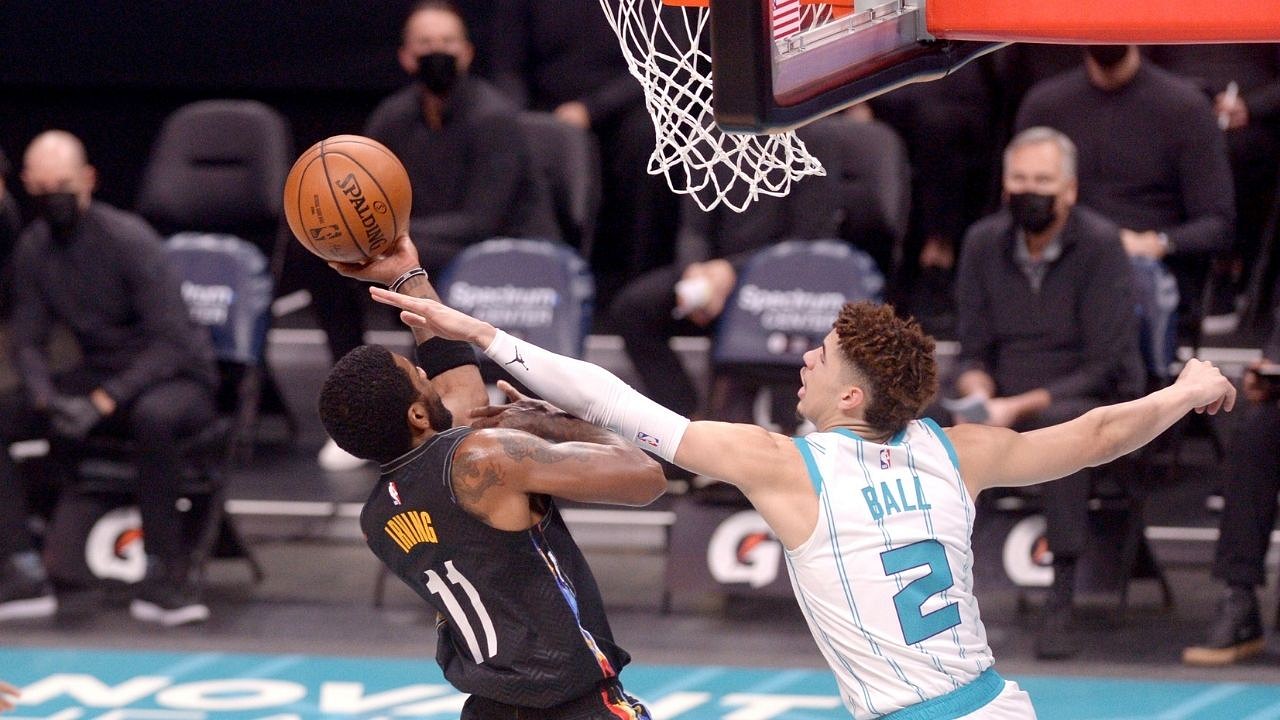 Hornets star LaMelo Ball offers Kyrie Irving the possibility of leaving Nike and joining him in taking up a shoe deal with Puma
LaMelo Ball and Kyrie Irving don't have an awful lot in common as players. In fact, maybe the only thing that's similar between their games is their tight handle, and an elite ability to influence opposing defenses with it.
That said though, like many young players, Ball likely has some serious respect for Irving as a player. And given the rookie's performances throughout last season, we'd be surprised if Uncle Drew didn't reciprocate that feeling.
Speaking of the Nets star though, recently, he had quite the rant about his relationship with Nike, and his lack of influence even when it comes to his own shoes. And apparently, at that moment, the Ball brother temporarily decided to switch his career lines from a hooper to possibly the most high-profile salesman on the planet.
Let's get into it.
Also Read: CJ McCollum responds to fellow Blazers superstar's trade rumors amidst Lakers and Warriors interest
"Puma let you get off!": LaMelo Ball talks up Puma to Kyrie Irving after the Nets star shows his frustration with Nike
As many in the NBA community know by now, LaMelo Ball was signed up by Puma with a massive deal of a $100 million and access to a private jet. And in return, the Hornets star has been balling out on the court, and through it, bringing about a serious rise in their sales. And now, it seems he may pay back all that money and the faith (and of course, the jet), with yet another incredible feat.
For context, here is Kyrie Irving's Instagram post that grabbed LaMelo Ball's attention
 

View this post on Instagram

 
Kyrie Irving can be the worst version of frank sometimes. But honestly, with this one, we're completely on his side. And given his lack of control, it may indeed be time to switch allegiances. And like a master salesman, it seems Melo just couldn't let that opportunity pass by. Take a look at the tweet below.
Lol LaMelo is recruiting Kyrie to Puma pic.twitter.com/tqfu9PqOOO

— Jacob Rude (@JacobRude) July 28, 2021
LaMelo's swag and way to go about things are indeed hilarious. But make no mistake, this could be huge.
Given Kyrie's character and frustration with the shoe brand, he could indeed be on the market soon. And if he heeds his fellow point guard's words, Puma's rise to prominence could receive a serious boost very, very soon.
Also Read: Michael Jordan took shots at the Miami Heat legend whilst praising Dennis Rodman
---