We hear a lot of talk about Year 18 and how much LeBron James is being affected by age. He gave us solid proof that he's still going strong tonight.
James took 3.5 seconds of game clock to go from his own 3-point line to dunking the ball all over the Denver Nuggets. The Lakers had just given up a 14-point lead, and James wanted to force the issue to end the game.
A look at the play truly illustrates how much of a bulldozer James still can be in transition.
This man is 36 years old…

— Legion Hoops (@LegionHoops) February 15, 2021
But if you play basketball at any level, you might notice one obvious hitch – James travels blatantly even after accounting for a gather step. It is clear as daylight when you watch replays of the play. The refereeing crew was shorthanded on the night, and without the baseline referee, there was no way to call it with surety.
Also Read: "Happy Valentines' Day Dada": LeBron James shares a surprise gift he got from his daughter Zhuri James ahead of Lakers' loss to Nuggets
Richard Jefferson calls the LeBron James dunk a travel
Understandably, Twitter did not take long to dissect this play. They called the NBA rigged, LeBron a fraud and his 2020 ring a Mickey Mouse ring, as is tradition. But there was also serious analysis present as to why this was a definite uncalled travel.
He's a dawg but holy travel

— Tyler Thompson (@tythompson01) February 15, 2021
He traveled when he got the ball, and then he traveled before he took the shot. But other than that, great play.

— PlanetTuck (@PlanetTuck) February 15, 2021
Nevermind the 4 steps he took to get there 🤔🤔🤔 pic.twitter.com/gTgPNaZuLZ

— Pirahnas (@_pirahnas) February 15, 2021
Lebron forgot to stop the Nuggets the rest of the game 👏🏼

— jen (@itsjennotjan) February 15, 2021
How they not call this man for a travel?

— joshua (@WTFitsWAFFLES) February 15, 2021
Also Read: "Kevin Durant grew as a player in his time with Golden State": Warriors' Draymond Green cites KD's playmaking as a skill to have evolved in the Bay Area
Richard Jefferson joined in on the criticism as well.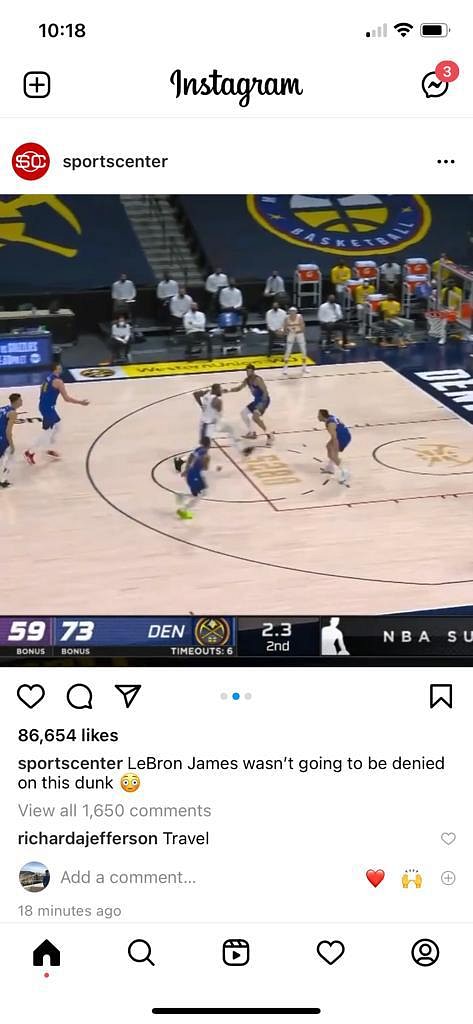 Overall, it was a lopsided game from the second quarter onwards. The Nuggets took full advantage of AD's injury-enforced absence to pile on the misery over the Lakers. The LA team are now 21-7 on the season, 1 game ahead of the Clippers in 3rd and 1 behind Utah.