"We are scared as Black people"- LeBron James gives hard-hitting interview on Jacob Blake shooting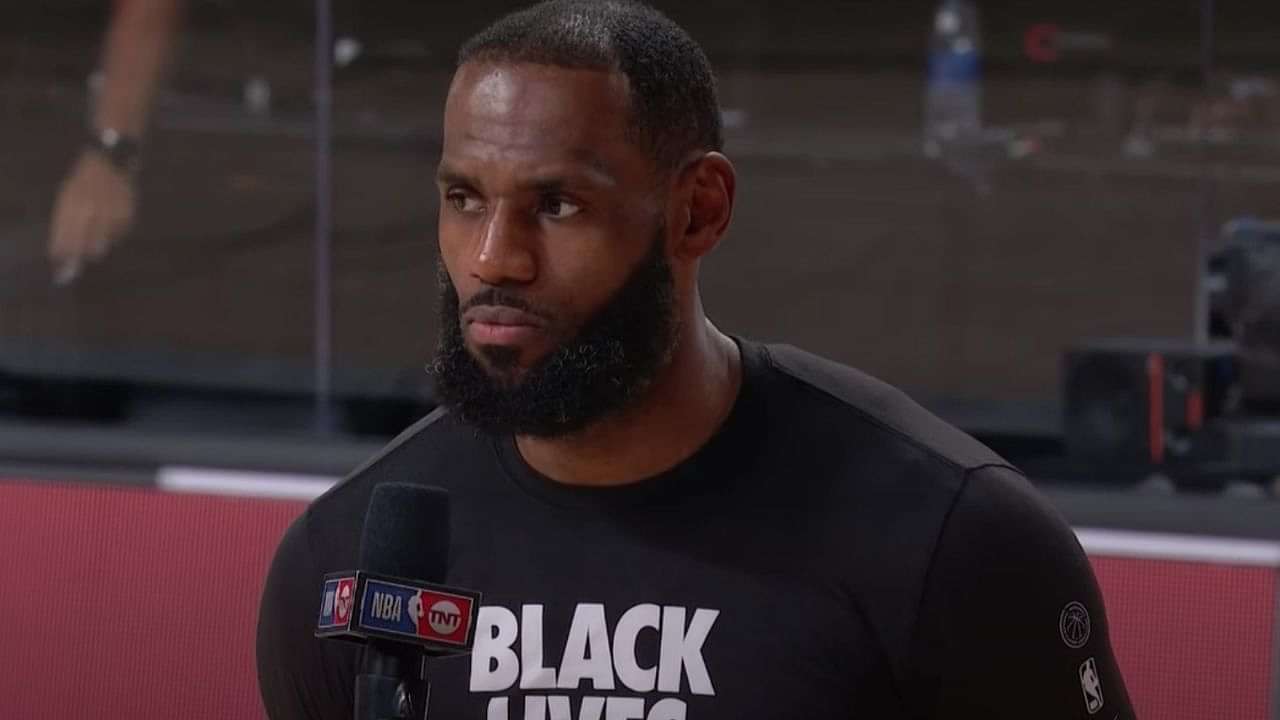 LeBron James delivered a powerful post game interview after win in Game 4, talking about Jacob Blake and how voting is important to enforce change.
The Lakers romped to a 20 point win vs Blazers in Game 4 of the ongoing 1st round playoff series. LeBron James had an impressive night once again, scoring 30 points and ensuring that the Blazers never got into their stride.
While he would be impressed by his on-court display, things off the court were on LeBron's mind tonight. An unarmed black male, Jacob Blake, was shot at least 7 times by the police near Milwaukee.
According to the video footage available on the Internet, the man had walked away from the police and opened his car, when the police decided to shoot him, whilst in the presence of his children.
The incident has sparked tons of reactions on the Internet, with LeBron leading the way for NBA stars.
LeBron James condemns Jacob Blake shooting in post-game interview
The biggest spokesperson for the NBA spoke about how the entire incident affected the players and the black community. With kids of his own, LeBron stated that it was frightening to see the man being shot in front of his children.
He has always championed ways in which people can enforce change and LeBron feels the first step towards it is by voting in the Presidential elections in November.
"If you're sitting here telling me that there was no way to subdue that gentleman or detain him before the firing of guns, then you're sitting here and you're lying to not only me, but you're lying to every African American, every Black person in the community because we see it over and over and over," James said.
"If you watch the video, there was multiple moments where if they wanted to they could've tackled him. They could've grabbed him. They could've done that.
"Why does it always have to get to a point where we see the guns firing? His family is there, the kids are there, it's in broad daylight … It's just, quite frankly it's just f–ked up in our community." he added.
The Lakers star feels that people have it in them to force change, however, they'll need to raise their voice like never before.
Loading embed tweet https://twitter.com/SportsCenter/status/1298106478046244864?ref_src=twsrc%5Etfw
The emotionally charged up LeBron did confuse Jacob Blake for James Blake there, but was soon to rectify his mistake.
LeBron also spoke about how African American people are scared to the hilt now, as they don't quite know which policeman might end up dishing out their 'anger' on them.
"People get tired of hearing me say it, but we are scared as Black people in America," James said. "Black men, Black women, Black kids, we are terrified. Because you don't know. You have no idea.
"You have no idea how that cop that day left the house. You don't know if he woke up on the good side of the bed. You don't know if he woke up on the wrong side of the bed. You don't know if he had an argument at home with a significant other, if one of his kids said something crazy to him and he left the house steaming. Or maybe he just left the house saying today is going to be the end for one of these black people.
"That's what it feels like. That's what it feels like. It just hurts. It hurts. It's just through the grace of God that he's still living. Like seven shots, close range and he's still alive? That's through the grace of God right there.
"My prayers go out to that family and that community, but I've got nothing nice to say about those cops at all. At all."
LeBron speaks about Kobe
In the post-game interview today he also spoke about honouring and remembering Kobe Bryant on his birthday and how it has held the team together in the most trying of times.
"I'm extremely blessed and honored to be able to play on 8/24 and continue to remember Kobe Bryant and Gigi Bryant and all the fallen people that was a part of that tragic incident," LeBron said.
The Lakers sported the Black Mamba jersey tonight, and looked in cruise control from the word go. Maybe, it had something to do with the jersey and the emotion behind it that they wanted to just go all out blazing from the word go.
It will now be interesting to see how the NBA and the players at large react to the shooting, as clearly a lot of them have been affected by it and will want to use their platform to call out police brutality.
---