Kevin Durant just can't let go of his time with the Warriors, can he? The Nets superstar went on Twitter to argue with fans about the 2018 playoffs.
KD's time in Golden State can be easily viewed as the most lopsided era in NBA basketball. The Warriors began the 2016-17 season with preseason Vegas odds of a paltry -124.
After they went 16-1 in the playoffs that year, this number dropped to -187 ahead of the 2017-18 NBA season. Simply put, nobody could even fathom how to beat a Warriors team with Kevin Durant and Stephen Curry on it.
Also Read: "Kevin Durant, I'm paying too much for you to be chilling": When the Nets star trash talked a Pelicans fan and hit 3 straight 3-pointers
The 2017-19 Houston Rockets were the lone team willing or able to go toe-to-toe with this side when healthy. With Chris Paul on their side and Harden in historically great form, the Rockets believed they had a chance against every team in the league.
Kevin Durant replies to a Twitter thread claiming he made the Warriors worse
The Rockets were so good even without Chris Paul in that series that they held a double-digit lead at home during halftime of Game 7. They seemed to be in perfect position to take the W from the Warriors and shock the entire planet.
However, they had the worst shooting streak by any NBA team ever on that night, halting their progress. Eric Gordon, James Harden and Trevor Ariza didn't seem like they could hit a barn door with a bazooka for half the game. The Rockets went 0-of-27 from 3-point range at one point of time, helping the Warriors grab the lead.
Many consider this to be a lucky break for the KD-era Warriors. The team already enjoyed enough hate, but the hate for KD has always been on a whole other level. Naturally, the comments came out of the woodworks.
Durant deleted his replies to this thread soon after. He probably realized that he wasn't on his burner at that moment. Or perhaps he just got so incensed with the lies being peddled around that he chose to retaliate.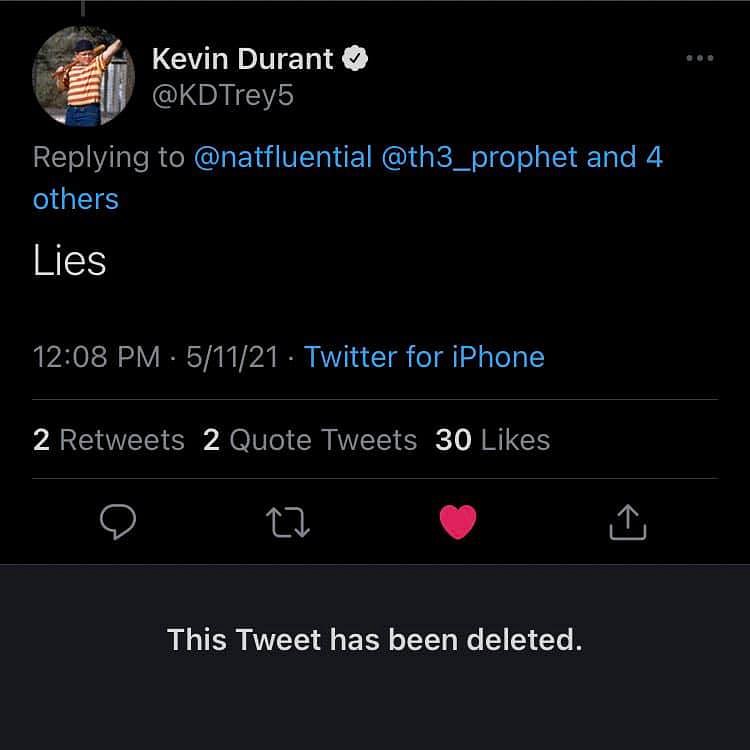 Either way, KD went back on his stance on that matter by deleting the tweet. But you do have to wonder if there was some truth to these allegations of a conflict in the locker room. Because all Steve Kerr has done in the past 2 years is throw some shade periodically at KD.
Also Read: "Whatever Julius Randle's name is": Shaq hilariously confuses Knicks superstar with Grizzlies legend Zach Randolph on NBAonTNT