"Like LeBron James, Kyrie Irving and Kevin Durant need a stacked team to win": Kendrick Perkins defends Lakers star for recruiting superstars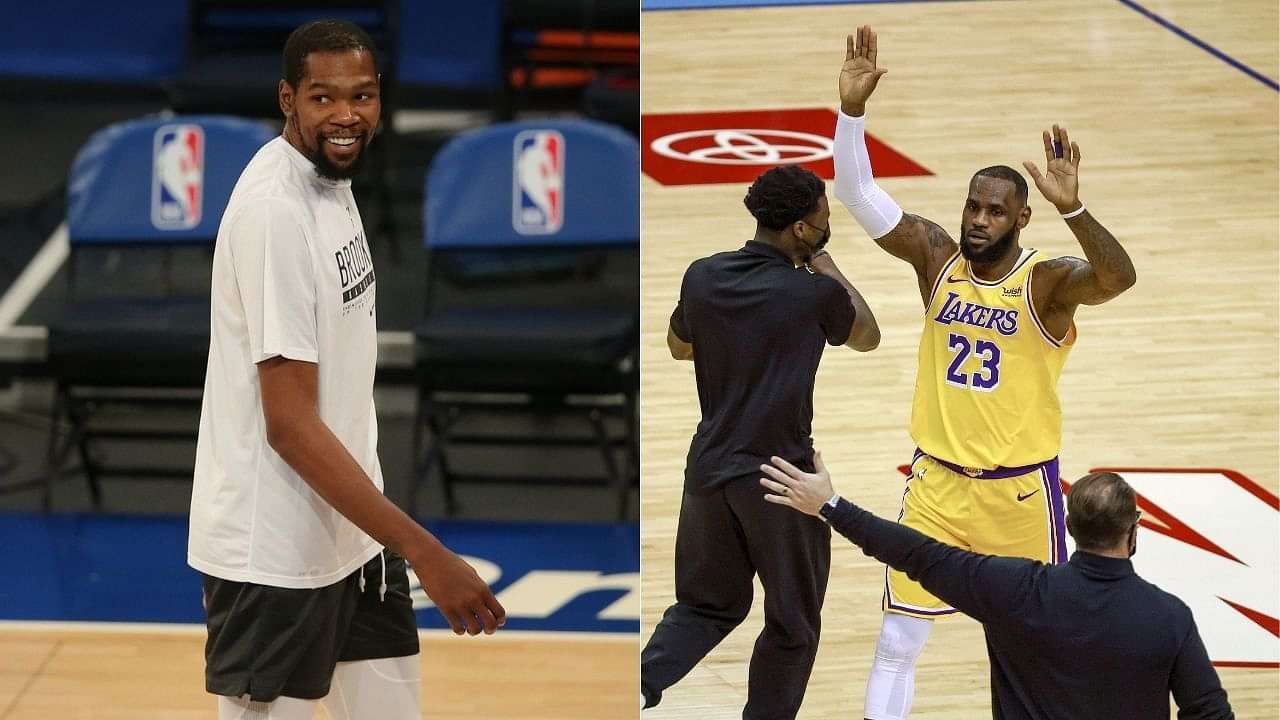 Kendrick Perkins says that LeBron James shouldn't be berated for wanting to team up with superstars because everybody does it.
The Houston Rockets were practically forced to trade James Harden away last night. The now Nets superstar took to his postgame interview after the Rockets loss to the Lakers and said that he doesn't believe the Rockets are good enough.
His comments postgame forced the Rockets' hand and they dealt Harden away to the Brooklyn Nets. The trade involved 4 teams, with Houston getting nearly 8 picks in the process.
James Harden's presence on the Nets necessitates the need for many questions regarding his fit on that roster alongside Kyrie Irving and Kevin Durant. It also brings up the narrative revolving around superteams.
Also Read: "LeBron James sealed James Harden trade with no-look 3-pointer": Kobi Simmons trolls new Nets signing in reaction to him joining Kevin Durant and Kyrie Irving
With the Golden State Warriors superteam disbanding in 2019, it seemed as though the NBA was trending towards superstar duos. However, with a big 3 of Kyrie Irving, James Harden, and Kevin Durant, this might force teams to look for that 3rd star.
Kendrick Perkins doesn't want any LeBron James slander regarding his need for a superteam
LeBron James pioneered the first superteam which was solely based off the players deciding where they wanted to team up. Ever since his Miami days, he has been berated on the fact that he always needed a star studded cast around him to win a ring.
Now, with the Nets boasting as many superstars as they are, Kendrick Perkins doesn't want to see LeBron James's name being dragged in the mud for wanting to play with good players.
Loading embed tweet https://twitter.com/KendrickPerkins/status/1349474446185259009?ref_src=twsrc%5Etfw
He says everyone needs a stacked team to win a ring, so why should LeBron James be the poster child for superteams. It should also be noted that the 2020 Lakers championship team was far from being a superteam.
Also Read: "I have PTSD every time I think about having another NBA Bubble": Lakers' LeBron James explains why he will not agree to another bubble-like situation again
Kevin Durant was in the process of being embraced by the NBA community once again. However, now that the Nets are a legitimate superteam, our perception of him might shift to what it was back when he was on Golden State.
The "he needs two All-NBA players on his team to win" narrative will be plastered all over if he does win a ring with the Nets. If the Nets lose, the narrative will shift to, "Kevin Durant couldn't even win with 2 All-NBA players".
---