'Michael Jordan Hates kids, But LeBron James?": NBA Fans Get Cheeky as Lakers Superstar Celebrates Young Space Jam Fan on IG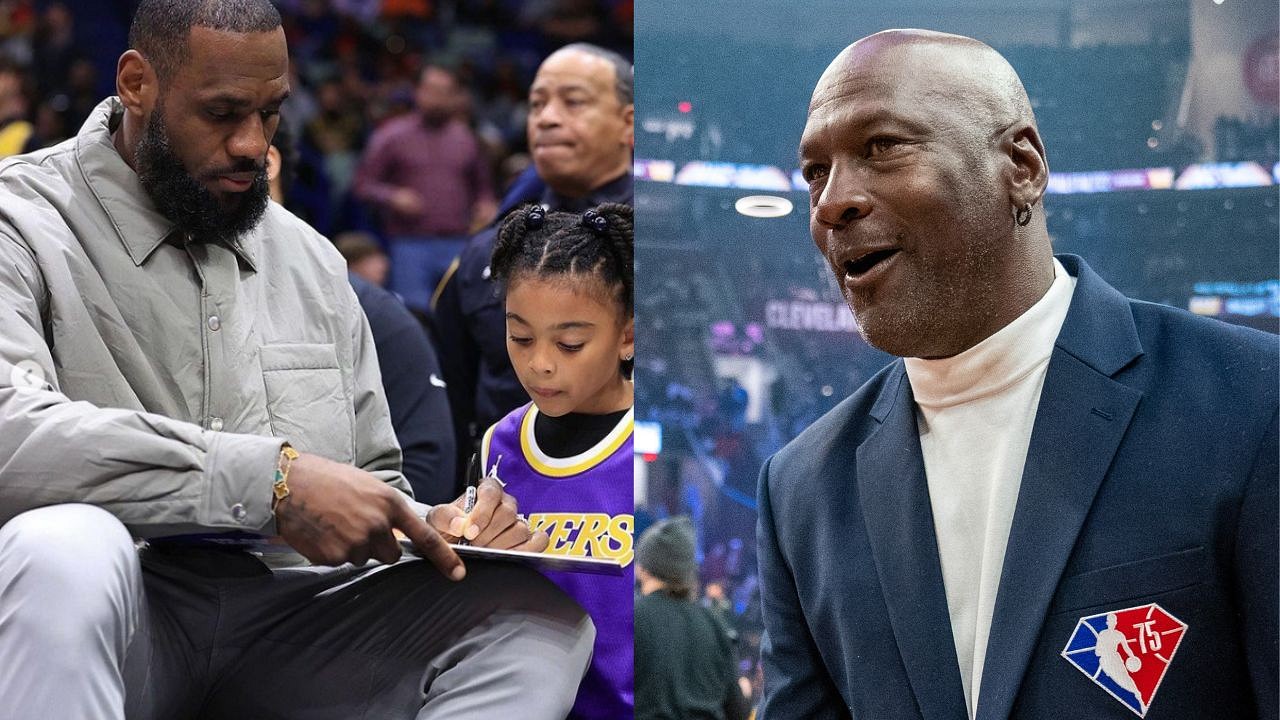 LeBron James is currently injured and spending a lot of his time on the sidelines. He was again missing the action on Tuesday when the Lakers faced the New Orleans Pelicans. Fortunately, Anthony Davis's 35-point eruption sealed their victory. However, the Lakers certainly need their star player back on the active roster.
Registering his 8th absence, the recovering 6ft 9″ superstar sat on the sidelines watching his team dominate. During the game, he also did something really heartwarming. James met an adorable young Space Jam fan. He not only gave her his autograph but also took a picture and posted it on his Instagram. Moreover, fans couldn't help but draw comparisons between Michael Jordan and LeBron James.
Also read: "Michael Jordan Was a Killer LeBron James Isn't": When Floyd Mayweather Chose His GOAT in the NBA
Fans react to LeBron James' Instagram post, draw comparisons with Michael Jordan
LeBron James recently posted his meeting with a young fan on Instagram. James wrote of how heartwarming the meeting with the little girl was. He wrote a lengthy caption advising Parker to never let anyone stop her. He also stated he was sure of parker's bright future. LeBron wrote:
"Dear Parker, Nice meeting you! You're a beautiful Young Black Queen! Don't let nothing stop u from being whatever your mind and heart desires! Just from our short encounter yesterday I know you're destined for greatness and i will always love you!!! God bless you and best wishes to you! Sincerely Mr. LeBron James aka Bugs Bunny friend!"
 

View this post on Instagram

 
His lengthy caption was adorable and has won fans over. While many called James a role model, some called out Michael Jordan for not treating kids as well as LeBron.
One fan wrote under his post on Instagram: "Jordan would never." Another fan proclaimed him the greatest of all time for empowering Parker.
Michael Jordan hates kids, but LeBron James? pic.twitter.com/EA3B5wvIvf

— venu_gopal_rao_fans (@CricketVideos16) March 15, 2023
Does Michael Jordan really hate kids?
There have been many cases where fans accused Michael Jordan of disliking kids. However, we believe this accusation to be a little too harsh. Sure, there have been instances where MJ did not act a certain way. Where people expected him to kind and generous, Jordan was a little more shrewd than was bearable for fans.
One such instance surfaced a few months ago when a young fan noticed Michael Jordan in a garage and asked him for a selfie. The video quoted Michael Jordan as saying no, however, the audio is unclear.
Another instance featured a basketball camp. The camp apparently declared everyone would receive Air Jordans if Michael missed a free throw. Chris Paul hyped the kids for Michael. But the Bulls legend made every single shot. So, we certainly understand the basis for the criticism. However, this definitely doesn't prove MJ hates kids. He has had too many positive interactions over the years with youngsters for this claim to be true.
Also read: "Michael Jordan Couldn't Let LeBron James Have His Moment": 2/3/23 Featuring His Highlights On ESPN Has NBA Twitter In A Stir
---
Share this article