"Michael Jordan Was Black Jesus": When 16-year-old LeBron James Teamed up With MJ to Bully College Players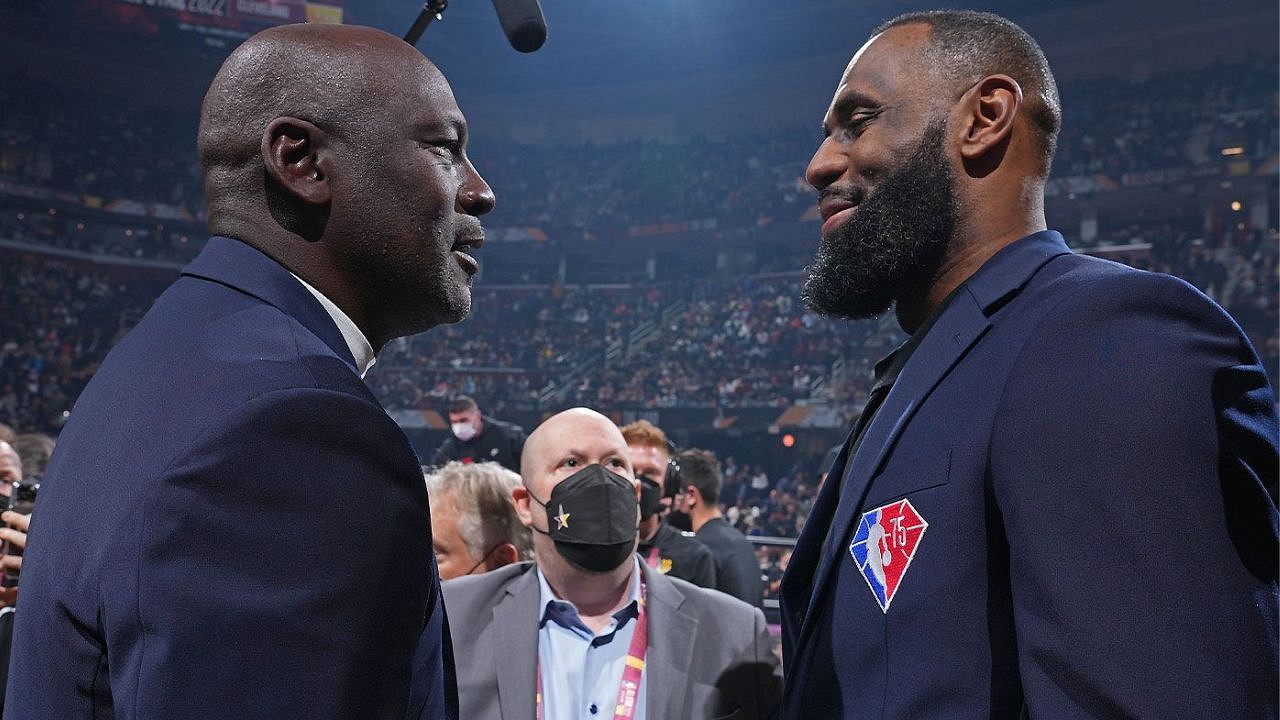 In this day and age, any young and aspiring NBA superstar would kill to meet LeBron James. After all, The King is certifiably the greatest basketball player of the 21st century. The is a bonafide legend, and a chance to meet him is an opportunity that no one can pass up.
Ironically, LeBron found himself in a similar position back in 2001. Widely considered the No.1 high school prospect in the country, The King was handed the opportunity to meet Michael Jordan. And when he did meet his hero, the four-time NBA champion could not believe his eyes. But unlike other MJ fans, Bron was fortunate and talented enough to play alongside MJ while he was in his Sophomore year in school.
LeBron James was convinced he had met Jesus Christ when he first saw Michael Jordan
There can be no denying that Michael Jordan is one of the greatest players in NBA history. Six NBA Championships, six Finals MVPs, five regular season MVPs, and a DPOY reward will definitely put you in that conversation.
MJ was an idol and a hero to many of the NBA's biggest superstars. This includes LeBron James, a man who now finds himself on equal footing with His Airness. But, while he may not be as starstruck by Jordan now, he sure was when he met him back in 2001.
That's right. As a 14-year-old sophomore in High School, a young King James met Michael in Chicago. And, upon meeting him, LeBron was convinced that he had met black Jesus!
"When I met Michael Jordan for the first time…I literally couldn't believe it was him. I couldn't believe it. The dude looked like Jesus Christ to me. He looked like black Jesus…he was black Jesus to me! Nobody could tell me anything different. I was in Chicago, Maverick and I, and our good friend G. They take us to the hoops and before they play they say, 'Mike always used to lift before he play'. So, I have another story. So we walk upstairs and nobody told me that Mike lifts before he plays. I don't know anything about lifting right now, I'm a high school sophomore. I don't know anything about lifting. We walk up there and the first person I see is Charles Oakley. You know, Oak being from Cleveland, I dapped him up, and Oak moved and when he moves, Mike is sitting on the bench press. And I was like, 'Oh my f**king God!'"
In all honesty, James' reaction to meeting MJ isn't that surprising. But, what is surprising is the fact he and Mike once teamed up against some college kids.
Michael Jordan teamed up with King James to take on some college players at one of his camps
One of the biggest "what ifs" in NBA history wonders what it would have been like to see Michael Jordan face off against LeBron James. However, while we may never know what that was like, we do know what it would have been like if they were teammates. After all, the two teamed up in one of MJ's basketball camps in Santa Barbara, where they took on some college students.
It must have been an amazing experience for LeBron. But, who came out on top? Well, it was none other than the tandem of Jordan and James.
---
Share this article