"Not Having an Affair With Phil Jackson": Despite GM Jerry West's Dislike, $500 Million Worth Jeanie Buss Set Strict Rules for Lakers HC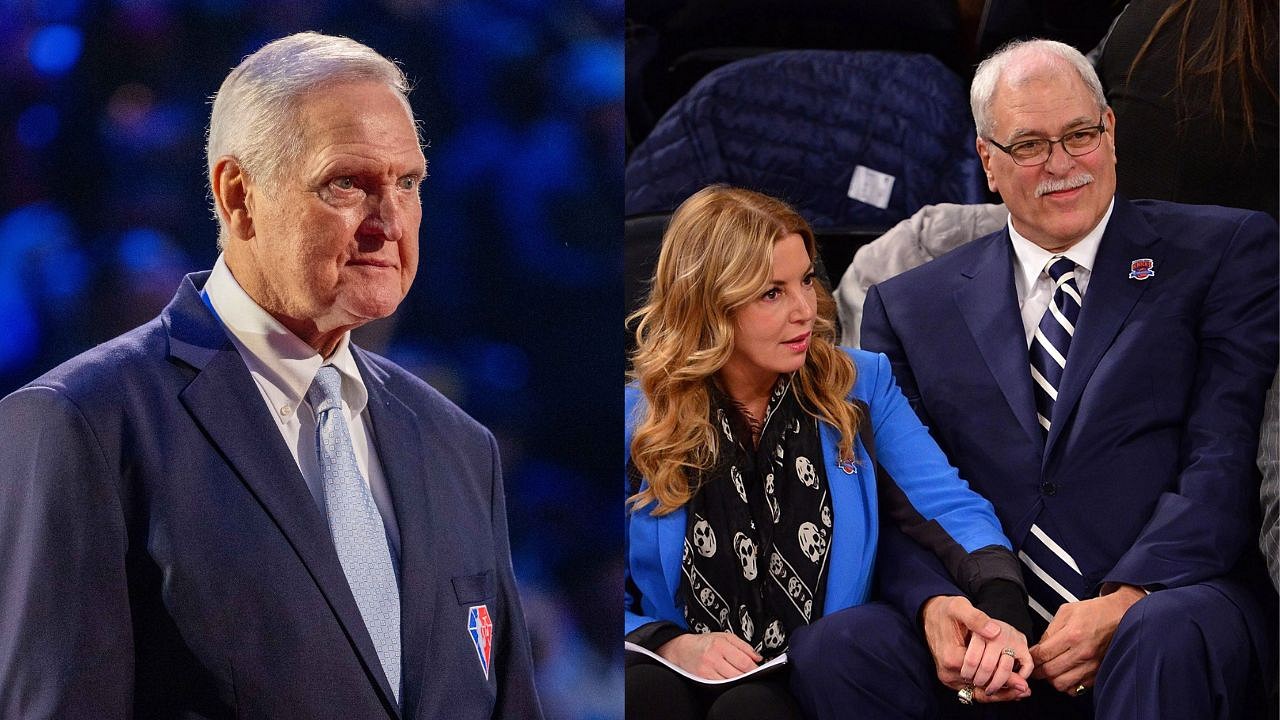 The legacy of Phil Jackson is greater than even the accomplishments of Michael Jordan, Kobe Bryant, and Shaquille O'Neal. He is, after all, the only one with 11 championships with 3 three-peats. For the Bulls and Lakers, Jackson holds a similar status.
He is the man who led the franchise toward multiple championships. He was even unceremoniously removed from both franchises.
However, with the Los Angeles Lakers, Phil Jackson had an extra special relationship because of the current owner Jeanie Buss. Though Jerry, Jeanie's father and then owner of the gold and purples, was okay with the relationship, Jerry West wasn't.
Also read: "Was a Very Special Moment, Did Not Want to Mess It Up!": Draymond Green Talked About Handing Gary Payton II His Championship Ring
Jeanie Buss Laid down some strict ground rules for Phil Jackson
In his book Three-Ring Circus, Jeff Pearlman wrote in detail how Jeanie and Phil Jackson began dating. They first met when Jeanie decided to fly coach. Knowing she was the daughter of Jerry Buss and already a successful businesswoman, Jackson was shocked the woman who is today worth $500 million would choose to travel coach.
From there, certain events led them closer and the two eventually started dating. However, Jeanie laid down the rules before they began.
Jeff Pearlman: "The two had first met in September, waiting in Vancouver International Airport for a flight to return from league meetings. Jackson was simultaneously perplexed and impressed that Buss was flying coach (he was in first class). A few weeks later, on September 26, Jeanie was presented an in-office cake for her 38th birthday, and she had a slice delivered to Jackson's office. Later that evening, he asked her out for dinner. "We were eating and I laid it out," Buss recalled. "I liked him a lot. He had a sparkle in his eye. But I said, 'Look, I'm not going to have an affair with you. I'm not doing anything hidden. Because it'll compromise the Lakers organization, and if you try to keep something secret, people own you. So if we're going to date, it has to be in the open.'"
Jerry West lashed out at Phil
After coming to know that Jeanie and Phil were dating, Jerry West, the GM of the Lakers back then, lashed out at the head coach. He was furious that Jackson had chosen to date the daughter of the owner. In his book, Pearlman wrote:
"Jerry Buss was fine with the relationship. Jerry West was not. "There's a fucking million women in this town," he said to Jackson. "Why would you end up with Jeanie?"
Lakers owner Jeanie Buss is ENGAGED to comedian Jay Mohr! 💍

Both have been separated from previous engagements and marriages since 2016, with Jeanie formerly being engaged to coaching legend Phil Jackson.

(via @TMZ) pic.twitter.com/vxPXfzNpdC

— ClutchPoints (@ClutchPointsApp) December 21, 2022
Well, the relationship eventually ended. Phil too left the Lakers only to return years later. Jeanie and Phil even got engaged but ended up breaking off. Last year, Jerry West launched a scathing attack on Jeanie and the Lakers organization over a ticket issue. So, things didn't exactly turn out the best for everyone involved.
Also read: "No Need To Give Up On The Season LeBron James!": Skip Bayless Back Tracks On His 'Given Up' Statement Following A Stellar Birthday Performance
---
Share this article