Only Michael Jordan and Kobe Bryant are Ahead of Donovan Mitchell in This "Ultra-lite List"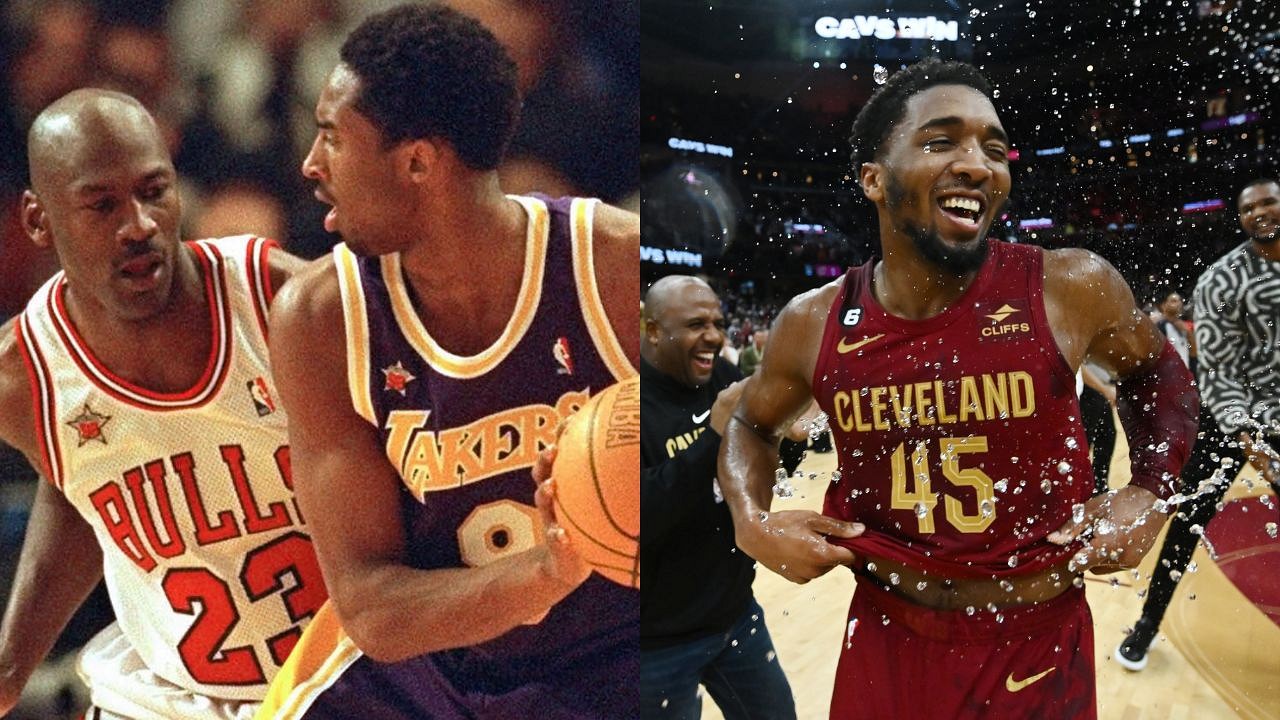 Donovan Mitchell sent shockwaves across the league last night. His 71-point performance is something that has happened only 7 times in the league and for all the right reasons, it is being lauded by everyone.
With the scintillating scoring outburst, he trails only Michael Jordan and Kobe Bryant in an "ultra-elite" list.
Cavaliers fans will have sung and drank all night long, not many times in history do we get to see a player put up more than 70 points in a game.
He is only the 7th ever player to do so and sits in at 8th highest on the all-time single-game scoring record. For a player of Donovan's caliber, this was a long time coming. He is the definition of an elite scorer.
But in another list that accounts for all the other things he did in the game, Mitchell was so good, he trails only the likes of MJ and Kobe!
Also read: Is Giannis Antetokounmpo Playing Tonight Vs Wizards? Bucks Release Injury Report for 2x MVP
Welcome to the Game Score leaderboard, @spidadmitchell @cavs | #NBA
Full leaderboard: https://t.co/E2WKHMTRKZ pic.twitter.com/CiawLonYgZ

— Basketball Reference (@bball_ref) January 3, 2023
Donovan Mitchell breathes rare air joining Michael Jordan and Kobe Bryant
So, apart from scoring 71 points, Mitchell also put up 11 assists, 8 rebounds, and a block! Yes, there wasn't much he did on the floor that didn't impact the game.
And for that very reason, he recorded the third-highest game score ever, trailing only Michael Jordan and Kobe Bryant. A unique list to crack.
Perhaps it is of note that, more recently even Luka Doncic cracked this particular list with his 60-20-10. And Mitchell's 71-11-8 might be even more of a jaw-dropping stat line.
Just take a look at the sheer variety of buckets he dropped. Mesmerizing.
Every bucket from Donovan Mitchell's historic night…

One of the most outrageous performances you'll ever witness pic.twitter.com/hSukIeUkME

— NBA University (@NBA_University) January 3, 2023
Also read: Who Scored the Most Points In An NBA Game – Donovan Mitchell Joins Kobe Bryant, Wilt Chamberlain At The Top Of The List
Mitchell's performance is one for the ages, he also beat LeBron James and Kyrie Irving's franchise record
Imagine trailing only Michael Jordan and Kobe Bryant. Fyi, the highest game score for MJ was when he dropped 69-18-6-4, and for Kobe, it was the night he dropped 81 points.
Spida joined a legendary company and whether he ever wins a championship or not, his name will forever be etched in the history books.
71 points for Spida, a @cavs franchise record. pic.twitter.com/tZ5rWcGXFs

— NBA (@NBA) January 3, 2023
He also broke the record in Cleveland of all places, the home of LeBron James and Kyrie Irving, both of whom held the franchise scoring record with 57. Donovan Mitchell shattered that quite easily. He also scored 71 with ease. Bucket getter, history maker.
Also read: Despite Investing In A $1.89 Trillion Company, Shaquille O'Neal Believes Kids Less Fortunate Than Him Can Become More Successful
---
Share this article