"Phoenix Suns haven't made the playoffs in 10 years": Jae Crowder's unlikely union with Devin Booker after social media battle leads them to first NBA Finals in 28 years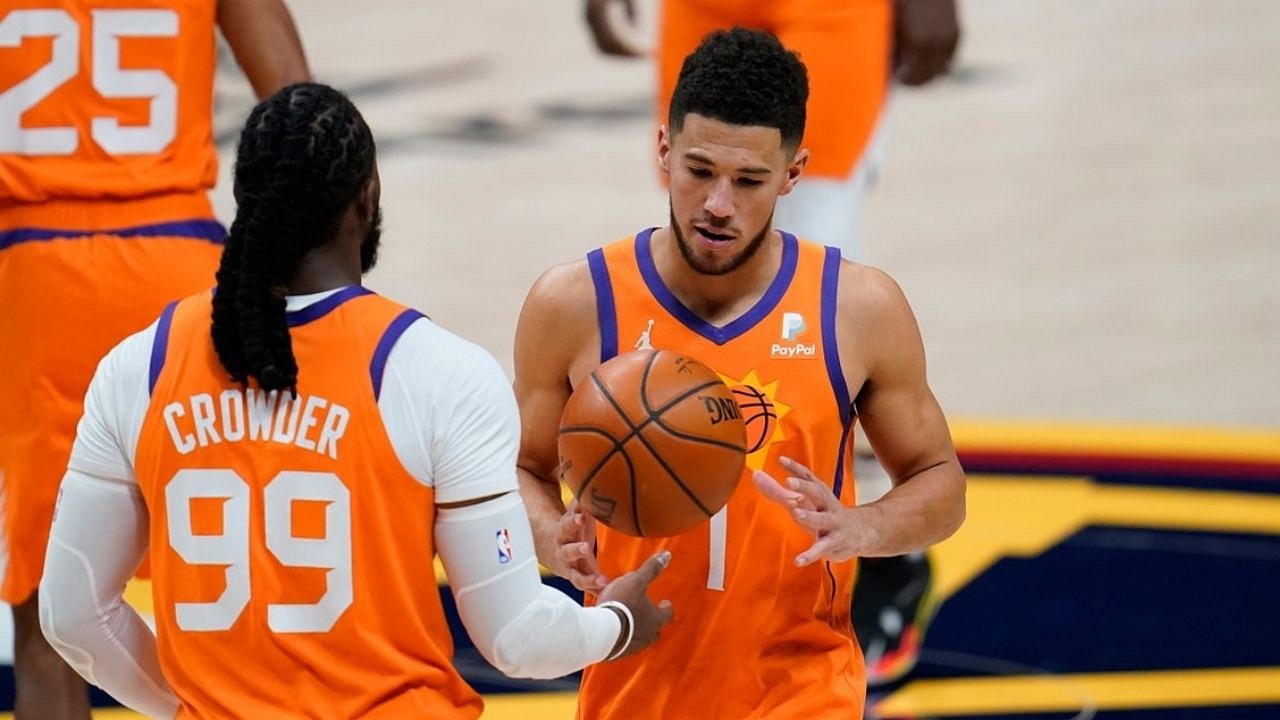 Jae Crowder and Devin Booker are teammates on a Suns team going to the Finals, but after Booker's 70 point game this seemed impossible.
The Phoenix Suns made the bold move in the offseason to bring Chris Paul despite his age and monster contract, but one signing that slipped very under the radar was that of Jae Crowder's.
Crowder played on the Miami Heat team that took the Lakers to six games in last year's Finals, and he was as solid as you get with a 'three-and-d' player.
Crowder's contributions to the Suns have not gone unnoticed, but it never seemed like he'd playing alongside Devin Booker at any point in his career. So, how did this union happen, and why was it so unlikely?
Jae Crowder is headed to the Finals for the second-straight season 🏆 pic.twitter.com/CnEdkmB4Kz

— NBA on ESPN (@ESPNNBA) July 1, 2021
Also Read: "I beat Damian Lillard in 1 on 1": Chad Johnson Leaves $1,000 Tip At IHOP With A Message About Portland Star
Jae Crowder Faced Heavy Criticism For His Decision To Join The Suns
Leaving to 'The Valley' a year after making a Finals run had people everywhere scratching their heads about Crowder's decision. Why would he abandon a championship level team to go to a franchise that hadn't made the playoffs in 10 years?
Crowder opened up about the criticism he faced in his decision after sweeping the Denver Nuggets in the Western Conference Semifinals:
"I look like a genius, I know I look like a genius a little bit with my decision. When I made the decision you should have saw how many text messages I got like, 'What am I doing? Why are you going to Phoenix? They haven't made the playoffs in 10 years.' I just feel like I know what type of group these guys were. I felt like they were hungry, they wanted to do some special things and I just wanted to be a part of it." via Arizona Sports.
Crowder Beefed With Devin Booker Before Joining Phoenix,
There were other circumstances that made this pairing unlikely too. Back in 2017, you might remember a Phoenix Suns vs. Boston Celtics game. Actually you probably wouldn't remember this game just based off the teams and date, but you might remember it because this was the day Devin Booker dropped 70 points.
A night to remember.

Every bucket from Devin Booker's 70 POINT NIGHT!#WeArePHX pic.twitter.com/d4hhQZes0B

— NBA (@NBA) March 25, 2017
It was marvelous, shocking, and eye-opening, giving us a glimpse of who Booker could become. At the same time, Crowder was a member of the Boston Celtics team who beat the Suns that day despite Booker's rampage. Crowder had some words for Booker and the Suns following the game.
This Devin Booker x Jae Crowder exchange after Book dropped 70 Points. 😂

And now they are headed to the NBA Finals together

(h/t @_HeatSZN_) pic.twitter.com/d8Ot78EpKx

— Hoop Central (@TheHoopCentral) July 1, 2021
Well, the past seems to be in the past as the two make an excellent pairing on this Suns team. They're Finals bound now, and all that happened is history.
Also Read: "Kevin Garnett, Zach Randolph, and Rasheed Wallace" Bucks Forward Bobby Portis Reveals His Favorite Players As A Kid
---