"Russell Westbrook's Brother 'Likes' D'Angelo Russell's Poor Performance": Ray Westbrook Recent Twitter Likes Amdist Lakers Loss Intrigues NBA fans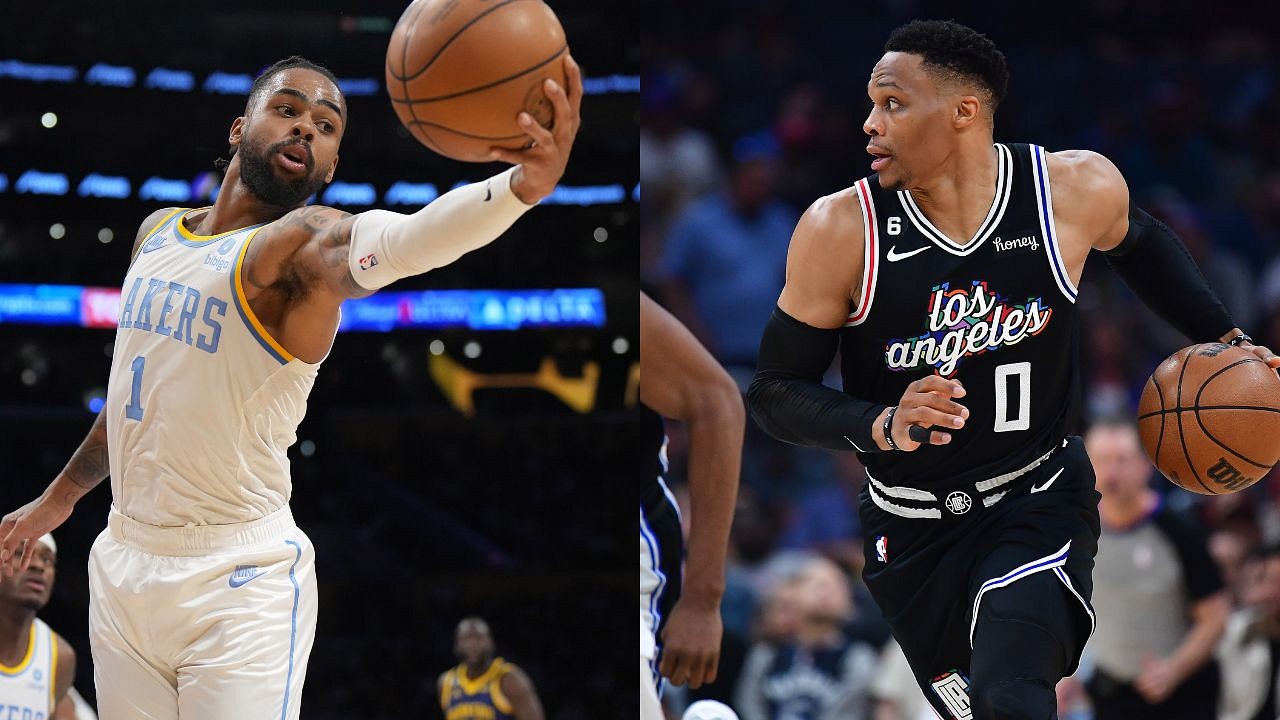 Russell Westbrook hasn't been in the best of form of late. The former MVP had a horrid spell with the LA Lakers, one that saw him receive much abuse from the Lakers faithful. Now, he finds himself out of the purple and gold uniform, but his relationship with the city of Los Angeles still persists.
Russ didn't just leave the Lakers, he was traded to the Utah Jazz, only to be released a few days later. So, what did he do as a free agent? Well, he signed with the Lakers' local and divisional rivals, the LA Clippers.
If the move itself wasn't enough to showcase Westbrook's obvious animosity toward the Lakers, then perhaps his brother's Twitter will. After all, Ray Westbrook recently liked a post regarding D'Angelo Russell. In particular, the poor performances his brother's replacement has had since returning to LA.
Russ' brother, Ray Westbrook likes tweet regarding D'Angelo Russell's poor form
Russell Westbrook made headlines when he traded the purple and gold of the Lakers for the blue and red of the Clippers. A move that, in Russ' defense wasn't exactly what he wanted.
Nevertheless, the deal was done. And, with it, the Lakers received a familiar face as Brodie's replacement. D'Angelo Russell arrived from the Minnesota Timberwolves to fill Westbrook's shoes.
However, despite the deal being done, the former MVP's saga with the Lakers seems to be far from over. Especially considering that his own brother, Ray Westbrook has intrigued Lakers and NBA fans alike with his recent Twitter activity. Specifically, his likes, which include a post highlighting DLo's poor performances.
Russell Westbrook's brother praying on the Lakers downfall 💀 pic.twitter.com/ROoL4P5eXI

— LakeShowYo (@LakeShowYo) March 18, 2023
It's pretty obvious that D'Angelo is struggling to find his rhythm with the Lakers. That being said, wasn't much better, and was a shadow of his former self while with the Lakers.
Russell Westbrook was subpar in his one-and-a-half seasons with the LA Lakers
Prior to his move to LA, while not having anything to show for his efforts, Russell Westbrook was sublime. The man had averaged 20+ points for 10 seasons straight, and a near triple-double in each one of them. He was arguably one of the best point guards in the league. However, his move to California saw his form drop drastically.
In close to two seasons with the Lakers, Russ averaged only 17 points, seven assists, and seven rebounds on terrible shooting percentages. And things haven't exactly improved either since he switched to the Clippers. In all aspects, it is looking very much like Westbrook's time as a premier superstar is winding down.
---
Share this article