Stephen a Smith's 'Top 5' NBA Players Features 3 Los Angeles Lakers stars Alongside Michael Jordan and Bill Russell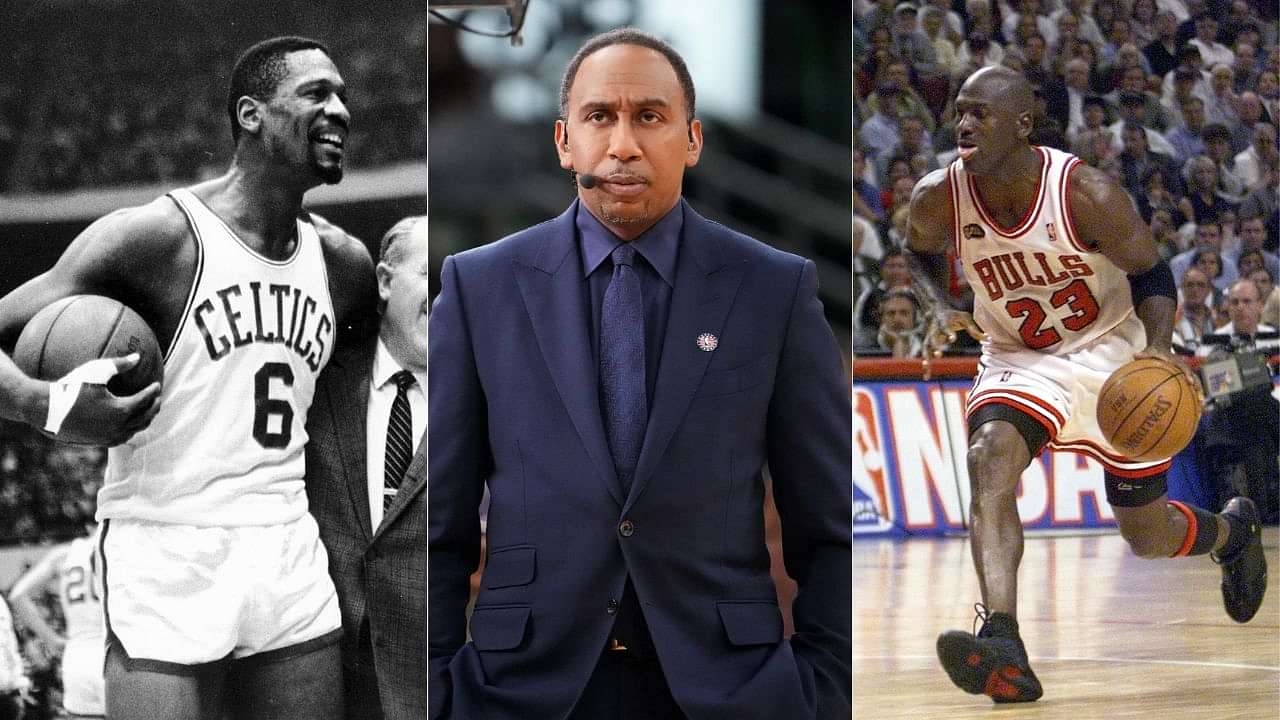 Historically, the Lakers have been one of the defining teams of the NBA. The sheer list of stars to have donned purple and gold is staggering.
Naturally, it comes as no surprise that most all-time lists feature players who have featured in Laker colors. Stephen A Smith's "Top 5" of all time is no exception to the rule, in this regard too.
The First Take host, known for his incendiary takes, has surprisingly gone more or less the conventional route for his Top 5. The usual suspects Michael Jordan and LeBron James occupy the top 2 spots while Kareem Abdul-Jabbar occupies third place in his rankings.
To complete the top 5, Smith decided to go with one player each from the Los Angeles Lakers and the Boston Celtics.
Also Read: 7-Foot Shaquille O'Neal Hilariously Coaxes Stephen A. Smith in Naming him the 2nd Best Center of All-Time After Kareem Abdul-Jabbar
Stephen A Smith finished his Top 5 with Magic Johnson and Bill Russell.
No top 5 of all-time list can be complete without the most decorated basketball player of all time. So, the late Bill Russell did find his way into Stephen A's list at #4. And to complete his list, Smith decided to go with some of that "Showtime" flair and added Magic Johnson at #5.
No blatant disregard or surprisingly hot takes in this top 5. The 5 players named by Smith are widely regarded as some of the greatest ever to play the game and there aren't any controversial inclusions.
Loading embed tweet https://twitter.com/RTNBA/status/1620880943702745088?ref_src=twsrc%5Etfw
When it comes to exclusions, there can be debate regarding the status of a few players who do hold a case for inclusion in a top 5 list. Kobe Bryant, Wilt Chamberlain, Larry Bird, Tim Duncan, etc do make strong cases for inclusion. But then again, any top 5 list comes down to personal preference.
And as long as there are no "Andre Iguodala"-esque shoutouts like his old friend Max Kellerman's famous clutch take, Smith's list was bound to be free of criticism.
The top spot of Smith's list was also no surprise to followers of First Take. After all, Smith had addressed the GOAT debate as recently as last season.
Stephen A Smith had declared LeBron James' GOAT chances over after 2021-22 season
With LeBron James at the pinnacle of greatness, there is much noise regarding his status as the GOAT. However, that is something Stephen A had dismissed last season.
LeBron and the Lakers failed to make the NBA playoffs last season in stunning fashion. Despite putting together a big three of James with Anthony Davis and Russell Westbrook, the LA franchise crashed and burned into mediocrity last season. This had prompted a declaration from Smith to the end of the GOAT debate.
"If there was any doubt, this cemented the fact that LeBron James can never be considered the GOAT" stated Smith on air after the Lakers' failure in 2021-22. With James playing some incredible basketball and seeking personal redemption in 2022-23, is the narrative bound to take a spin?
Also Read: "I'd have Michael Jordan as No 2": When Stephen A. Smith Disagreed With NFL's 'GOAT Across Sports' and Went With Muhammad Ali at the Top
---