Candace Parker hilariously roasts former NBA on TNT co-star Dwyane Wade after he posts a clip of himself doing a stunt off a boat
Dwyane Wade may have retired a while ago now, but the man has hardly had a boring life after the NBA.
To start things off, he tried being an NBA show host, joining the Inside Crew on Inside the NBA. And while that can't be put among the greatest of successes, the former Heat player wasn't bad at all. In fact, in a different environment, many fans can even see him being successful in the industry.
Since leaving the show though, Mr. Wade has made some savvy business decisions as well. Despite being a Miami Heat legend, he saw the Utah Jazz on the rise and chose to become part-owner of the franchise, and even mentors Donovan Mitchell in any way he can.
And now, during the offseason, the former player seems to be practicing to be a stuntman, as he posts a pretty cool video of himself jumping off a boat into the ocean.
View this post on Instagram
While most of us find it exciting to see though, it seems Candace Parker just isn't impressed. In the comments section of the very same post, she had a scathing, yet hilarious roast waiting for D Wade.
Also Read: When Vince Carter admitted that the NBA encouraged him to let the Bulls legend get his final moments with his fans
"The old Dwade would have flipped!": Candace Parker teases Dwyane Wade about his new habits
Candace Parker and Dwyane Wade have been close friends for a while now. But, the NBA community was fairly oblivious to this fact, until they co-starred on Inside the NBA. They spoke about being as close as siblings over and over again on the show. And frankly, their wholesome relationship was really fun to watch.
Even with neither party being on the show, however, they have continued to keep the same energy towards each other. And yet another example of this came very recently. Take a look at the picture below.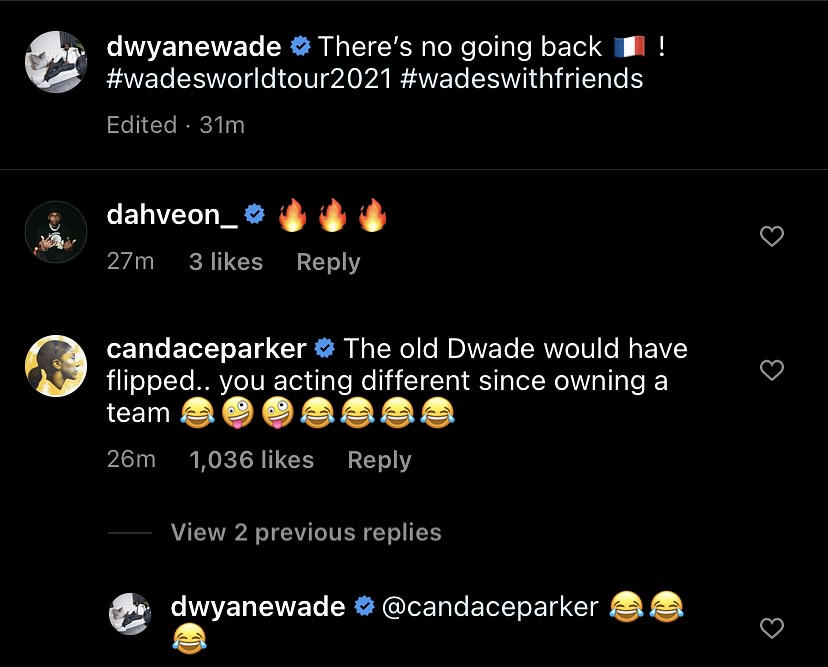 We can't tell if this is an age joke, a joke on how classy he has gotten since becoming part-owner, or both. But either way, we love it. And we'll be looking forward to more jokes like this between the two.
Also Read:  Shaquille O'Neal describes how he made the decision to release low-cost shoes with Walmart