"These High School Motherf**kers Can't F**k With Me!": Kevin Garnett Struck Fear in Tyson Chandler's Heart During Preseason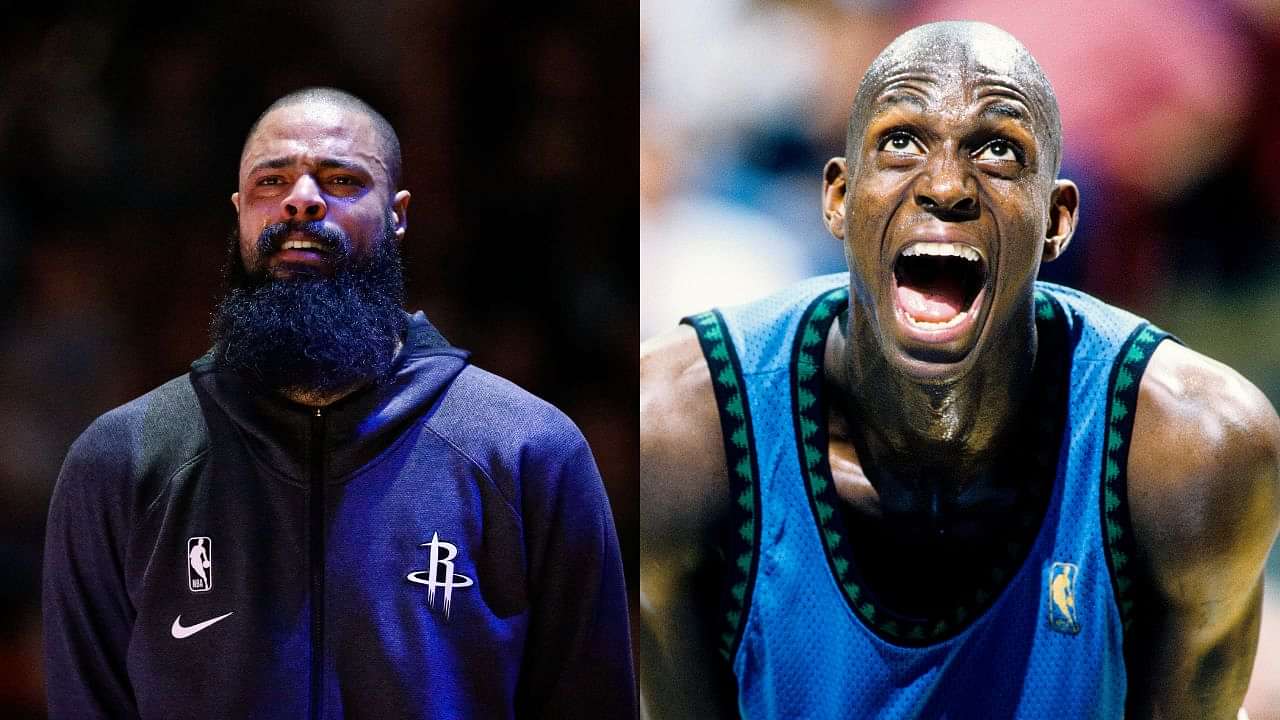 Kevin Garnett is perhaps the most intense player to have stepped foot on NBA hardwood. 'The Big Ticket' came straight out of high school during the 1995 NBA Draft and was placed on the Minnesota Timberwolves. The Wolves were never looked at as a premier franchise, that is of course, until KG got there. 
After missing the Playoffs all throughout the early 90s with abysmal records, Garnett led them to the postseason with a 40-42 as a sophomore in 1997. While they would get swept in the first round by the Houston Rockets, this appearance in the postseason were signs of the tides turning for the T-Wolves. 
As time went on, Garnett cemented his place amongst the best of the best throughout all frontcourt players in the league and continually led the Wolves to the Playoffs while also winning an MVP. He was always an incredibly competitive man but the more reps he got in the NBA, the fiercer he became.
Also read: "Evan Mobley Reminds Me of You, Kevin Garnett!": Brian Scalabrine Reveals Why He Fears the Cavaliers' Star as a Celtics' Fan
Kevin Garnett went at Tyson Chandler
Tyson Chandler was also drafted straight out of high school in the 2001 NBA Draft with the second overall pick. As a rookie who is coming out of high school, it's safe to say that your confidence levels going up against grown men and professional basketball players wouldn't be skyrocketing. 
To add to this, Chandler explains how during a preseason game against the Minnesota Timberwolves in his rookie year, Kevin Garnett came out the gate cursing up a storm at them. After calling him a 'motherf**ker' several times, KG took it to them during the game as well. 
Loading embed tweet https://twitter.com/PlayersTribune/status/1612527123897409540?ref_src=twsrc%5Etfw
Funnily enough, as mentioned before, Garnett is also straight out high school. So for him to cuss out Chandler and the rest for being from high school makes this story a classic. Garnett even took to Twitter to put forth an apology towards Tyson for what he did.
Loading embed tweet https://twitter.com/KevinGarnett5KG/status/1612556167514935296?ref_src=twsrc%5Etfw
Kevin Garnett eventually made it out of Minnesota
After over a decade of trying to surround Kevin Garnett with the talent needed for him to take the Minnesota Timberwolves to the NBA Finals, they would eventually give up. Garnett would get traded to the Boston Celtics in 2007. 
In his first year with the Celtics, KG brought home a championship to the Celtics alongside Paul Pierce and Ray Allen. This was Boston's first championship since the Larry Bird era.
Also read: "Kevin Durant and Co Still Need an Anchor": 6ft 11″ Kevin Garnett's Candid Confession on Nets Post 9-Game Winning Streak
---