"Want Kobe Bryant 1v1": Despite being compared to Michael Jordan, Andrew Wiggins picked the Black Mamba For Dream 1-on-1 Game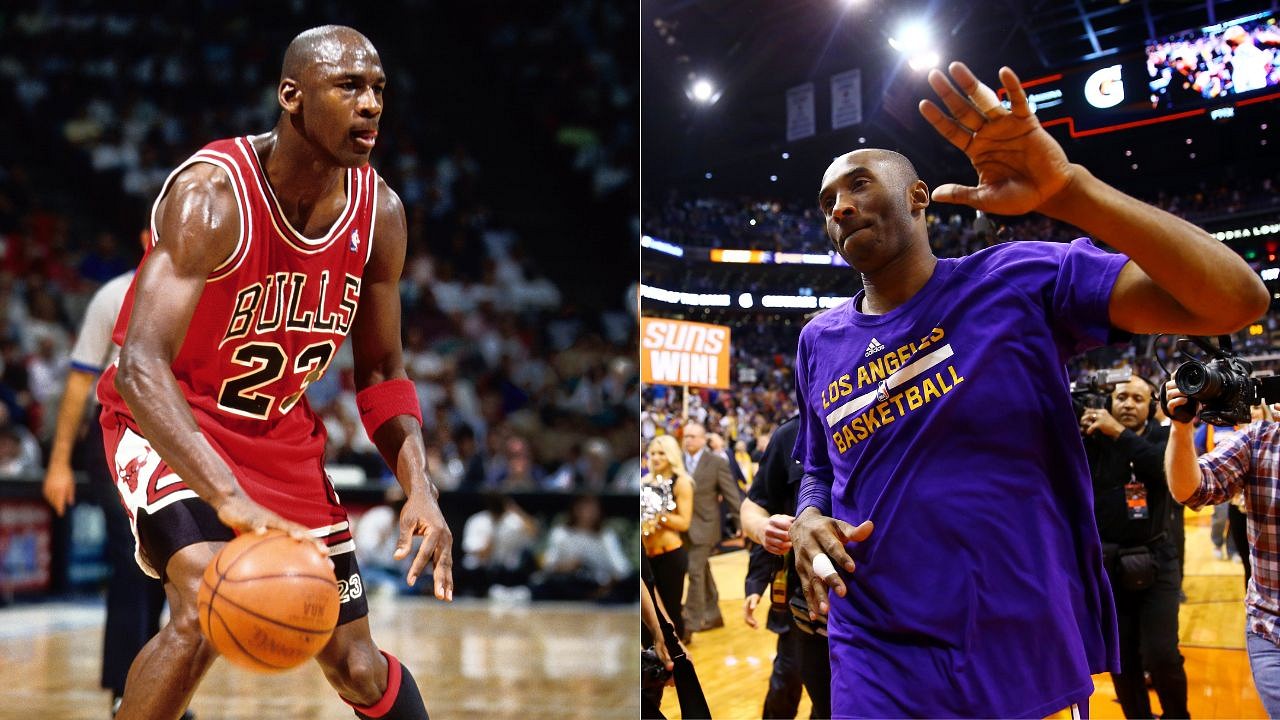 Kobe Bryant and Michael Jordan are 2 players who have always been role models for young basketball guards, because of their technical abilities. They set the benchmark for guard play over the years with their strong fundamentals.
While both Kobe and MJ were phenomenal athletes – MJ much more so – their strengths lay elsewhere. Bryant, who wasn't blessed with Jordan's hands or his insane verticality, had to train even harder.
Kobe developed the most complete scoring skillset ever seen in basketball by outworking everyone. The Black Mamba trained with the same drive and vigor during the offseason as he did all year long.
Over the years, Bryant created such a separation between himself and the league that it became crystal clear. No matter what situation Bryant was placed in, he could generate a stable look for himself.
Kobe's impossibly tough shot-making made him a universally respected basketball figure. By the mid-2000s, he was the player everyone on the playground would fight to emulate.
Andrew Wiggins names Kobe Bryant as his dream 1v1 opponent over Michael Jordan
Andrew Wiggins was perhaps the single most hyped NBA prospect since LeBron James back in 2013. He'd earned scholarships offers from everywhere, committing to Kansas in his senior year of HS.
Before he made it in college basketball, Wiggins was interviewed about his favorite players by ESNews. He named a whole host of players, but it was Bryant whom he picked for a 1v1 contest.
Wiggins had the following explanation for choosing the Black Mamba:
"I'd want to face Kobe because he's the closest thing to the greatest ever. I think Michael Jordan's the greatest ever, but Kobe's second to Michael Jordan, and I want to see where I stand."
How does Wiggins compare to Kobe and MJ?
Through 9 seasons of his career, it is clear that Wiggins is a supplementary star in the NBA. He has the potential to take over games on both ends, but not on a consistent basis.
Wiggins was projected to be one of the truly great swingmen, and he's failed in that regard. However, he was easily the Warriors' second-best player during their 2022 championship run.
After some down years in Minneapolis, the Canadian has earned the respect of fans and peers with his play in San Francisco. The Warriors faithful will be hoping to hold on to him as a free agent. Even if he's no Kobe or Michael Jordan.
---
Share this article