WATCH: 255lbs Magic Johnson Almost Posts a 19-point Triple-Double on His NBA Return After 5 Years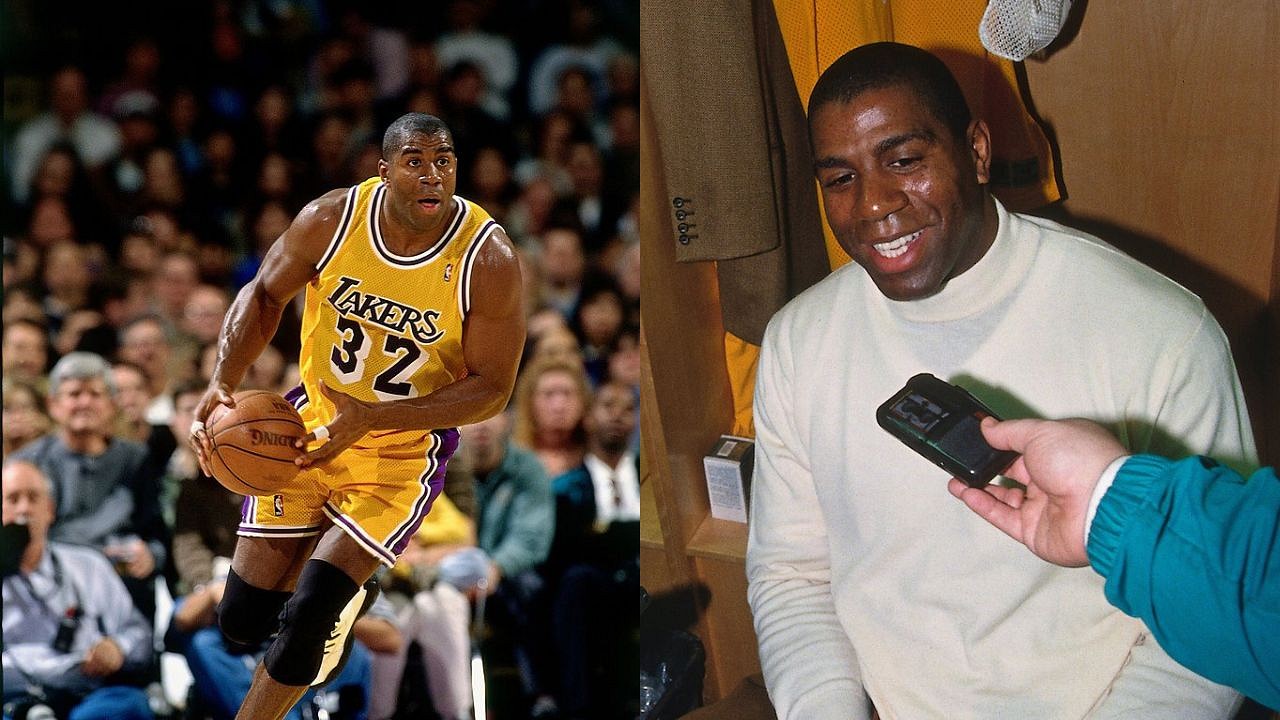 Magic Johnson probably gets the least amount of support in the GOAT discussions behind Michael Jordan, Kobe Bryant, LeBron James, and Kareem Abdul-Jabbar. It would sound unrealistic to many that the Lakers' legend was so good at his craft that he almost dropped a 19-point triple-double in his comeback game after a 5-year break from the NBA.
It must be because of the 6ft 9" point guard making the game look easier than anyone else did before him, that he always gets overlooked whenever the GOAT discussion comes up.
However, he does come up on top when we discuss the greatest point guard of all time, which he still probably is, because of what all he did in his 12 years in the league. People also forget his tremendous return to the league in 1996 because of Hakeem Olajuwon's two tremendous seasons and Michael Jordan's first full season back in action during that very period.
Also read: "Dennis Rodman Elbowed Magic Johnson": Pistons' 'Bad Boy' Ended 'HIV' Stigma Surrounding 6ft 9″ Legend's return to 1992 All-Star Game
The Magic Johnson comeback
When Michael Jordan came back from his first of three retirements and was getting ready to bring three more championships to Chicago in his first full season back in the league, the NBA got another big surprise in January 1996 from one of its greatest sons.
Having tried to come back from his retirement in 1992 and 93 following his goodbye to the game in 1991 because of testing positive for HIV, trying it out as a coach for the Lakers, and then becoming a part owner Magic finally made a return and despite putting on some considerable weight, (255 pounds, 35 pounds over his usual weight to be precise) he showed he was still a baller.
27 YEARS AGO TODAY
36-year-old MAGIC JOHNSON returned to the NBA & put up this line 5 years after his last game:

27 MINS
19 PTS
10 ASTS
8 REBS
1 Nasty Fake on Sprewell

— Ballislife.com (@Ballislife) January 30, 2023
He averaged close to 15 points, 7 assists, and 6 rebounds that season even after he had to play as a power forward for all 32 games he played. He helped the Lakers win 22 games and finish the season with a 53-29 record.
Although they matched up with defending champions in the first round, Magic showed in Games 1 and 2 his true self, averaging 23 points, 10 rebounds, and 5 assists. But then it was The Dream they were facing, who finished the series 3-1.
Also read: "Magic Johnson is Gay": Devastated Following HIV Diagnosis, Lakers Legend Felt Betrayed When Isiah Thomas Questioned his S*xuality
Magic could have teamed up with Kobe Bryant and Shaquille O'Neal
Had he continued after the 1995-96 season, Johnson could have played with Shaquille O'Neal and rookie Kobe Bryant and might have helped them win a championship in the very first season.
However, with all the conflicts between him, other players like Nick Van Exel, and the Head Coach made life difficult for the team and so Magic again had to retire with no such intention of doing so.
History could have been different if he played. Magic, Kobe, and Shaq might have had a title or two more, and MJ would have as many less from the six he won. Alas, we couldn't see it.
Also read: "Funny Clyde Drexler is not talking about Championships": When Magic Johnson Shut Down Blazers Forward's Claims of MVP Snub Amidst HIV News
---
Share this article