"Magic Johnson is Gay": Devastated Following HIV Diagnosis, Lakers Legend Felt Betrayed When Isiah Thomas Questioned his S*xuality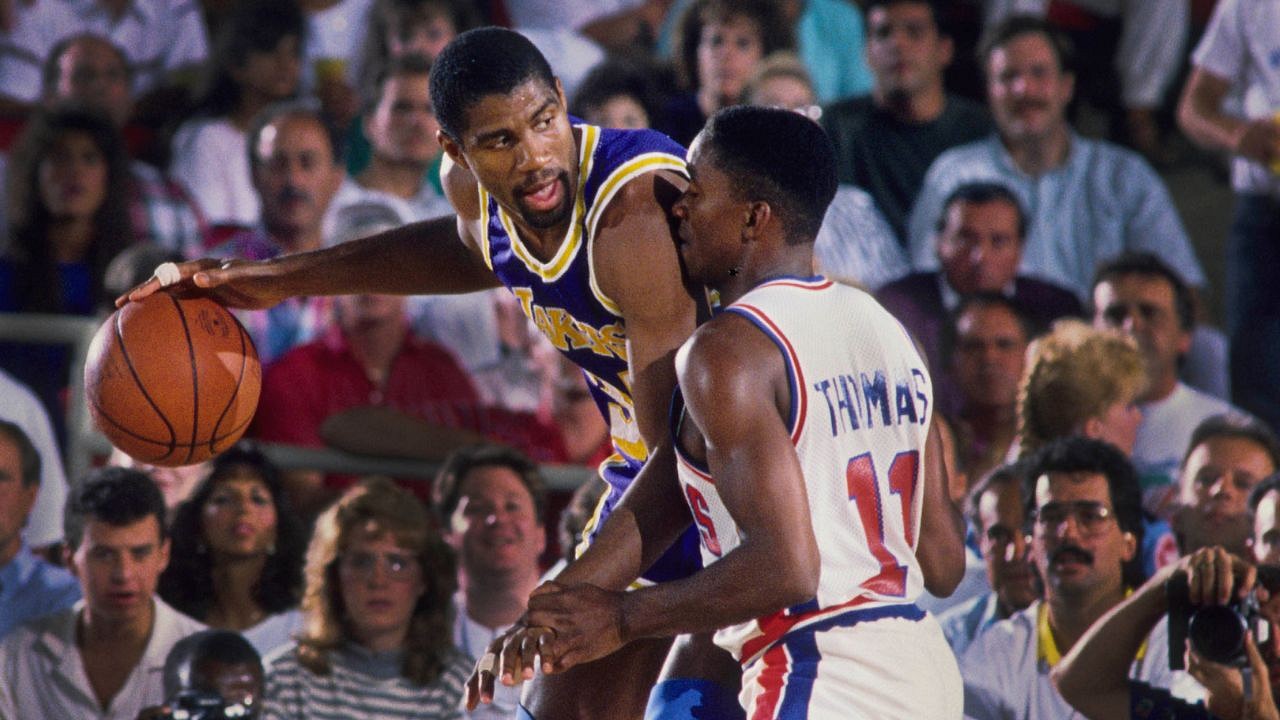 Magic Johnson was one of the biggest names of his era. Along with Larry Bird, Isiah Thomas, and Michael Jordan, Johnson was part of the generation that carried the NBA from a fame-less league to a globally popular one. Magic was one of the most talented players in history. His talent paved a path to his glory.
However, the popularity it brought along with it ended up hurting him more than he could have ever anticipated. After a life of debauchery, Magic Johnson was diagnosed with HIV in 1991. He immediately retired and became a spokesperson for HIV and AIDS awareness.
In his difficult time, Magic relied on his close friends, especially in the league, for support and Isiah Thomas was one of them. However, the laker legend was disappointed in his friend's reaction.
Also read: "Isiah Thomas deserved to be on the Dream Team": When Clyde Drexler Sat Next to Scottie Pippen and Supported Pistons Legend
Magic Johnson was deeply hurt when Isiah Thomas questioned his sexuality
When Magic Johnson announced his diagnosis to the world, he anticipated support from Isiah Thomas. The two had been awfully close and were great friends until then. However, after the diagnosis, Magic felt something had changed. His doubts were strengthened when his agent Lon Rosen told him about Isiah's strange line of questioning.
Apparently, the Pistons' guard had been calling people around the league and asking whether Magic Johnson was gay. For Johnson, these questions thrown at his s*xuality by a close friend cut deep. He revealed his wound in the book When the Game was Ours.
"His message that heteros*xuals were at risk for HIV infection was carefully monitored in one segment of the population: the NBA, where many athletes besides Johnson feared that their s*xual encounters had left them at risk. "Right after we found out about Magic, a bunch of us ran out and got tested too," Worthy said. "It was one of the most traumatic things I've ever been through." Almost immediately there were whispers and innuendo about Magic's s*xuality. Rumors persisted that he had engaged in a relationship with a man, or in a three-way encounter with a man and a woman. Magic felt confident that his friends would dismiss these falsehoods for him, but then was distraught to learn from Rosen and other NBA friends that Isiah Thomas had called asking curious questions. According to Rosen, Thomas told him, "I keep hearing Magic is gay." "C'mon, Isiah, you know Earvin better than anyone," Rosen responded.  "I know, but I don't know what he's doing when he's out there in LA."
It wasn't so much being gay that was problematic to Johnson even though he came from a generation where you were ostracized for not being heterosexual. It was the fact that one of his closest friends had questioned him.
Isiah and Magic's friendship ended after that
After hearing about Isiah's questions, Magic was stunned. Already reeling under the pressures of being diagnosed with a life-altering disease, Isiah's betrayal was too much to handle for Magic.
Their friendship obviously couldn't survive this. Magic finally bared it all in his book When The Game Was Ours. Fascinatingly, Isiah Thomas responded to these claims after the release of the book and claimed Magic was misled and lying about what had happened.
Well, there is no way to refute Isiah's claim but there is also much reason to believe that he could have been a better friend to Magic when he needed him most.
Also read: "Trash Celebration Joel Embiid": Kevin Durant Goes At Sixers 7-Footer As Kyrie Irving Takes Them On During RivalsWeek
---
Share this article