"What the Chuck Did You Say?": Shaquille O'Neal Can't Stop Laughing As Charles Barkley Butchers a Boston Accent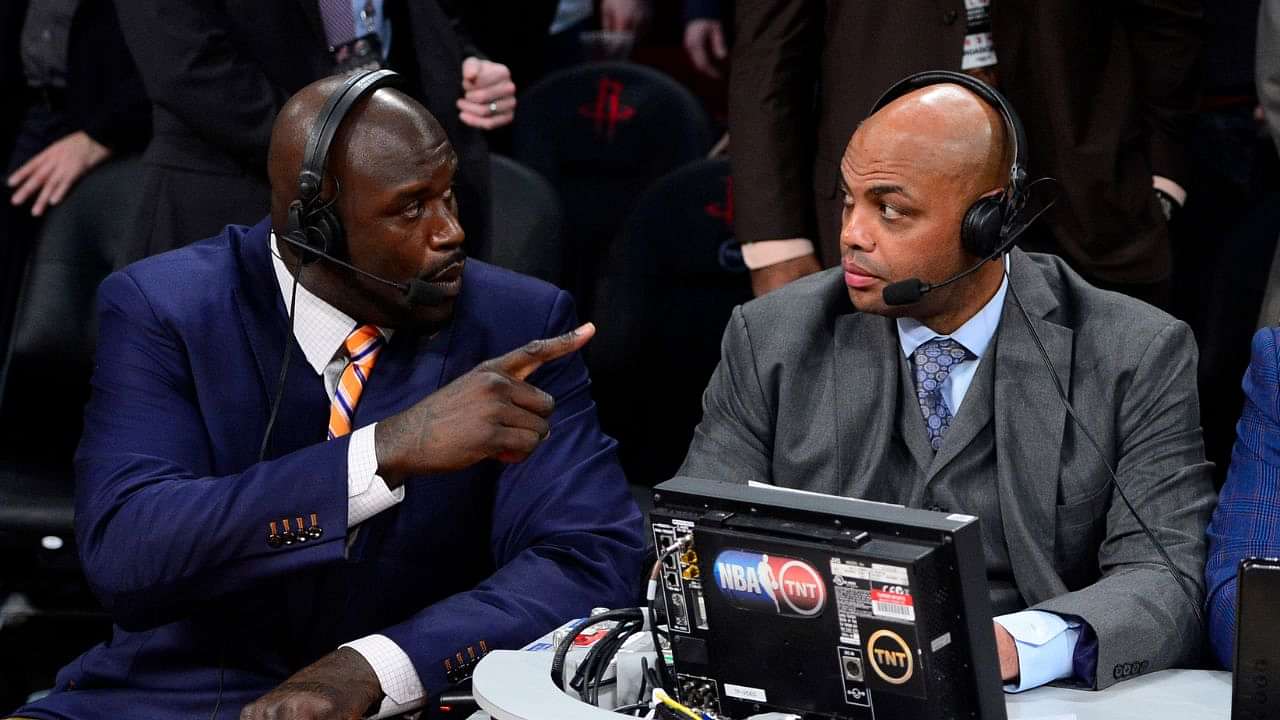 Inside the NBA is a show where we are never sure what to expect next. Tonight was yet another one of those nights. It started off with Charles Barkley, Shaquille O'Neal, Ernie Johnson, and Kenny Smith interviewing Patrick Mahomes. From there, it went to Game 5 of the Heat-Celtics series. However, right as the night was about to end, Kenny and Chuck attempted to talk in a Boston accent. It was so bad, yet so funny, that Shaquille O'Neal could not stop laughing at all.
As the crew sat in Boston, discussing Celtics' Game 5 win, they couldn't end the night without any fun. For Ernie's Neat-o-Stat tonight, the guys attempted a Boston accent. Unsurprisingly, Shaq excelled at it. I mean, why wouldn't he? He lived in Boston while he played for the Cs. However, the same could not be said about Chuck.
Shaquille O'Neal tries to hold back laughter as Charles Barkley fails at a Bostonian accent
Even before Charles Barkley could attempt to read what was written, Shaq made him laugh by making a joke about him being unable to read. Chuck was supposed to say,
"Saw Ernie at Fenway Park, eating chowder on top of the monster."
Sounds pretty simple, innit? It wasn't. Somehow Chuck said this entire sentence, but he fumbled the most while saying Ernie.
Loading embed tweet https://twitter.com/NBAonTNT/status/1661949729503076352?ref_src=twsrc%5Etfw
However, that wasn't it. Chuck wasn't done. He continued and said, "I would like to sit on top of the monster." Hearing this, Shaquille O'Neal could not hold in his laughter and said,
"What the Chuck did you say?"
Loading embed tweet https://twitter.com/hoops_bot/status/1661942182331420673?ref_src=twsrc%5Etfw
It wasn't only Shaq who got caught in the laughter. Even Kenny predicted this would be a viral meme. You know what? Kenny may actually be right. However, considering how Chuck operates, he'll probably say something funnier the next time, and make us forget all about this.
Shaq has messed up whole languages with Nikola Jokic and Luka Doncic
While Charles Barkley here messed up the Boston accent, Shaq usually is one step ahead. Back in December, he tried to talk to Nikola Jokic in his native tongue, but instead of Serbian, he spoke in Russian. This did not sit well with the 2x MVP, who was heard yelling at the Big Diesel.
At least with Luka Doncic, he got the language right and messed up only the pronunciations. Fans are still waiting for the day when Shaq will talk to the European players in their proper language. Till then, we can all enjoy some laughs courtesy of the big man.
---