"Pay that man. He's a freak of nature.": Kareem Hunt wants his RB teammate Nick Chubb to sign a contract extension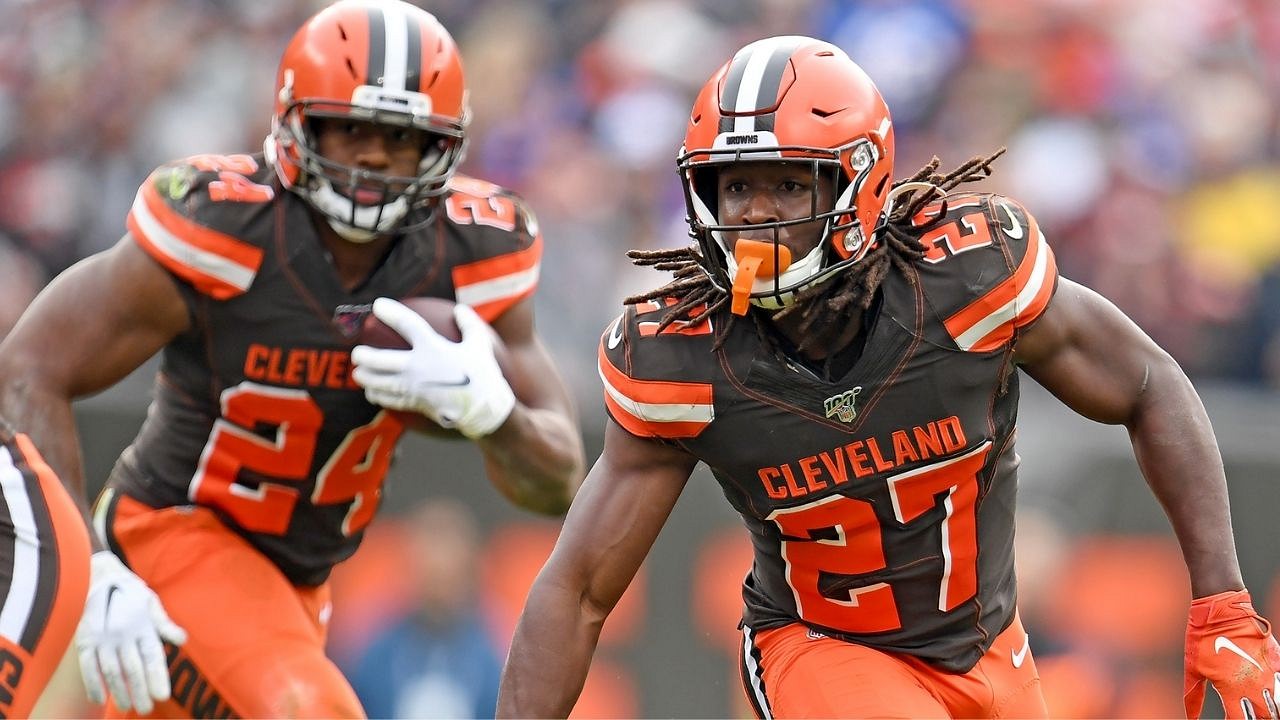 The Browns are loaded on offense. And a lot of that has to do with the fact that the team has 2 RBs who are good enough to be starters on a contending team in Nick Chubb and Kareem Hunt. Nick Chubb is entering his 4th year and is in line to get a major contract extension. And Kareem Hunt is excited for his teammate. 
Nick Chubb has been one of the best backs in the league ever since his rookie year in 2018. Chubb was 4 yards short of hitting 1,000+ yards in his rookie year, and then followed that up with a breakout performance in 2019. Despite a miserable offensive line, Chubb rushed for almost 1,500 yards ad 8 scores at a fantastic 5.0 ypa.
Nick Chubb rushing stats since 2018:
🔸 92.3 PFF Grade (1st)
33 rushes of 10+ yards (1st)
🔸 147 missed tackles forced (2nd) pic.twitter.com/EODZ1A6aB5

— PFF (@PFF) December 14, 2020
The former Bulldog made his 2nd consecutive Pro Bowl in 2020 after rushing for 1,067 yards and 12 scores despite missing 4 games to injury and splitting carries with Kareem Hunt. So his career till now has justified his status as a 5 star back. So it's no surprise that Hunt wants the Browns to pay his teammate the big dollars.
Kareem Hunt spoke about Nick Chubb and next season.
Chubb is scheduled to enter the final season of his rookie contract in September and become an unrestricted free agent March 16. He wants to stay in Cleveland with Hunt, who signed a two-year, $13.25 million extension on Sept 8 and is under contract with the Browns through the 2022 season.
"Man, please pay that man," Hunt said Thursday during his youth football camp at his alma mater, Willoughby South High School. "He's a freak of nature. He's a brother to me, and I love what he does on and off the field – just a great person and teammate."
Hunt and Chubb, didn't appear on the field together much last season, when the Browns went 12-6, including 1-1 in the playoffs, but it may happen more this year.
"Possibly," Hunt said. "Whatever Coach [Kevin] Stefanski calls, either Nick or I are going to make it work. So if that's both of us on the field at the same time, that's both of us on the field at the same time. We're going to find a way to make it work and get the job done. That's just how we've got to look at it. It doesn't matter if we're on the field or not together, we're going to find a way to get the job done."
Nick Chubb will run you flat over 😤pic.twitter.com/cLeBBCjO4I

— PFF Fantasy Football (@PFF_Fantasy) June 22, 2021
While Chubb had 1,217 yards from scrimmage and 12 total touchdowns last season, Hunt recorded 1,145 yards and 11 total touchdowns. The Browns' ability to use both backs interchangeably is an essential part of their offense. So the Browns will definitely hope to sign Chubb as fast as possible.
Also Read: NFL Quarterback Free Agents 2021: Top 5 Remaining Quarterbacks In Free Agency
---