"Lamar Jackson Will Not Get Deshaun Watson-Like Contract": 3x Super Bowl Champion Explains Why Lamar Might Have to Lower His Expectations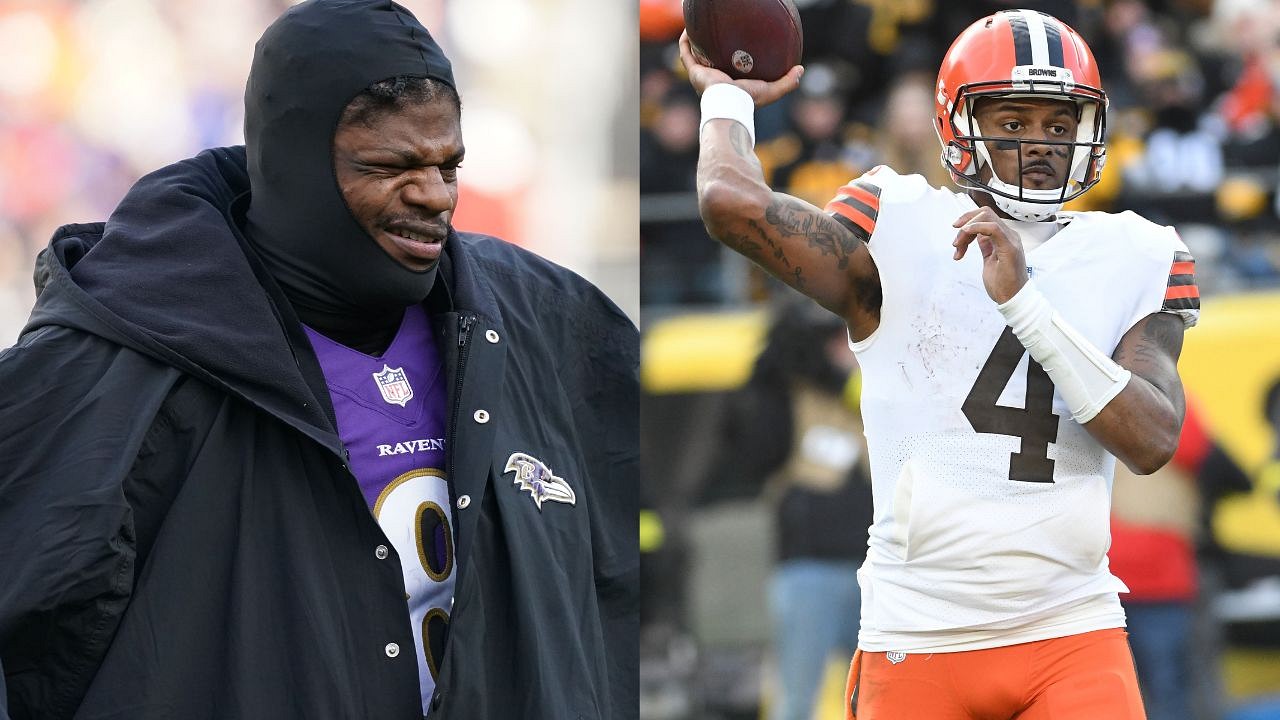 Lamar Jackson's contract extension has been one of the biggest topics of discussion among NFL fans for almost two years. Despite constant back and forth, the two parties just haven't been able to reach middle ground.
Adding another chapter to the saga, the Ravens recently placed a non-exclusive franchise tag on Jackson. The Ravens QB might reckon that he deserves a $200 million+ guaranteed contract, especially after looking at the deals Kyler Murray and Deshaun Watson got. However, the Ravens aren't willing to give up that kind of money.
Shannon Sharpe reckons Lamar Jackson will not sign a contract as big as Deshaun did
Undoubtedly, Lamar has been one of the stars of the competition for a few years now. Moreover, those who have achieved less than him, have got $200+ guaranteed contracts in the recent past. So it makes sense why Lamar is not settling for anything less, right?
Well, this is just one side of the coin. The other side is that Ravens do not want to make the same mistake which Browns did with Deshaun. Reflecting on the same, 3x Super Bowl Champion Shannon Sharpe recently claimed that it is highly unlikely that Jackson will get a Deshaun-like contract.
.@ShannonSharpe doesn't believe Lamar Jackson will get a Deshaun Watson-like contract:

"There are 31 owners that believe that was a bad contract, they're not going to start that precedent. And unfortunately, Lamar Jackson is about to be the test case." pic.twitter.com/MGmjNPyxqd

— UNDISPUTED (@undisputed) March 15, 2023
"There are 31 owners that believe that was a bad contract(Deshaun Watson one), they're not going to start that precedent. And unfortunately, Lamar Jackson is about to be the test case," Sharpe stated. He also claimed that Lamar desperately needs a middleman to negotiate for him.
The analyst added that Lamar and his mother probably can't do as a good a job at negotiating as an agent can who has been doing it for years. While Sharpe claimed that he wants Jackson to get a deal of his liking, he is sure that team owners, collectively, aren't in a mood to let Deshaun's contract set the benchmark for future deals in the league.
Browns restructure Deshaun Watson's contract to create cap space
The Cleveland Browns faced a lot of flak for giving a whopping $230 million deal to Deshaun Watson at a time when he was facing a plethora of s*xual harassment allegations. Moreover, after a disastrous 2022 season, the Browns were staring into abyss this year as well as they were roughy $14 million over the salary cap before the start of free agency.
Finally, they had to restructure Deshaun' contract to create some cap space. Thankfully for the franchise, Watson, who was set to receive a $45 million base salary for the coming season, agreed to convert most of it to signing bonus. As per Spotrac, Watson now has a $1.16 million salary heading into the 2023 season.
With this step, the Browns created $22.3 million in cap space. Looking at this, it wouldn't be wrong to say that the team from Cleveland did get a bit hasty while signing Watson. Moreover, not many teams would like to find themselves in the same spot as Browns, which is why, Lamar getting guaranteed $200+ seems like a far cry at this point.
---
Share this article