Deion Sanders Sparks 'NFL vs MLB' Debate by Calling Baseball The Most Difficult Sport He's Ever Played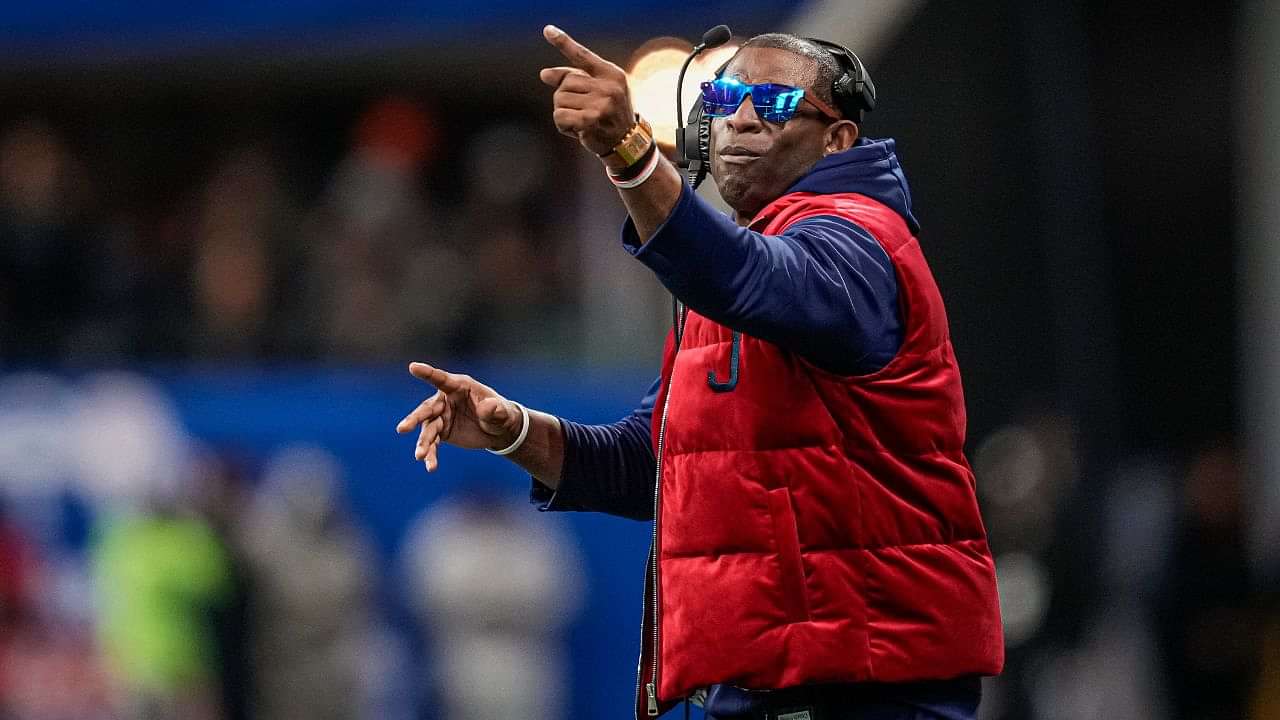 Deion Sanders, a.k.a Prime Time, is nothing less than a household name in the United States. His success in the NFL and the MLB is an inspiration for many who have come before him. However, playing multiple sports is challenging, and one is bound to have opinions. This is what Sanders shares with Hall of Famer Shannon Sharpe: the easiest sport he has played.
Sanders appears on Sharpe's 'Club Shay Shay' and talks about a plethora of things, including his easiest career. While he has a perfectly reasonable explanation for his opinion, the answer may shock many. For Sanders, the easiest sport he's played, is none other than football. And the hardest? Baseball.
The answer was pretty straightforward, and quick. Almost as if he had already made up his mind. When Sharpe asked again if baseball was indeed the hardest he's played, Sanders said, "that ball does some things to you!"
Sanders continues to elaborate why for him, baseball was the hardest sport. He says, "Any sport that you could fail seven out of ten times and become great. And make two, three hundred million dollars in it, that's a hard sport."
Also Read: "I Owe Him a Beer": Patriots Community Showers Praises On Fan Who Got Rudely Heckled At By a Raiders Fan
Deion Sanders says baseball was difficult because it was "challenging"
Sanders talks about why he decided to stick with baseball, even with a great football career already in the making. He says, "The challenge, man! I love challenges. And I could not master it. And it frustrated me because I hate to lose. I hate not mastering something that I know if I just had more time I could."
While Sanders claims he never really mastered baseball, fans across the aisle would argue otherwise. As the only player to appear in a Super Bowl and a World Series, he has made a great impact on the baseball community. So much so, he's regarded as one of the best players to have graced the sport. He also has 2 Super Bowls to his name, which automatically makes him a legend in football as well.
Sanders' retirement life is not any different. It seems he cannot stop chasing success, no matter where he is. After retiring from football and baseball, he started a career as a sports analyst, and at the same time, as a football coach. He found immense success with the Jackson State Tigers, leading them to two back-to-back SWAC titles, and an 11-win program record. After 2022, he will coach the Colorado Buffaloes.
Under him, his son Shedeur Sanders has also established himself as a prime target for NFL teams to swoop in on, once he becomes eligible. Most recently, Shedeur Sanders was signed by NFL legend Tom Brady's apparel brand. The young QB is also reportedly being mentored by TB12.
Also Read: "Your Mom Would Be Proud": Washington Commanders' Jeremy Reaves in Tears After Being Selected for First Pro Bowl
---