"We're Behind You, Bro" : Brett Maher Getting Words of Encouragement From CeeDee Lamb Amidst Horrid Misses in Wildcard Game is the Best Thing on Internet Today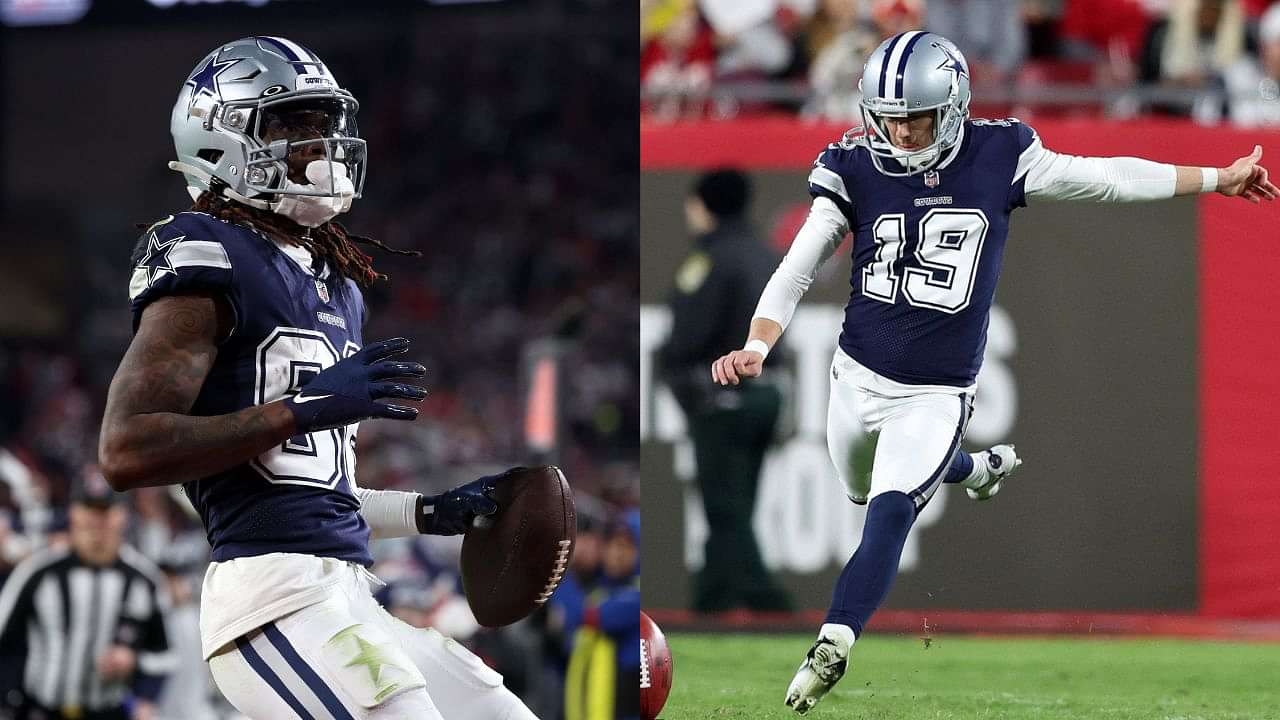 29 out of 32 attempts, and a completion rate of 90.6%. This was Brett Maher's record this regular season. With such a high completion rate, one would naturally expect the same from him in the postseason. However, things did not go well for him in the Dallas Cowboys wildcard game itself. Facing the Tampa Bay Buccaneers, he missed 4 consecutive PAT attempts, scoring only one the entire night.
Luckily for Maher, his teammates seem to have his back. In particular, receiver CeeDee Lamb is seen comforting the kicker on the bench after he missed his first two kicks. "We're behind you, bro, you're good. You're good," Lamb comforted Maher. "You've done bailed us out hella times. We're with you bro, I promise you we're with you."
Dumbfounded by his first two misses, Maher could only manage to say "I appreciate you, buddy". Although, even with the boost from his teammate, he still missed the next 2 attempts at goal. However, he had a moment of redemption for himself, when he finally managed to slot one between the sticks after his team's final touchdown.
Understandably, everyone watching was frustrated with the missed attempts. Even QB Dak Prescott was screaming on the sidelines, saying they should have gone for the 2-point play. However, the Cowboys have decided not to replace Maher for the next game. Instead, they have decided to give him another chance and will be the starting kicker in the Divisional playoffs.
Also Read: Stephen A. Smith Gets Hounded by Rihanna Fans for "She Ain't Beyoncé" Comment, Forced to Apologize
Brett Maher: A rollercoaster story of heartbreaks and unparalleled joys
Brett Maher has had an incredible journey to reach where he is right now. He is a veteran of 10 teams from two different leagues, one he probably wishes was not the case. Undrafted in the 2013 NFL Draft, he was signed to the New York Jets practice squad, but only lasted 2 months with them. The Cowboys then signed him, before releasing him two weeks later.
He then went on to play in the Canadian Football League, where he spent two years with 3 teams. His return to the NFL came as a second stint with the Cowboys, where he lasted 2 years before they released him for his lack of accuracy. He then joined the Jets practice squad again. 2 years and 4 teams later, he was back with the Cowboys, and this time, he wasn't giving them a reason to cut him off.
That is, until the last game. Maher, of all people, knows the cost of making mistakes, given how he was waived multiple times for performance issues. However, he will be grateful that the Cowboys have decided not to go in a different direction in the postseason. To be fair, the team has no other choice: replacing a kicker with an excellent regular season record just for a few mistakes is a massive PR backlash.
For Brett Maher, redemption will come in the form of opportunities against the San Francisco 49ers. Already touted as one of the toughest opponents to beat this season, every point against them will count. This means, every missed field goal, every missed PAT, will come back to haunt Maher after the game. Will we see a more resolved, accurate Maher this weekend? Or was the last game a sign of things to come?
Also Read: Ravishing Paige Spiranac Explains Why Alabama Football Fans 'Scare the Crap' Out of Her
---