Pro Kabaddi League 2017 : Full squads and player list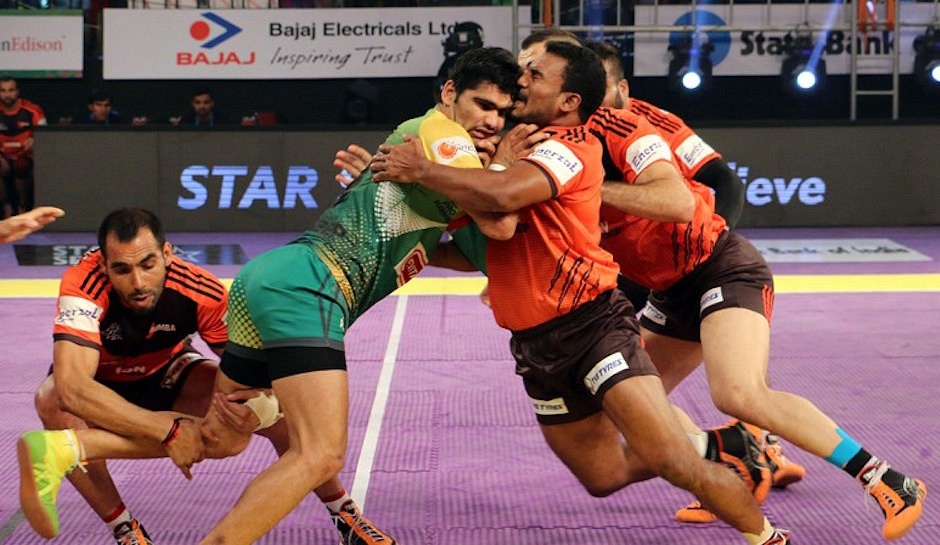 The super popular Pro Kabaddi League will kick off its fifth edition in just a few days time. Prior to the tournament, the player auction took place which lasted for about two days. An unprecedented, Rs 47 crores were spent in thhis auction, with India's Nitin Tomar coming out as the most expensive player, while Iran's Abozar Mohajermighani emerging as the costliest foreign buy for the season. Here are the Full squads and player list for the Pro Kabaddi League 2017.

Bengal Warriors:
Raiders
Deepak Narwal, Maninder Singh, Vinod Kumar, Virender Wazir Singh, Ameares Mondal, Rahul Kumar
Defenders
Sandeep Malik, Shashank Wankhede, Surjeet Singh, Young Chang Ko, Bhupender Singh
All Rounders
Ran Singh, Ravindra, Ramesh Kumavat, Shrikant Tewthia, Vikash.
Retained player
Jang Kun Lee
Bengaluru Bulls:
Raiders
Ajay Kumar, Gurvinder Singh, Harish Naik, Rohit, Rohit Kumar, Sinotharan Kanesharajah, Sumit Singh
Defenders
Kuldeep Singh, Mahender Singh, Pradeep Narwal, Ravinder Pahal, Sachin Kumar
All Rounders
Amit, Ankit Sangwan, Sanjay Shrestha
Retained player
Ashish Kumar.
Dabang Delhi
Raiders
Abolfazl Maghsoudlou Mahalli, Anand Patil, Ravi Dalal, Rohit Baliyan, Suraj Desai, Suresu Kumar, Vipin Malik
Defenders
Bajirao Hodage, Nilesh Shinde, Sunil Kumar, Viraj Vishnu Landge
All Rounders
Chetan S, Rupesh Tomar, Tapas Pal, Vishal
Retained player
Meyraj Sheykh.
Jaipur Pink Panthers
Raiders
Ajit Singh, Jasvir Singh, Kamal Kishor, Pawan Kumar Kadian, Selvamani K, Sunil Siddhgavali, Tushar Patil
Defenders
Jae Min Lee, Manoj Dhull, Navneet Gautam, Somvir Shekhar, Vignesh B
All Rounders
Dong Gyu Kim, Manjeet Chhillar, Santhapanaselvam, Siddharth.
Patna Pirates
Raiders
Md. Zakir Hossain, Monu Goyat, Vijay, Vikas Jaglan, Vinod Kumar, Vishnu Uthaman.
Defenders
Jaideep, Manish Kumar, Sachin Shingade, Sandeep, Satish Kumar, Virender Singh, Vishal Mane
All Rounders
Arvind Kumar, Jawahar, Mohammad Maghsoudlou, Parveen Birwal
Retained player
Pardeep Narwal
Puneri Paltan
Raiders
Akshay Jadhav, More GB, Rajesh Mondal, Rohit Kumar Choudary, Suresh Kumar, Umesh Mhatre
Defenders
Dharmaraj Cheralathan, Girish Maruti Ernak, Md. Ziaur Rahman
All Rounders
Ravi Kumar, Sandeep Narwal, Takamitsu Kono
Retained player
Deepak Niwas Hooda
Telugu Titans
Raiders
Athul M S, Mohsen Maghsoudloujafari, Munish, Nilesh Salunke, Vikas, Vikas Kumar, Vikrant, Vinoth Kumar
Defenders
Amit Singh Chhillar, Farhad Rahimi Milaghardan, Rohit Rana, Sombir, Vinod Kumar
All Rounders
Rakesh Kumar, Vishal Bharadwaj
Retained player
Rahul Chaudhari
U Mumba
Raiders
Darshan Kashiling Adake, Nitin Madane Shabeer Bappu, Shrikant Jadhav
Defenders
Suresh Kumar, Joginder Narwal, Surender Singh
All Rounders
Dong Ju Hong, E Subash, Hadi Oshtorak, Kuldeep Singh, Shiv Om, Yong Joo Ok
Retained player
Anup Kumar
Gujarat
Raiders
Amit Rathi, Mahendra Ganesh Rajput, Pawan Kumar Sehrawat, Rakesh Narwal, Sachin, Sukesh Hegde, Sultan Dange
Defenders
Abozar Mohajer Mighani, C Kalai Arasan, Manoj Kumar, Parvesh Bhainswal, Sunil Kumar, Vikas Kale
All Rounders
Mahipal Narwal, Rohit Gulia, Seong Ryeol Kim
Haryana Steelers
Raiders
Ashish Chhokar, Deepak Kumar Dahiya, Khomsan Thongkham, Prashant Kumar Rai, Sonu Narwal, Surjeet Singh, Vikash Khandola, Wazir Singh
Defenders
Babu M, Jeeva Gopal, Mahendra Singh Dhaka, Mohit Chhillar, Neeraj Kumar, Rakesh Singh Kumar, Vikas
All Rounders
David Shilisia J Mosambayi, Deepak Kumar Rathee, Kuldeep Singh, Mayur Shivtarkar, Parmod Narwal.
Tamil Nadu
Raiders
Bhavani Rajput, Dong Geon Lee, K. Prapanjan, M. Thivakaran, Sarang Arun Deshmukh, Sombir, Vineet Sharma, Waleed Al Hasani
Defenders
Amit Hooda, Anil Kumar, Anil Kumar, C. Arun, Darshan J, Mugilan, Rajesh, Sanket Chavan, T. Prabhakaran, Vijay Kumar, Vijin Thangadurai
All Rounders
Ananthkumar, Chan Sik Park, Prathap, Sujit Maharana.
Team Uttar Pradesh
Raiders
Ajvender Singh, Gulveer Singh, Mahesh Goud, Nitin Tomar, Rishank Devadiga, Sulieman Kabir, Surender Singh
Defenders
Gurvinder Singh, Hadi Tajik, Jeeva Kumar, Nitesh Kumar, Rohit Kumar Jr., Sanoj Kumar, Santosh B.S
All Rounders
Pankaj, Rajesh Narwal, Sunil.
---
Share this article