Ravi Shastri claims MS Dhoni's retirement is near; let it happen when it has to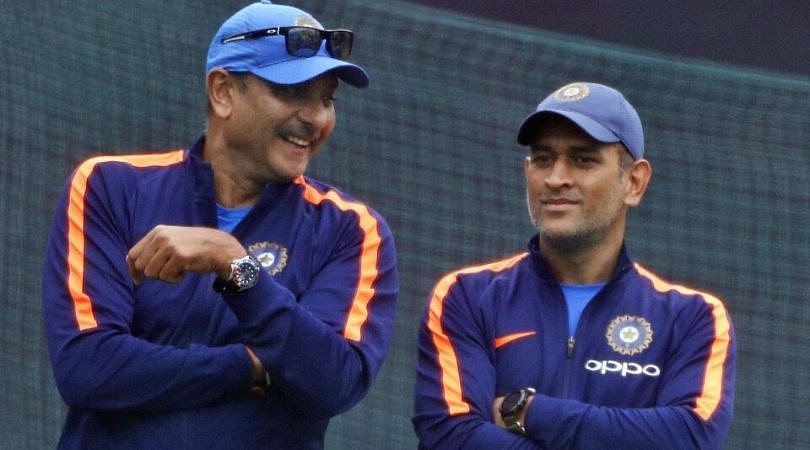 Ravi Shastri claims that MS Dhoni's retirement is inevitable and near, let it happen when it has to and requested to keep spotlight at it.
MS Dhoni has been shown cold shoulder by BCCI's chief selector MSK Prasad, as he has asserted that team India will be looking at younger prospects like Sanju Samson and Rishabh Pant instead of prioritizing Dhoni's career.
Meanwhile, even former Indian skipper Dhoni has been declared himself as unavailable in the recent matches, and would also be not available for the series against Bangladesh.
Thus, there are rounds of speculations that Dhoni is at the end of his cricketing career and after the above statement by Prasad, the rumours have been fuelled in the media houses.
Amidst all of this, Indian team coach Ravi Shastri has confirmed that Dhoni's career days are limited Dhoni's retirement episode should be left alone and requested everyone to let the eventuality of it happen when it has to.
Also read: 5 cricketers who have changed their names
"Half the guys commenting on MS Dhoni can't even tie their shoelaces. Look at what he's achieved for the country. Why are people in a hurry to see him off? Maybe, they don't find enough talking points. He and everybody who knows him know he'll be going away soon. So, let it happen when it has to. Making statements at his expense is downright disrespectful," Shastri was quoted by the Times of India.
"After 15 years of playing for India, wouldn't he know what's the right thing to do? When he retired from Test cricket, what did he say? That Wriddhiman Saha was good enough to be handed over the wicket-keeping gloves. He was correct. He's been a shadow when it comes to the team, always sharing his mind, lending his views," Shastri added.
Meanwhile, Dhoni was in Ranchi to congratulate debutant Shabaz Nadeem after a successful maiden Test appearance for India while playing against South Africa.
---
Share this article