Ribbon cutting ceremony: Kedar Jadhav inaugurates MS Dhoni's Seven Store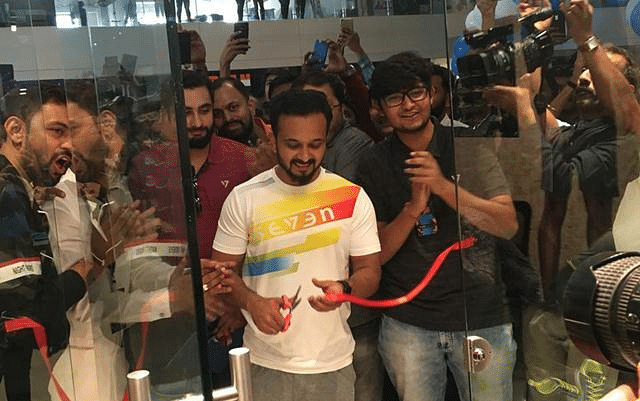 Indian middle-order batsman and the man with 'Golden arm' Kedar Jadhav cut the ribbon to inaugurate MS Dhoni's iconic Seven stores on the outskirts of Surat.
Team India is busy playing the red-ball format against Sri Lanka. MS Dhoni who is no more to be involved in Test cricket is having some cool time in the offline mode.
Dhoni has recently travelled Sri Nagar to visit the army school students and spent some quality time with them; spoke about the virtual importance of 'studies' and 'sports'.
After that, he was invited as a chief guest for Kashmir's popular cricket tournament. He then offered valuable tips to the budding cricketers as well as he played with them.
It was a lifetime opportunity for the cricketers who were lucky enough to learn the art of calmness, composure and about the game from India's connoisseur MS Dhoni.
MS Dhoni recently launched his 'Seven' Store in Surat where Kedar Jadhav was invited as a special guest to proceed with the ribbon-cutting ceremony.
Whenever we bump into a digit '7', it reminds us of MS Dhoni who was born on July 7, 1981. There are a lot of glorious memories that are pinned to it.
Seven stores official Twitter handle had the caption, "Finally the ribbons are cut by our star @JadhavKedar at Surat!!!"
Feast your eyes by watching these pictures:
Finally the ribbons are cut by our star @JadhavKedar at Surat!!!#IAMSEVENhttps://t.co/ZazDkB4681 pic.twitter.com/ueIY4r0Qgm

— Seven (@TheSevenLife_) November 29, 2017
---