Robert Kubica issues emotional statement after F1 2019 return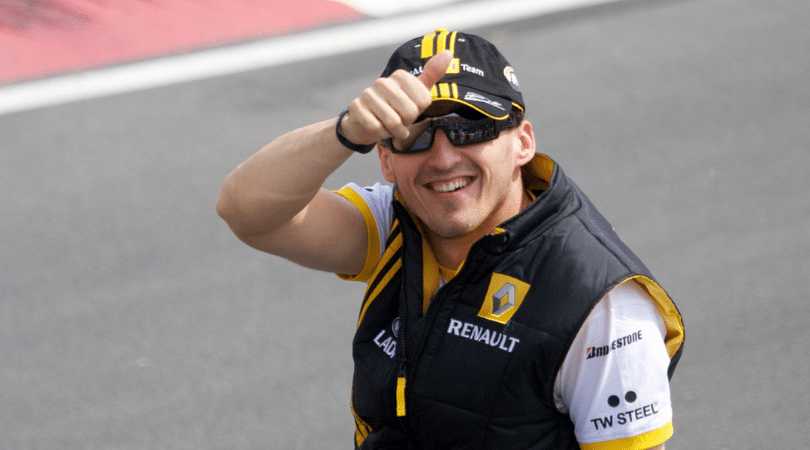 Robert Kubica is back; scripting one of the greatest comebacks in the history of the sport, securing an F1 drive for himself 7 years after encountering a career ending injury.
Robert Kubica's 2011 rally accident had forced him out of the sport and had to undergo extensive rehabilitation in order to have even the slightest off chances of making a comeback.
And the Pole did not give up, working hard on his rehabilitation and recovery and landing a test driver role at Williams for the 2018 season.
It seemed as if Kubica could be in line for a 2019 seat, but midway through the 2018 season, that seemed like a distant possibility.
However, Kubica's fortunes changed in the last few months and here he is now, announced as the 2019 Williams driver alongside rookie George Russell.
Kubica released an emotional statement about returning to F1, thanking everyone who helped him during this difficult period of his life.
"I'm really excited to see what he can do."

Hear more from Deputy Team Principal Claire Williams as Robert Kubica is promoted to a 2019 race seat. pic.twitter.com/inrxMtGicy

— WILLIAMS RACING (@WilliamsRacing) November 22, 2018
An incredible comeback in complete.

Eight years after a rally accident that nearly killed him, Robert Kubica will race for Williams in 2019.

More: https://t.co/9ZhSOYCSOS pic.twitter.com/ojcahcvo0k

— BBC Sport (@BBCSport) November 22, 2018
The Kubica story is an amazing one but lets not get drawn too far into fantasy, he's joining a team that has a long way to go. Hopefully his feedback can help to improve their fortunes, something that appears to have been sorely missing in recent years.

— Matthew Somerfield Ⓕ① (@SomersF1) November 22, 2018
"Firstly, I would like to thank everyone who has helped me during what was a difficult period of my life over these last few years. It has been a challenging journey to make it back to the Formula One grid, but what seemed almost impossible is now beginning to feel possible, as I am excited to be able to say that I will be on the Formula One grid in 2019." Kubica said.
He admitted that the return would not be easy but he is up for the task and would be giving his best shot.
"For sure, it has been a long road to get to this point, but as that challenge now comes to an end with this announcement, a new challenge begins working with Williams on track." he said.
"It will not be easy, but with hard work and dedication, both George and myself will work together to try and help the team get in better shape to move further up the grid. This year has been tough, but I have learnt a lot, and I'd like to thank Sir Frank and Claire for this opportunity.
"Being back on the F1 grid next season will be one of the greatest achievements of my life, and I'm sure with hard work and commitment we will be able to help motivate the team to achieve good things together. Thank you again to everyone who has supported me and believed in me. I will finally be back on the grid behind the wheel of an F1 car, and I cannot wait to get back racing." he added.
Claire Williams was all praise for Kubica and was delighted that the Pole would be driving for Williams alongside Russell next season.
"I am delighted to announce that Robert will be stepping up to the role of Race Driver to partner George in 2019. All of us at Williams have been immensely impressed at what he has achieved, and it is a great credit to his strength of character and tenacity to return to Formula One." she said.
"During this season his commitment to the team and the work he has put in behind the scenes has been unwavering, and he has become an established and much respected member of the Williams team. He has a level of determination that is remarkable to see; and he truly embodies the Williams fighting spirit.
"Having the consistency of Robert stepping up into this new role will be an important step for us as we look to fight our way back towards the front of the field. I am also excited to have a mixture of youth and experience to lead us into 2019 and we look forward to seeing what they can achieve on track.
"I would also like to thank Lance and Sergey for their hard work in what has been a challenging season. We wish them all the best for their future careers." she concluded.
---