The Role of Super Agents in Modern Football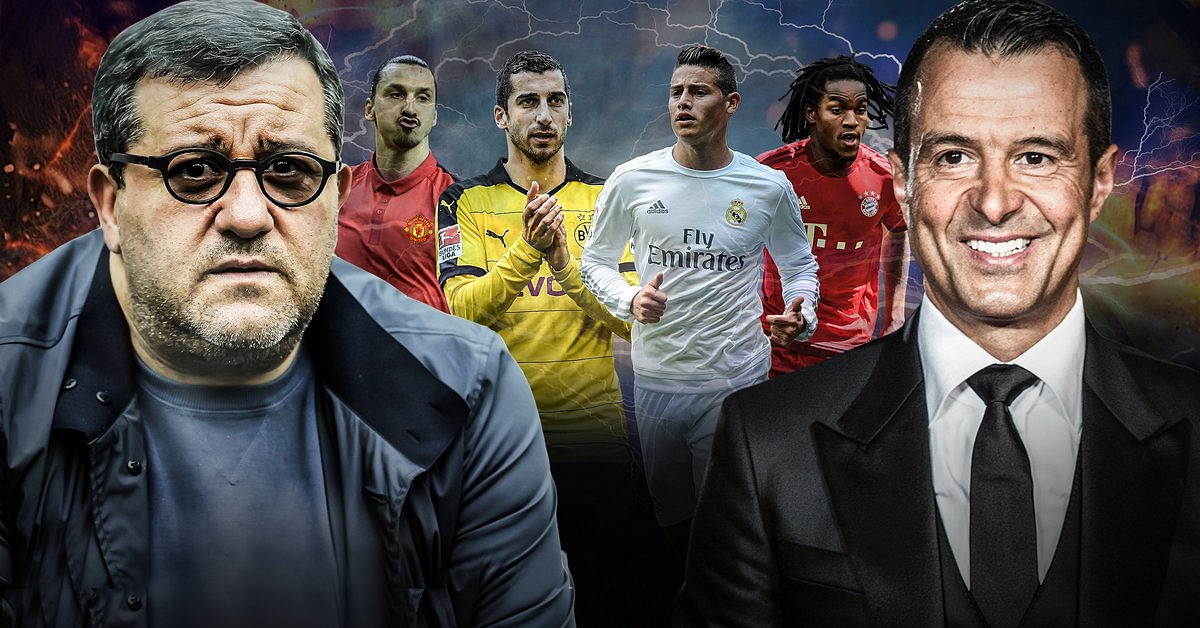 The general perception of agents in modern football is negative, but to those who are less aware of how they work, here is an insight in to the life of a professional football agent.
The traditional role of an agent is to look after a player's contract, to make sure he is not being taken advantage of by rich and powerful football clubs and to get them the best deal possible.
However, in the last 15-20 years their role has evolved into a more powerful and influential voice in the lives of their clients, the players. They now often look after the players' financial needs and the media relations.
Players now tend to go to their agents for any problems they face, be it with the club, a teammate or just their confidence. From finding a new house to paying bills, agents now play a crucial role in the players' life.
For instance, Mario Balotelli once called Mino Raiola to inform that his house was on fire to which the famous agent advised to call a fire brigade. So, their role has evolved from financial advisors to pseudo life-gurus to men who have a lot of money but not a lot of life experience.
It is needless to mention that Mino Raiola and Jorge Mendes are the two most powerful agents in football.
What is also important to note is that agents scout players from their early school days and sign them up with an eye to the future. In effect, their role also overlaps with that of a parent, and the player obviously puts a lot of trust in his manager.
We have often heard that Raiola treats his clients as his family and vice versa. Agents are acting beyond their traditional roles and are almost Godfathers to these players.
In the modern society, agents are given a bad reputation especially when large sums of money are involved. This is mainly because an average fan only gets to see the public role of the agents in moving players and getting them a better deal.
So it is inevitable that when a player moves from your club to another and the agent receives a significant chunk of money for it, a lot of animosity is targeted towards the agent.
When fans hear of millions and millions of pounds being paid to the agent for such transfers, while being unsure of what the agent is doing, the agent is bound to get a bad reputation.
Well, there are, as in other things, good agents and bad agents.
You will hear stories about how they prey on young and impressionable players and in some cases, their parents as well, simply to get power and influence the players by promising a bright and rich future with them.
They might not make the best decisions for the players at that stage of their career, as some of them may be purely financial. Credit must be given to Mino Raiola in that his players have hardly made a bad move to a club, the only exception being Mario Balotelli's move to Milan and even Liverpool. He has not been a bad agent to his players.
Tottenham chairman Daniel Levy says the Premier League's big-spending is "totally unsustainable". To put it in simple words, the amount of money being spent on football players is absurd; hence it becomes inevitable that an agent is going to make a lot of money.
Fans have legitimate concerns as they see agents as greedy middlemen who are now the be-all and end-all of all contractual agreements. Of course players need legal representation, but they do have qualified lawyers to represent them.
An example of Harry Kewell's transfer from Leeds to Liverpool in 2003/2004 pops up where Leeds needed to sell him as they were in dire need. Kewell wanted to move to Liverpool and Liverpool wanted the player. But when the agent took a 2 million pound fee as 'Success Fee', people were legitimately baffled as to what had he done to earn that money.
Manchester United paid Juventus 89 million pounds for the return of Paul Pogba. While many wondered why Pogba did not get his initial break at Old Trafford, Sir Alex did not want to be extorted for an unproven player at that time, and he took an immediate disliking to Raiola.
Sir Alex Ferguson's actions might be incorrect retrospectively, but he held his ground morally and was backed by a majority of fans who see agents as 'commercial parasites'. From the other end of the table, Pogba did directly benefit from the move, although Raiola made a lot (a lot!) of money in the deal.
What's interesting with the rise of super-agents in modern football is that, with the amount of hate directed towards them, we forget why the 'Bosman Ruling' was introduced in the first place.
Clubs used to have their own agendas, which gave them the power to get away with almost anything. With Pogba, Sir Alex was perplexed as to why a talented young player wished to leave the club apart from the fact that his agent had influenced him. Eventually it came down to a clash of personalities between Ferguson and Raiola.
Other clients of Raiola include Lukaku, Henrikh Mkhitaryan, Zlatan, Marco Verratti, Gianluigi Donnarumma and Italian striker Mario Balotelli.
Agents encourage their players to be more outspoken and brash about their needs and wants and this helps them force through deals with the clubs.
A recent example being Romelu Lukaku, where when he first joined Chelsea, he spoke about how he idolised Drogba and had his posters on his walls growing up. At Everton, he was outspoken on his desire to play in the Champions League, which lead to his current move to Manchester United.
The recent contract saga of Gianluigi Donnarumma at AC Milan was another talking point. The young goalkeeper had rejected a new Milan contract. The 18-year-old is the best young player to emerge from the club in decades but former AC Milan star Zeljko Kalac believes super-agent Mino Raiola was behind Gianluigi Donnarumma's transfer saga.
He had told Omnisport: "I don't think it has much to do with the player to be fair. A lot depends on agents these days. I think the agent will be calling the shots there. Wherever he can make the biggest cut, that's where the boy will be playing."
"I don't think an 18-year-old boy will have a head on his shoulders that clearly to know which is the right decision to make for that kind of money at such a young age."
"I just think he needs to keep playing. It would be great if he stayed at Milan. It's a great club. They look to be heading back in the right direction by spending money to strengthen side."
Donnarumma eventually signed a new four year contract and apologised for the confusion. When Raiola had ended talks with Milan in June, sources told ESPN FC that the agent wanted a €40m release clause while Milan would only accept a clause in the range of €100m.
Donnarumma's initial refusal to commit to a new deal upset Milan fans, with many blaming his agent Mino Raiola for trying to lure him away from the Serie A club in order to earn a substantial fee for his services.
Neymar Jr. just moved from Barcelona to PSG for a world record deal of $262 million. According to The Guardian, Pini Zahavi, his agent, will share a 38 million Euro ($45 million) fee with Neymar's father for helping broker the soccer player's 222 million-euro ($262-million) move to Paris Saint-Germain from FC Barcelona.
Moise Bioty Kean is an Italian professional footballer who plays as a forward for Juventus. Kean's father claims that he did not give the so-called 'super agent' Mino Raiola permission to represent his son.
"[Raiola] says that he is my son's agent, but the truth is we have never signed any agreement," he added. "In fact, if I were to choose, I would choose another agent."
Meanwhile, Raiola still claims to be the player's agent, who is supposed to be the next big thing. Such incidents of confusion do not bode well for the ever deterotiating image of agents.
To sum it up, it is not that agents do not work for their players, they do. Their image precedes them and the fans are not entirely to be blamed for this perception.
The agents might hold a very significant, influential and powerful role in the lives of their clients/players who they treat as family, but we should never forget that football is a fan's sport after all.
Cheers.
---