Sachin Tendulkar heaps praise on MS Dhoni for a wonderful career as captain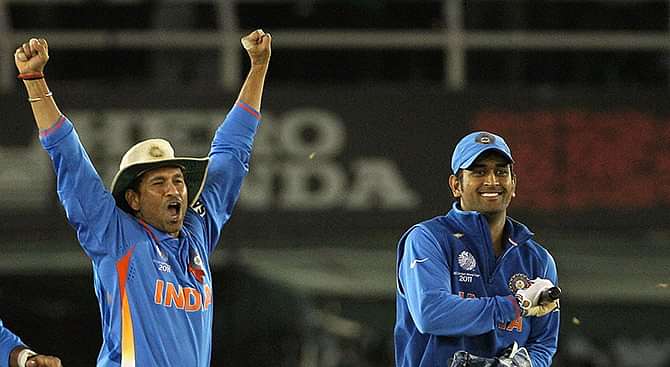 As MS Dhoni dropped a bomb on the cricketing fraternity last night, legends took to social media to express their gratitude towards arguably the greatest limited overs captain India has ever seen.
And who greater than Sachin Tendulkar to pay tribute to the man who won him the elusive World Cup! Sachin very generously asked people to 'respect' Dhoni's decision and to celebrate the man's career as captain of the nation.
MS Dhoni is the only captain in the history of the sport to have won all ICC trophies, the T20 World Cup, ODI World Cup and the Champions Trophy!
And while Dhoni's retirement at this stage comes off as a very logical decision on his part, for the fans, it is definitely a very, very tough pill to swallow. While Ganguly instilled that fearless attitude in the team, Doni actually transpired that attitude into results in ICC tournaments.
Sachin' s statement
"Congratulations to MSD on a wonderful career as a captain leading India to success in both T20 and ODI World Cups. I have seen him emerge from an aggressive player to a steady and decisive captain. It's a day to celebrate his successful captaincy and respect his decision. Wish MSD the very best as he continues entertaining us on the field with his exploits"
Dhoni gave up Test captaincy and test cricket 3 years back around the same time in order to let Kohli blossom as captain. And with Kohli having sufficient experience of captaining the Indian side, Dhoni would have felt that it was probably the best time for Kohli to build the future of Indian cricket in the limited overs format as well.
Very rarely do you come across leaders who not only win you everything that there is to win, but also ensure that the next leader is well groomed and ready to take on the mantle of the highly demanding leadership role.
MS Dhoni has ensured that Indian cricket remains in safe hands even when he is not at the helm of it, and very few captains in the world can boast of that achievement.
Statements from other people of the cricketing fraternity
Anurag Thakur– "I congratulate @msdhoni on an illustrious career as Capt who led #TeamIndia to memorable victories in T20WorldCup 2007 & 2011 @ICC WorldCup!"
Krishnamachari Srikanth– "Sign of a true leader is to know when to pass the baton!Thank u for the entertainment skipper u r an #Inspiration @msdhoni #livinglegend"
---