Scottie Pippen changes stance on GOAT debate post LeBron's comments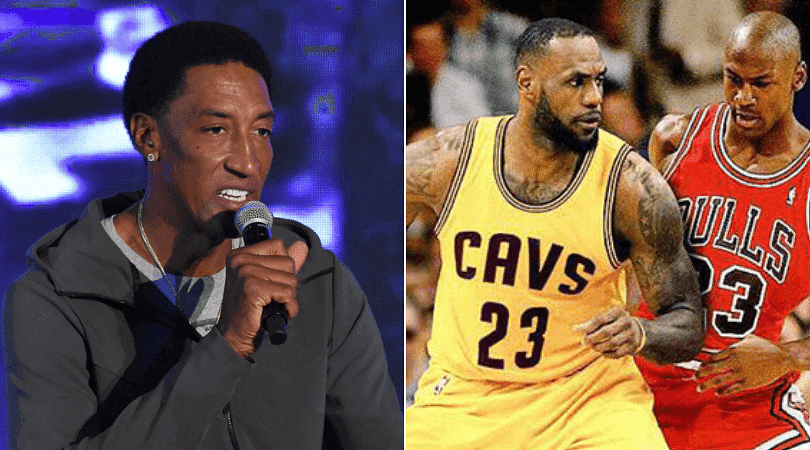 LeBron James' comments about being the greatest player of all time following the 2016 NBA Finals comeback win have caused quite a stir in the NBA community.
James claimed that he felt that he had become the greatest player of all time post the 2016 NBA finals, as the Cavs had managed to win against a 73-9 Warriors side, one that had dominated the league, left, right and centre.
However, as expected, LeBron's statements were not taken well by the NBA fraternity, who felt that LeBron was being a little too immature by proclaiming himself to the be the GOAT.
And right after LeBron's statements, Jordan fans dug up a Jordan interview, one wherein MJ had very humbly stated that he would never accept the GOAT tag as it would be disrespectful to the legends that played the game before him.
Michael Jordan 🐐 LeBron James? 🤔
PICK A #tbt GOAT QUOTE!!

➡️ https://t.co/qLw7gc08Zs pic.twitter.com/xl7f1CHmmZ

— Maybe I'm Crazy with Joy Taylor (@maybeimcrazypod) January 3, 2019
Michael Jordan explains why he would never call himself the GOAT.

(Via @TheUndefeated) pic.twitter.com/8PL7KRZr97

— Ballislife.com (@Ballislife) January 2, 2019
Michael Jordan played all 82 games in a season 9x

How incredible is this ?

Kareem- 5x
Kobe- 4x
Hakeem- 4x
Wilt- 4x
Bird- 3x
Duncan- 3x
LeBron- 1x
Magic- 0x
Russell- 0x
Shaq- 0x

— 🏀 The Ballfather 🏀 (@StevenKelsey13) January 4, 2019
Now, weighing in on the GOAT debate, Jordan's teammate Pippen had earlier said that Jordan and LeBron shouldn't necessarily be compared, as the two players played in two different eras of the sport.
He also emphasised on the point that the two players have different roles in their respective teams and hence it is very difficult to compare them.
"LeBron James plays a different role from Michael Jordan as a player. He was never asked to do things that LeBron can do for his team. I had another role. For this reason, statistically, LeBron numbers are much better than Jordan" explains Scottie Pippen.
"We did not use Michale to do the kind of things that the Cavs use LeBron James. That's why you can say that the comparison is unfair" he added.
Now, while initially Pippen had stayed on the fence with respect to his comments about the GOAT debate, his fresh comments on the entire saga show that he is not at all impressed with LeBron's statement.
Pippen has slammed LeBron for his statement and has credited Jordan for never resorting to such antics.
"My problem is more so with LeBron is if you are the greatest player, if people are saying you are the greatest player, or if people are saying Michael Jordan is the greatest player why do you need to say it?
"Michael Jordan has never ever said he's the greatest player to ever play the game. Why? He's respected all the other players before him.
"So for LeBron to say that, he's sort of putting himself out of it because you can't say you're the greatest players. You have to allow your peers in the world to say it.
"I think it's pretty great that a guy won three titles, left for two years and came back and won three more. Winning ultimately decides who the greatest players are in the game." he added.
"My problem is more so with LeBron is if you are the greatest player, if people are saying you are the greatest player … why do you need to say it?"

—Scottie Pippen discussing LeBron James' "GOAT" comments on The Jump pic.twitter.com/Nyx3dBu5ef

— NBA on ESPN (@ESPNNBA) January 4, 2019
Do you agree with Pippen's comments and who do you think is the greatest player of all time?
---
Share this article