Sindhu prevails as Saina falters in the Badminton World Championships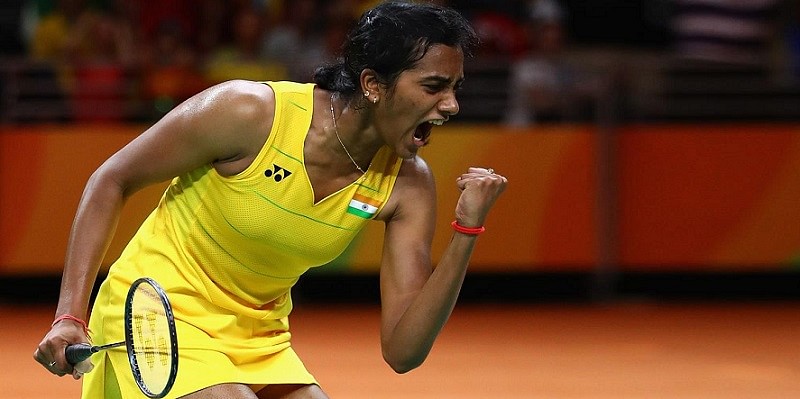 It was a mixed day for the Indians at semi-finals stage as Saina Nehwal lost to Japan Nozomi Okhura in three sets. PV Sindhu showed her class winning the semi-finals against Chen Yu Fi in straight sets to reach her maiden World Badminton Championships at Emirates Arena, Glasgow.
PV Sindhu got 2 bronze medals during the past Championships and silver at the Rio Olympics last year, Sindhu would be looking to perform well in the finals tomorrow.
Saina Nehwal took on Okuhara in the first semi-finals. In the first set, the Indian shuttler started on a positive note taking a 5-2 early lead and continued to dominate Japanese opponent.
At the interval, Saina led 11-6. After the interval too, Saina dominated and played brilliant shots which troubled Okuhara. Saina won the first game 21-12.
The second game saw Okhuara play with more aggression to take an early 4-0 lead. From 6-9 down, Saina took 3 points in succession to equalize the score at 9-9. At the interval, Okhuara had a slender lead of 11-10.
After the interval, both players fought for each point and equalled the score at 17-17. Okuhara played well taking the second game at 21-17.
The third game started with both players taking alternate points to level the score at 3-3. Okhuara showed her class dominating Saina and led 11-4 at the interval.
After the interval, the Japanese opponent was aggressive and won the match 21-10. Saina had to settle for bronze.
PV Sindhu took on Chinese young player Chen Yufei. In the first set, Chen Yufei started on an aggressive note taking an early 7-4 lead. Sindhu showed great fighting spirit and levelled the score at 7-7.
At the mid game interval, the Rio Olympic silver medallist led 11-8. After the interval, Sindhu continued to play with aggression and won the first game 21-13.
In the second set, Sindhu dominated right from the start taking an 8-0 lead. It was an excellent display by Sindhu and took a 11-1 lead at the interval.
After the interval, the Chinese youngster tried her best but could not do much. Sindhu won the second game 21-10.
Sindhu will face Okhuara in the finals today.
Results
Saina Nehwal lost to Okuhara- 21-12, 17-21,10-21
PV Sindhu defeated ChenYufei- 21-13, 21-10
---
Share this article