Pro Wrestling League: Babita Kumari Phogat suffers shocking 46-second loss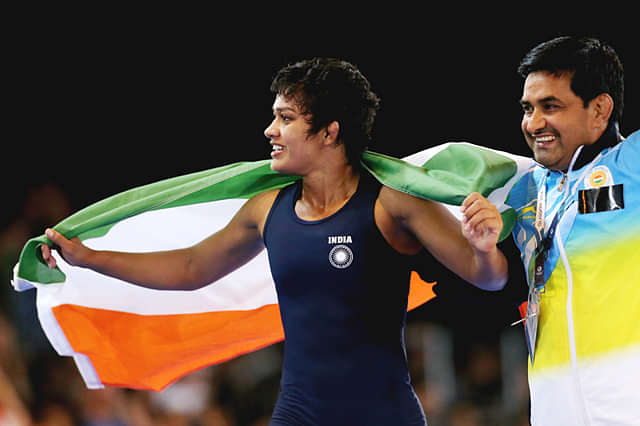 Haryana Hammers took on UP Dangal on the 3rd day of the on going Pro Wrestling League season 2 at the KD Jadhav Wrestling Stadium, New Delhi. Fans had come in huge numbers to see the UP Dangal team in action for the first time, as the Phogat sisters were a part of the contingent.
Thanks to Aamir Khan's 'Dangal', the Phogat sisters have become household names and the game of wrestling has transpired to every nook and corner of the nation. Their popularity was on display yesterday night, as the stadium was full of 'Geeta' and 'Babita' cheers!
While Geeta wasn't involved in yesterday's match up, Babita succumbed to an astounding 46 second loss to Sofia Matsson of the Haryana Hammers in the 53kg category bout, much to the dismay of the crowd.
The Swede used her experience, skill and agility to win by 'fall' in the first round itself.
 What is a win by fall?
When a players pins the other one down on both shoulders, the fight ends then and there, and is termed as a 'win by fall'
Babita looked a little haggard at the start of the match, giving away a 4-0 advantage in less than 30 seconds, after which she was viciously locked to the ground.
She tried to counter attack in that situation but ended up handing the advantage to the Swede, who could easily win by fall.
What followed was desolate looking Babita Phogat and an equally bamboozled crowd, who just didn't know what transpired in the last 46 seconds.
Haryana Hammers then sealed the win over UP Dangal, winning the match up 5-2. Haryana have won 2 in 2 and take on Delhi Sultans next(On January 11).
UP Dangal will have to go the drawing board again and quickly bounce back from this loss, as they are up against Mumbai Maharathi on January 7.
Babita Kumari Phogat would be absolutely devastated by this loss, but sometimes pressure does get the better of you, especially when the entire nation suddenly springs up with so many expectations. A few days off would do her a world of good, and we are sure she'll come back stronger this time!
---