Taunton weather on 17th June: What will be the weather forecast for tomorrow's West Indies vs Bangladesh World Cup 2019 match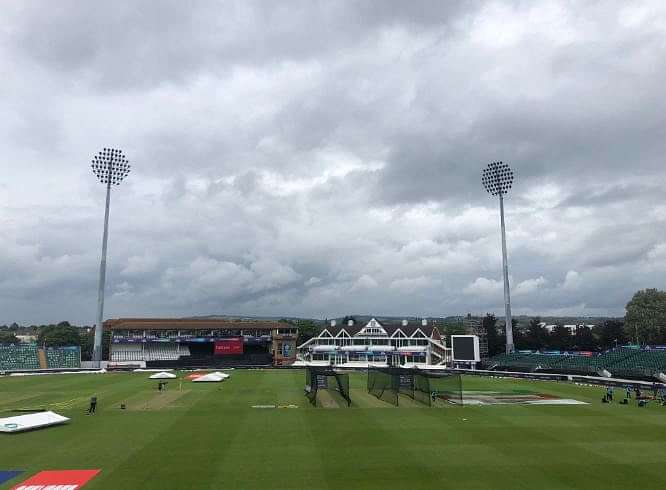 Taunton weather on 17th June: What will be the weather forecast for West Indies vs Bangladesh match at Taunton on Monday
The weather Gods have been way too harsh during the ongoing ICC Cricket World Cup, with as many as 4 matches being washed-off due to rain. 8 teams so far have suffered due to incessant rains, with only Australia and Hosts England managing to keep the dark clouds away from their presence.
ALSO READ:  Twitter comes up with hilarious reactions as Sarfaraz Ahmed yawns wide open during India vs Pakistan match
Such has been the case, that it has become imperative to discuss the weather conditions, and more so the chances of rain in the upcoming features of the World Cup.
West Indies vs Bangladesh weather condition
Tomorrow's clash between West Indies and Bangladesh will take place at the Cooper Associates County ground, in Taunton. So far, only one match has been played at this venue between Australia and Pakistan, which the former had won comfortably by 41 runs.
As of Sunday, with a 17 degree temperature, black clouds had outnumbered the white ones, with a cloudy weather experienced at Taunton so far.
The teams had a good practice session the previous day after a torrential downpour of rain on Thursday and Friday.
On match day however, the chances of rain drop down to mere 25%, and we are expected to have a complete 50-over a side match. The weather will remain cloudy, but the good news is that the sun will make appearance on Monday.

There are no showers predicted at the moment, for tomorrow's match at the County Ground, in Taunton.
Loading embed tweet https://twitter.com/alter_jamie/status/1140245202822672385?ref_src=twsrc%5Etfw
Recent form of the two teams
West Indies and Bangladesh are placed at the 6th and 8th spot of the points table respectively before the India vs Pakistan match which is being played at the Old Trafford. West Indies have just won one match so far in the World Cup out of four. Bangladesh too, have won just one match so far, are are two positions below the Windies only due to a poorer run-rate.
Both the teams lost their previous World Cup encounters, and would be itching to get on the groove before it is too late.
---