The Blind Side: Mohammad Amir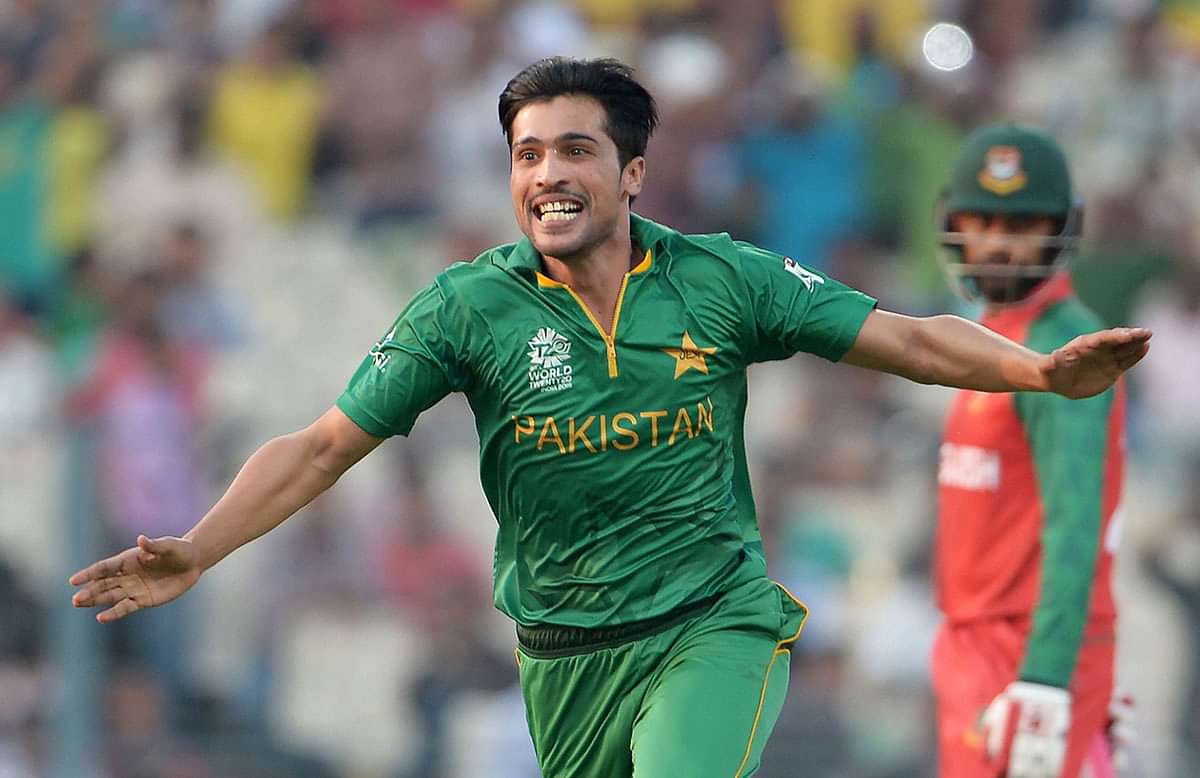 It is a usual day in Lahore. It is early November and the fog is in its full effect at 6 A.M in the morning. It is a big day for a young boy from a small village in Punjab(Pakistan) who has travelled to Lahore to try his luck and fulfill his potential. He also has an opportunity to meet his Idol, his hero whom he has imitated since his childhood while playing in the streets. He has been hailed by many in his district as the next big thing, "The Akram" of his generation, if you may. But you don't simply become Wasim Akram by having the skill to move the ball in mid-air, you also need the personality.
Mohammed Amir was born in Changa Bangial, a small village in Pakistan. Being the second youngest of the seven siblings in the family, he was not bombarded with responsibility of earning the bread early, and he spent most of his time playing and honing his bowling skills on the street. At the age of 11, like it usually happens in Pakistan, he was spotted terrifying batsman at a local tournament with his bowling and was invited to join the academy at Rawalpindi. His chance came early at the age of  15 when he was spotted by Wasim Akram and selected for Pakistan U-19 team which was about to tour England. The boy had started early on the path of greatness.
Mohammad Amir took great strides in his early career and was constantly terrifying batsman at the U-19 level. He terrorized the England and Sri Lankan batsman by taking plenty of wickets at an impressive average of 11. This was in 2008, and a year of great performance earned him a national Cap at T-20 world cup in England in 2009.
Amir, already on a wicket spree, dismissed Ravi Bopara with only his second ball in International cricket. He was a constant threat with his short skiddy bouncers which surprised the batsman and forced them to play rash shots and lose their wickets. Throughout the world cup, Amir was hitting the upper 140s. Amir didn't only arrive at International scene, he had announced himself in grand fashion.
After his impressive performance at T-20, Amir earned his test cap as he was selected for tour of Sri Lanka. He began solidly with taking big scalps and then in one year he had all big wickets in his bag of Ricky Ponting, Mahela Jayawardena and rest. He was influential in Pakistan winning the 2nd test match v/s Australia. At that moment, everything seemed bright about the young fast bowler. Ramiz Raja and even Wasim Akram had touted the kid to be more intelligent as a bowler than Akram at the age of 18. But they all knew little of what lay ahead.
Pakistan tour of England, summer 2010. Mohammad Amir blew away England's top order single single handedly at Lords. England's batsman couldn't figure him out. It was after some time that world cricket was watching swing bowling in full flow and everyone was enjoying it. It was like we had gone back a decade. Amir running in down the slope at Lords, bowling straight around off stump, ball pitches and swings out towards the slips at the same time kissing Andrew Strauss's bat. The ball goes to Kamran Akmal who doesn't fumble. It was like poetry in motion, everything seemed perfect for Amir. Pakistan had a star on their hands.
Come the 4th test. British tabloid, News of the world, alleged that Amir and other players from Pakistan did spot fixing. A video is then shown as proof of a person  Mazhar Majeed, who is shown saying the same about the players. An inquiry is setup and the players are found guilty in court of law. Amir, who the world was viewing as the next big thing, shatters everyone's dreams and is banned for 5 years from all forms of International cricket.
Success is not only about the skill. It is also about the way you carry yourself. Many players, who had better skills than rest, saw the glitter of the money and forgot the rest. This is where the personality and the mindset of players come into picture. It is about priorities, about how badly you want to be successful and what are you willing to sacrifice for it. Naseer Hussain and Michael Atherton expressed their views after the incident in local press that Amir should not be given a strict punishment due to his tender age. They thought the world cricket would be losing a potential superstar if that happened. Young players have melleable minds, they can be moulded as per say. It was during that time when he should have talked to his senior players, but what he would have done when his seniors like Salman Butt and Mohammad Asif themselves were digging dip in the match fixing business.
Mohammad Amir, got the permission to resume his cricket career in 2015, and is now back in England again to test the waters. He is a gem of a bowler which world cricket desperately needs and deserves. We all fans hope, he doesn't venture into the blind side again.
---