Top 5 Innings of Virat Kohli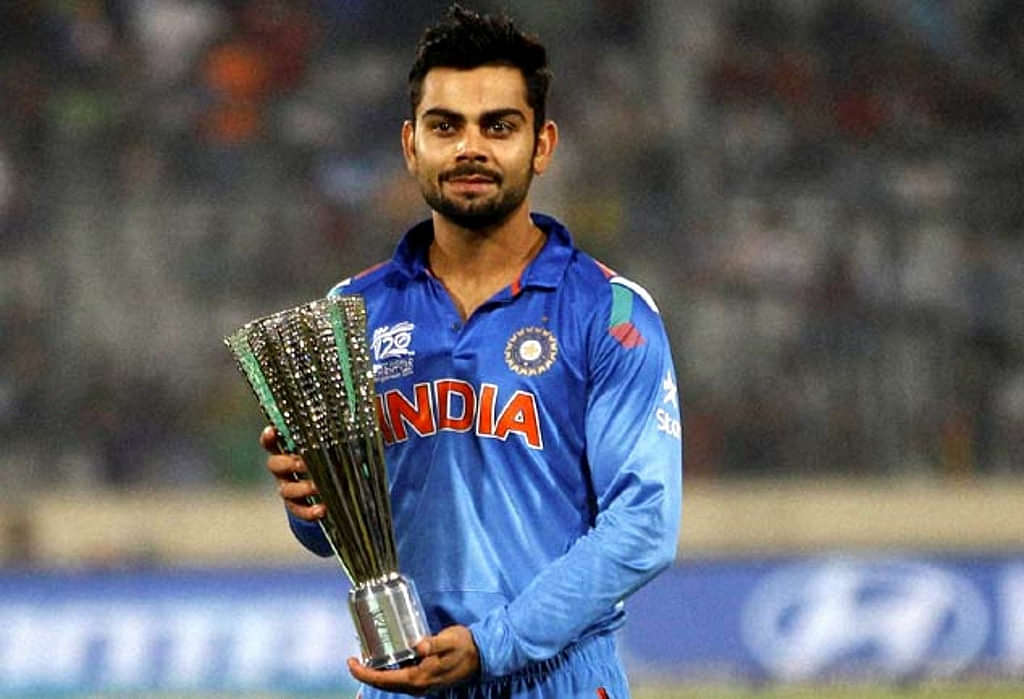 Virat Kohli is the man of the moment. Be it test cricket, one day internationals or T-20, he can cream bowlers for runs all day long. The young man from Delhi came into limelight in 2007, when he won India the U-19 world cup and was straightaway taken by Royal Challengers Bangalore in the inaugural season of IPL. Since then, he hasn't looked backed and taken the mantle of being the go to player for India in the recent past. Let's revisit his top 5 innings across all formats
1.)Double Trouble in Adelaide- 2014(115 & 144)
The all Important tour of Australia began with the test at one of the most scenic sporting venues around the world in Adelaide. With MS Dhoni out with an Injury, Virat Kohli took the reigns and boy, didn't he deliver. Australia posted a massive total of 517. Kohli was greeted by a bouncer first ball which hit his helmet and shook him up. Kohli took charge and scored a brilliant hundred, pulling Johnson in front of mid-wicket and sweeping Nathan Lyon in front of square with equal panache.
Australia setup a massive target of 364 to chase. India could have taken a passive route and drawn the game, but Kohli went for the kill and scored a breath taking 144. Every cricket expert and former players were in awe of him that day. The way he showed the skill to chase down the target was exceptional. He got out when India needed 60 more to win the test match, which could have been one of the best chases by an Indian team in history. Tail-enders could add just 11 more runs before succumbing and India lost a test match. Kohli took his batting to another level that day.

2.) 133* v/s Sri Lanka, Hobart Australia 2012
It seems like Kohli loves Australia. One of his all guns blazing innings came at Hobart, when India needed to win the match in 38 overs to stay alive in the tournament. India began badly and had themselves 321 to chase. Tendulkar came out strongly and scored a quick fire 39. After both Sehwag and Sachin were dismissed, Delhi Duo of Gambhir and Kohli took over and started smashing the bowlers around. Kohli with his trademark leg glance and cover drive kept scoring runs at quick pace. He lost Gambhir midway but was supported by Raina. Kohli scored a brilliant 133 without getting dismissed and ensured India chased down 321 in 36.4 overs. A truly delightful innings for all the cricket fans.
3.) 183 v/s Pakistan, Asia Cup, Mirpur, 2012
Oh,the way he played that day. India was up against their arch rivals Pakistan. India, again started badly and allowed Pakistani openers to score big and hence posting a total of 330 to chase down.
Also Read: 5 General Male Engineers who became successful Cricketers
Gambhir fell cheaply, but then Kohli had arrived. He was ready to take over the charge, and he did it in style. He demolished Wahab Riaz, continuously flicking him through the leg side, Riaz conceded 50 runs in his first 4 overs. Tendulkar and Kohli formed a partnership of 133 before Tendulkar got dismissed. Kohli continued his assault and further losses didn't seem to concern him. He scored a masterclass 183, and taught a lesson to all the cricket community in chasing down mammoth totals. This certainly ranks among his best one day century till date.

4.) 169 v/s Australia, Boxing Day Test Match, Melbourne, 2014
He seemed to do no wrong on that Australia tour back in 2014. After beginning the tour with hundred in each innings in Adelaide, Kohli didn't turn up for the test in Brisbane, getting dismissed cheaply in both the innings.
Cometh the hour, cometh the man. It was the all important boxing day test. Australia again scored big posting a total of 530 in first innings. India started solidly with Kohli arriving at crease with India at 108-2. As soon as he came, it felt like he was batting for an hour in the nets. He was so at easy, he started hitting all the aussie bowler in every part of the ground.
His fiery attitude was something the Aussies hadn't liked throughout the tour, and he again got involved in a spicy chit chat with Mitchell Johnson. At 88, Johnson found the outer edge of Kohli's bat, the ball was heading down the throat of Shane Watson,  until Watson dropped the dolly of a catch. Kohli went on to score 169, which is considered on of his better test hundreds.

5.) 82 * v/s Australia, Mohali, World T20 2016
Is there a better chases than Virat Kohli currently in world cricket. All the previous 4 innings written in this article, have been the ones in which India had a score in front of them. Be it test matches or one day, Kohli is seamless in each format.
Also Read: 5 Players who returned to their former clubs
He showed his presence of mind and temperament in all crucial do-or-die match in Mohali v/s Australia. Australia set a total of 161 in 20 overs to chase down for India. Kohli played patiently and had belief on his skills to take India out of  big ditch. Required run-rate had reached 12/over. It was the last throw of dice for Kohli, and what a way to win it for India. James Faulkner is considered one of the better death bowlers, Kohli took 19 of his over, without any difficulty. It was like he was batting in nets, with no real match situation. He was not done yet, next over he took 16 runs of Nathan-coulter-Nile.
That day, he played like he never doubted himself. India won with 5 balls to spare from a situation where they needed 47 off 24 balls.
Although T-20 is all about how quickly you can score runs, Kohli showed the world the importance of a cool head and self-belief.
---