Twitter erupts as Nathan Lyon rips apart the Indian batting line up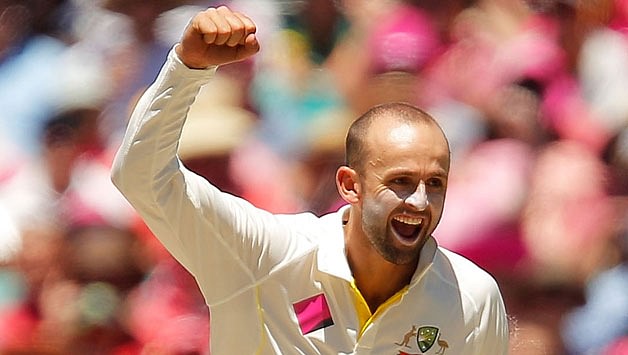 https://twitter.com/VirenderSehweg/status/837992870082588672When Graeme Swann and Monty Panesar showed India that they are no more champions of playing spin bowling, we expected that it was a one-off affair. But in the past week Nathan Lyon and Steve O' Keefe have shown the world that gone are the days when Indians used to dominate spin bowling.
While last week it was Keefe, today it was the guile of Lyon that ripped apart the Indian batting unit. Sublime presentation of the seam, multiple revolutions on the ball and some reckless shot making on the part of the Indian batsmen ensured that India were once again pegged back in this series. You could blame it on fatigue but then that would just be a lame excuse to cover up the incompetency of the Indian batsmen.
Here is how the world reacted to Lyon's heroics:
Today India was prepared for Steve O'Keefe and Nathan Lyon came out of the syllabus. #IndvAus #INDvsAUS

— Virat Kohli (@ViratKohli_King) March 4, 2017
https://twitter.com/harbhajan_singh/status/837989051130994689
https://twitter.com/hankypanty/status/837988116803817472
Lyon still says his effort in Adelaide in 2014 against India (12-286) was better than today but because of that Test's significance.

— Peter Lalor (@plalor) March 4, 2017
Indians are very emotional. They cried like anything on 2 brilliant performances
1. #Logan
2.#Lyon #IndvAus #INDvsAUS #Wolverine

— DR. GILL (@ikpsgill1) March 4, 2017
"Virat is one of the best players in the world I have ever come across and it was quite pleasing to take his wicket". Lyon

— Peter Lalor (@plalor) March 4, 2017
It's not a competition between India n Aus…. rather it's between O'keefe and Lyon 😉 #IndiaVsAus

— Chachcha_tumhare (@ashrafrulz) March 4, 2017
Remember Anil Kumble getting 7 wickets on the first day of a test match once and going "wow". Well, it is time to say "wow" to Nathan Lyon.

— Harsha Bhogle (@bhogleharsha) March 4, 2017
Sachin, Sindhu, Laxman made Warne look ordinary.

Kohli, Rahane, Pujara making Lyon look extraordinary.

Times they are a changing #IndvAus

— Ashish Magotra (@clutchplay) March 4, 2017
https://twitter.com/toyingwith_life/status/838062669617905664
https://twitter.com/GauravPrabhak/status/838054977595531264
---