Twitter reacts to Virat Kohli and Anushka Sharma's star studded Mumbai reception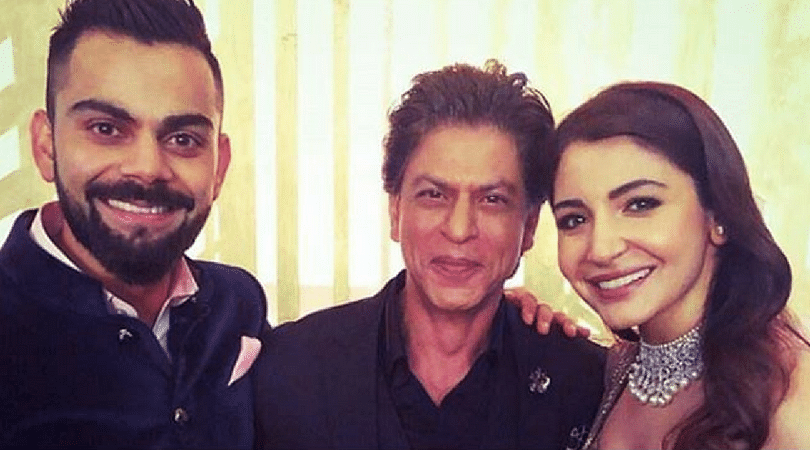 The second grand reception of one of the most celebrated couples in India right now, Virat Kohli and Anushka Sharma, came to an end tonight at the St. Regis Hotel in Mumbai.
The couple, who got married at an 800-year-old palace in Tuscany, Italy on 11th December, have been in the news throughout December.
The first grand reception of Virushka took place at the Taj Palace Hotel in New Delhi on 21st December, where several Indian celebrities turned up, including several Indian cricketers – Suresh Raina, Shikhar Dhawan and Gautam Gambhir – and the Prime Minister Narindra Modi.
The second leg of the reception took place tonight at the St. Regis Hotel's Astor Ballroom located in Mumbai, where many Bollywood and Indian celebrities were in attendance.
The newlywed couple graced the occasion, with Virat wearing a velvet navy bandhgala while Anushka donning a golden gown.
The former Indian captain, and Virat's go-to man under pressure, MS Dhoni, was also in attendance at the reception, with wife Sakshi and daughter Ziva. Among other cricketers present, was Sachin Tendulkar, who attended the function with his wife and daughter.
India's legendary fast bowler, Zaheer Khan was also in attendance with his wife, while Kohli's vice-captain, Rohit Sharma also arrived with his wife. Kohli's junior teammates of the Indian team were also present, with Yuzvendra Chahal, Axar Patel, and Kuldeep Yadav enjoying the night.
Footballer Sunil Chhetri and badminton player Saina Nehwal were also in presence at the Virushka reception, posing with the beautiful couple.
Many celebrities from the Bollywood fraternity also turned up at the celebrated reception, with many big names including Madhuri Dixit, Rekha, Karan Johar, and Varun Dhawan.
Katrina Kaif and her sister posed for a beautiful moment with the couple, while Ranbir Kapoor enjoyed a candid moment with his friend, Anushka.
The Bachchan family was also in attendance, along with the likes of Siddharth Malhotra and Kangana Ranaut also present.
However, the King of Bollywood, Shah Rukh Khan once again stole the spotlight, as the legend danced candidly with the newlywed pair, while also making Virat say his famous "Jab Tak Hai Jaan" dialogues to Anushka.
HERE ARE SOME OF THE BEST TWEETS :
Loading embed tweet https://twitter.com/hari_durairaj/status/945680704603504640?ref_src=twsrc%5Etfw
Loading embed tweet https://twitter.com/PUNchayati/status/945695545074450432?ref_src=twsrc%5Etfw
Loading embed tweet https://twitter.com/iPriyankaBhatt/status/945692157322711041?ref_src=twsrc%5Etfw
Loading embed tweet https://twitter.com/vivek17b/status/945699198552432641?ref_src=twsrc%5Etfw
Loading embed tweet https://twitter.com/adyararun01/status/945696141386989568?ref_src=twsrc%5Etfw
Loading embed tweet https://twitter.com/itsdhruvism/status/945699514765029377?ref_src=twsrc%5Etfw
Loading embed tweet https://twitter.com/budhaism/status/945699539561758721?ref_src=twsrc%5Etfw
Loading embed tweet https://twitter.com/deepikareema/status/945699070131109888?ref_src=twsrc%5Etfw
Loading embed tweet https://twitter.com/imPriyaVK/status/945755041092198400?ref_src=twsrc%5Etfw
Loading embed tweet https://twitter.com/imPriyaVK/status/945737249634709504?ref_src=twsrc%5Etfw
Loading embed tweet https://twitter.com/ViratCrew/status/945736894867841024?ref_src=twsrc%5Etfw
Loading embed tweet https://twitter.com/ViratCrew/status/945725390802206721?ref_src=twsrc%5Etfw
Loading embed tweet https://twitter.com/ViratCrew/status/945724186793689090?ref_src=twsrc%5Etfw
---