Twitter reacts as Virat Kohli scores his 33rd ODI century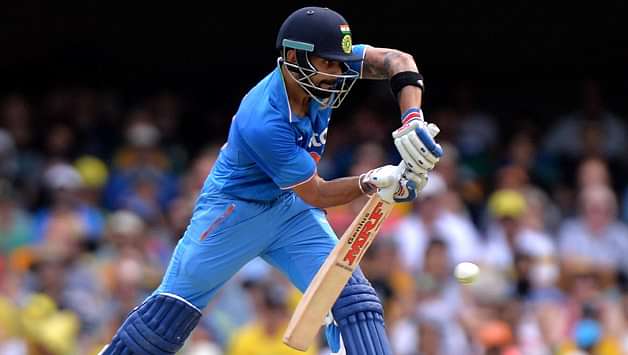 Yet another run chase, and yet another match winning hundred from Virat Kohli!
The Indian skipper is simply unbelievable in run chases, as Virat Kohli once again steered his team to a comfortable victory against South Africa in Durban.
Kohli scored a brilliant 112, as the Indian skipper guided India to a really good win. India were in a spot of bother after they lost both Dhawan and Rohit in quick succession.
Ajinkya Rahane though had different plans, as the Mumbai batsman played a lovely 79 off 86 deliveries to put on a record breaking partnership for India.
Eventually it was MS Dhoni who hit the winning runs for India, as India took a 1-0 lead in the six-match series.
Here are the twitter reactions!
Loading embed tweet https://twitter.com/sumanthraman/status/959126271266496518?ref_src=twsrc%5Etfw
Loading embed tweet https://twitter.com/VVSLaxman281/status/959129645093240832?ref_src=twsrc%5Etfw
Loading embed tweet https://twitter.com/Dude_Cricket/status/959133232661913600?ref_src=twsrc%5Etfw
Loading embed tweet https://twitter.com/rohithcelluloid/status/959128711516868609?ref_src=twsrc%5Etfw
Loading embed tweet https://twitter.com/PeterTerry3/status/959126382696595456?ref_src=twsrc%5Etfw
Loading embed tweet https://twitter.com/ikpsgill1/status/959133419853803521?ref_src=twsrc%5Etfw
Loading embed tweet https://twitter.com/BrokenCricket/status/959133980640518144?ref_src=twsrc%5Etfw
Loading embed tweet https://twitter.com/bhogleharsha/status/959128061122940928?ref_src=twsrc%5Etfw
---