"Instead of F*cking Bashing Somebody Just…": Kevin Nash Once Defended Dwayne 'The Rock' Johnson Over Joe Rogan's Criticism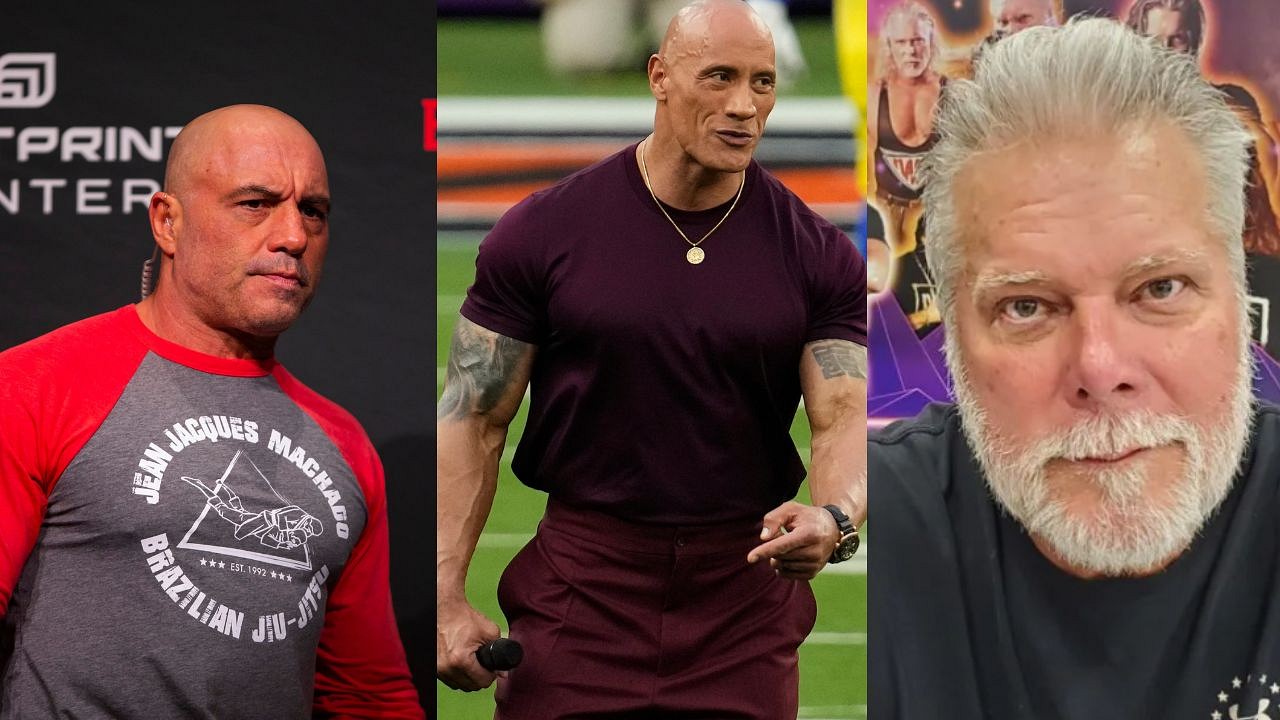 Joe Rogan, the UFC color commentator, once accused the Hollywood star Dwayne 'The Rock' Johnson of steroid use. However, it backfired when the WWE legend Kevin Nash criticized Rogan for his statements.
The UFC color commentator is one of the most controversial UFC personalities. Now, this is because the part-time stand-up comedian shares his unfiltered views on various topics on his widely heard podcast show, The Joe Rogan Experience. However, this trait of Rogan has several times landed him in trouble.
Kevin Nash came to support of Dwayne Johnson against the criticism by Joe Rogan
As aforementioned, Rogan never shies away from talking his mind on his show the JRE. Similarly, during one of his episodes, Rogan was talking about Liver King. The latter has several times stated he is natural. However, last year, the social media star got exposed for his steroid use and apologized to the fans via a YouTube video.
ALSO READ: $1.5 Million Spending of LeBron James Once Shocked $120 Million Worth Joe Rogan
Touching on the topic, the UFC color commentator accused Dwayne Johnson of using heavy steroids. Also, similar to the Liver King, Rogan wanted 'The Rock' to publically admit his usage of steroids to obtain his physique.
However, Rogan's statement didn't sit well with the WWE legend, Kevin Nash. He, later, addressed Rogan's views in his own podcast, Kliq This. In the episode, Nash provided information about his own use of PEDs. He was also of the opinion that 'The Rock' is probably taking only the substances his doctors advised him to take.
Further on, Nash added that 'The Rock' is aware of what he is doing and also follows a strict workout regime and diet. Hence, he advised Rogan to look past the other things and praise the Hollywood star's discipline.
"I watch him, he doesn't train super heavy, but strict super sets with constant tension on the muscles. [He] knows what he's doing. [He's] in his own zone, gets out of there, and the rest of the day, he's eating optimally. He's not missing meals, he's not missing macros. To look the way he does all the time, instead of f*cking bashing somebody, just tip your hat to their discipline," Nash said.
Rogan accused UFC superstar Conor McGregor
Not just 'The Rock,' the UFC commentator has also previously called out UFC star Conor McGregor for using steroids. On his road to recovery from a leg injury in 2021, McGregor has gained massive weight.
Thus, many are speculating that 'The Notorious' might be using banned substances. Additionally, his exit from the USADA testing has only added to the doubts of people.
ALSO READ: After Refusing '$8 Million Offer' From UFC, Francis Ngannou Receives Advice From 'Richest' Fighter Conor McGregor
Rogan, in one episode of his podcast, stated that McGregor is doing enough steroids that his piss might melt the USADA testing cup. However, it again backfired as McGregor clapped back at Rogan on Twitter. But he later deleted the tweet.
What are your thoughts on Rogan's accusation? What do you think about Kevin Nash's stand?
---