Khabib Nurmagomedov 'Rocks' Muhammad Ali's Quote as He Returns to Training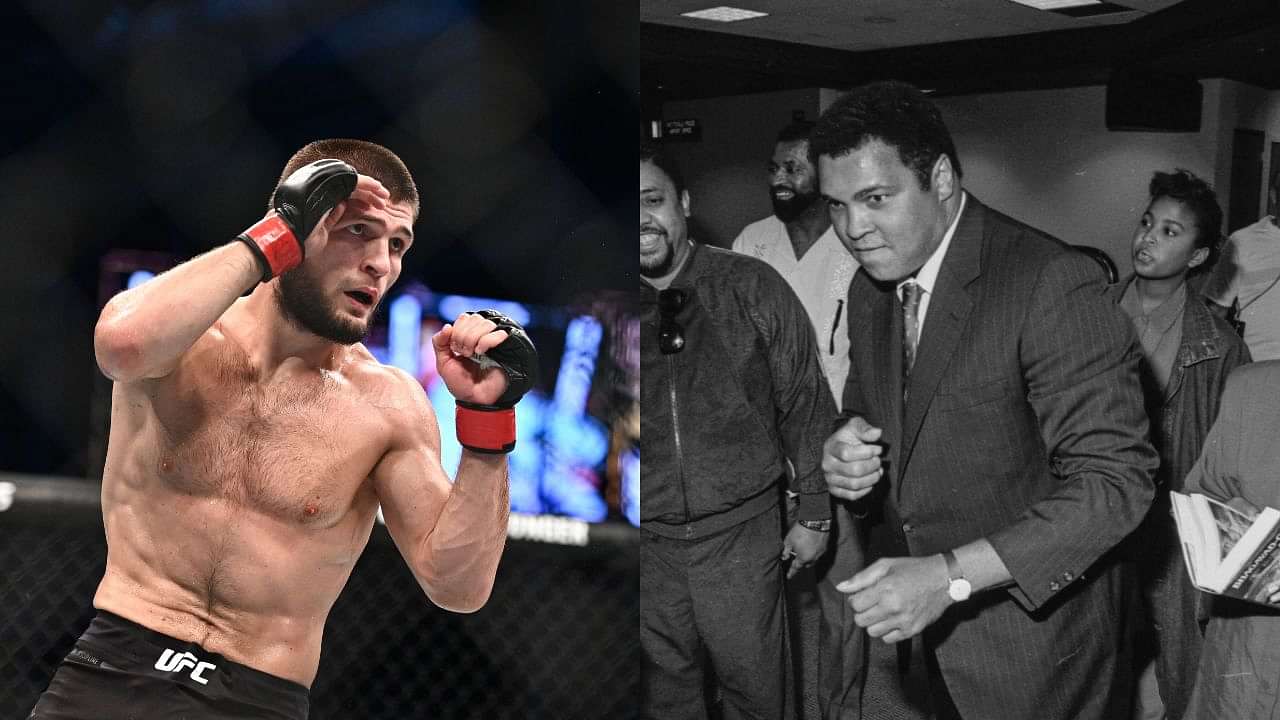 The former UFC lightweight champion Khabib Nurmagomedov is widely regarded as one of the greatest ever to have graced the MMA octagon. However, even elite athletes like him are inspired by the GOATs of the previous generation. One such great athlete in combat sports was Muhammad Ali, whose greatness transcends the boxing realm. 'The Eagle' has admitted his admiration for Muhammad Ali on several occasions. His respect was also evident from a recent fan page post, where the Dagestani donned a t-shirt with the boxer's quote.
The dominant lightweight retired back in 2020, but he never cut ties with MMA completely from his life. 'The Eagle' is often captured training with his friends and teammates even after retiring. However, earlier this year, the Dagestani took a hiatus from the sport.
Khabib Nurmagomedov paid homage to Muhammad Ali
At the beginning of 2023, it was reported that Khabib Nurmagomedov had taken a complete break from MMA. He stopped training and even coaching his fellow athletes, due to personal reasons. However, it appears that the Dagestani has returned to training himself as he posted a few videos of his session on Instagram stories.
Loading embed instagram https://www.instagram.com/p/CxNwsIYyxiq/?utm_source=ig_embed&utm_campaign=loading
Following that, a fan page Nurmagomedov posted a few pictures of the former lightweight champion sporting an Ali T-shirt and working out in a gym. The quotes on his T-shirt read:
"Float Like a Butterfly, Sting Like A Bee."
Afterward, the former UFC champion also posted the same pic paying homage to the legendary boxer on his Instagram handle. Due to Dagestani's dominant and successful 29-0 career in MMA, he is often compared to Ali. However, the Dagestani has always rejected this comparison because of his respect for the boxing icon.
'The Eagle' rejects Muhammad Ali's comparison
Both Ali and Nurmagomedov hold prominent positions in combat sports and many current and upcoming fighters take inspiration from them. Whilst they ruled their respective sport during their time, Ali brought a cultural change in his sport, and the Dagestani was known for his humbleness and domination.
However, in an interview posted on his Instagram account back in 2020, the former UFC lightweight champion disapproved of the comparisons made between him and Ali by stating that the people are wrong for doing so. He said:
"I think comparing Ali and me is probably wrong, only if we talk about the fact that we are both champions and both Muslims. But all the things he did outside the ring."
Loading embed instagram https://www.instagram.com/tv/CFIOAI7KiLe/?utm_source=ig_embed&utm_campaign=loading
Nurmagomedov also referred to how Ali was a voice for his community and stood up for them. The boxing icon achieved a lot inside and outside the ring. Ali even changed the lives of several people and stood firm for his morals. Thus, 'The Eagle' believes that he does not have the same level of influence compared to the heavyweight.
Both 'The Eagle' and Muhammad Ali have had stellar careers in their respective sports. However, their legacies as athletes differ. Nevertheless, their careers and achievements will undoubtedly continue to inspire generations of athletes to come.
---