UFC 291: Dustin Poirier vs. Justin Gaethje- What Is BMF Belt in the UFC?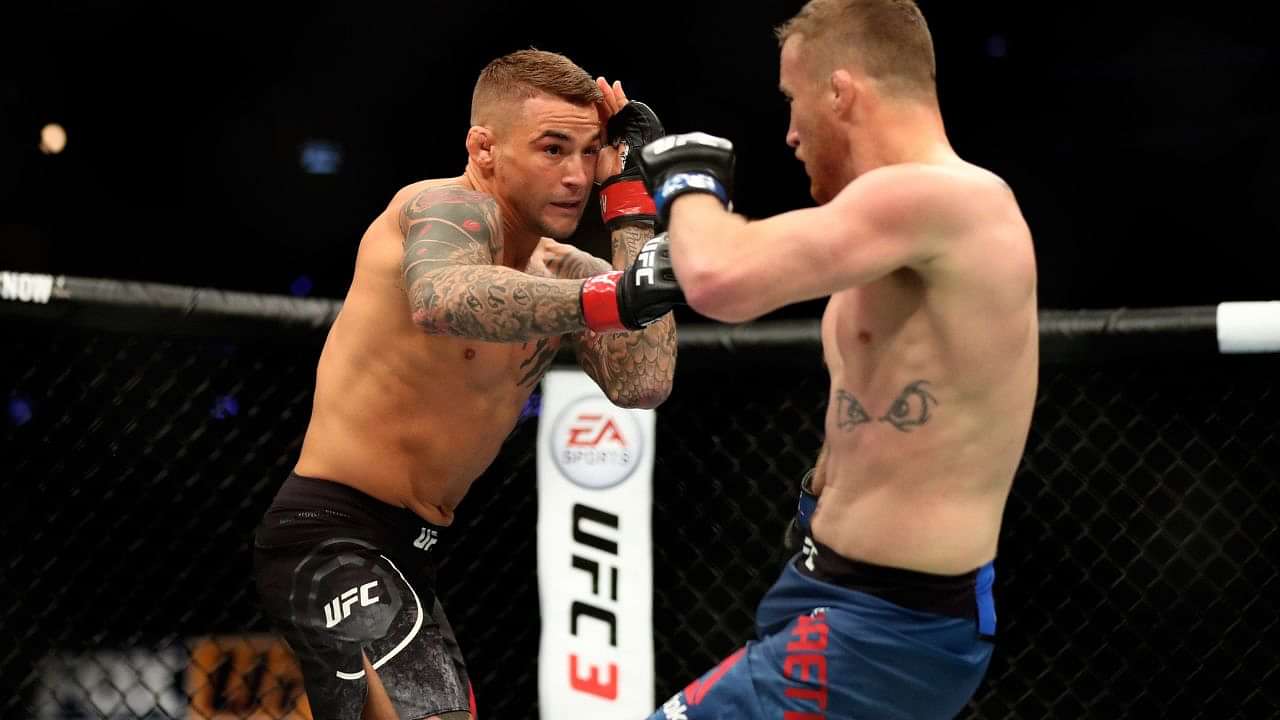 UFC is famous for its awe-inspiring fights that leave fans on the edge of their seats. The promotion has gained its reputation by signing ambitious young fighters from around the world, establishing training institutes in various countries. However, they also don't hesitate to acquire established superstars from other organizations, like Michael Chandler and Ben Askren. This approach ensures a constant stream of exciting matchups, which led to the creation of the 'Baddest Motherfu*ker' belt.
Throughout its history, the UFC has been home to numerous fierce and intimidating fighters. In fact, at one point, they even had Mirko Cro Cop, a former head of an Anti-Terrorist Squad in Croatia, competing in their ranks. This just goes to show the level of intensity that some fighters bring to the Octagon. Furthermore, legendary fighters such as Jon Jones and Kamaru Usman strike fear into the hearts of their opponents, earning a reputation for their ruthless fighting styles.
There are fighters who are not able to clench the division title, yet they are on a legendary status. Hence, it is only logical for the UFC to introduce a belt like the BMF title to honor fighters who may not hold a championship belt. Not every fighter achieves the dream of becoming a UFC title holder, despite their relentless dedication and hard work. However, the BMF title holds a special significance for both the fighters and fans worldwide.
UFC 291: Dustin Poirier vs. Justin Gaethje
Fans will witness an electrifying showdown on July 29 in Salt Lake City as two striking superstars, Justin Gaethje and Dustin Poirier, collide once more. In their previous fight Poirier took the win and Gaethje will look to settle scores this time. Both fighters have previously held the UFC Lightweight interim championship, but unfortunately, they fell short in their encounters with the dominant Khabib Nurmagomedov.
Their paths cross again as they continue their pursuit of the ultimate lightweight title. Poirier comes off a victory against Michael Chandler, showcasing his skills and resilience. Meanwhile, Gaethje displayed his clinical striking prowess with a notable win over Rafael Fiziev in his most recent outing. This time, they will enter the Octagon to contend for the esteemed BMF title.
Will we see Conor McGregor fight for the BMF Belt?
In an exciting matchup, Conor McGregor and Michael Chandler, both coming off recent losses, are set to collide. Eager to bounce back, these fighters have their sights set on climbing their way back to the top and earning a shot at a title fight. McGregor, a colossal superstar in combat sports, will face off against Chandler, who has also carved his name as a prominent figure in the industry.
Both McGregor and Chandler possess formidable striking skills, making this showdown even more enticing. The winner of this bout could potentially find themselves in contention to face either Dustin Poirier or Justin Gaethje in the future. In fact, the victor might even defend their BMF belt against McGregor or Chandler, as there has been a longstanding feud between McGregor and Poirier. Having already faced each other three times, both fighters have expressed interest in a potential fourth encounter, adding another layer of anticipation to the mix.
---