"You're never gonna get that rematch": Coach Javier Mendez weighs in on the possibility of a rematch between Khabib Nurmagomedov and Conor McGregor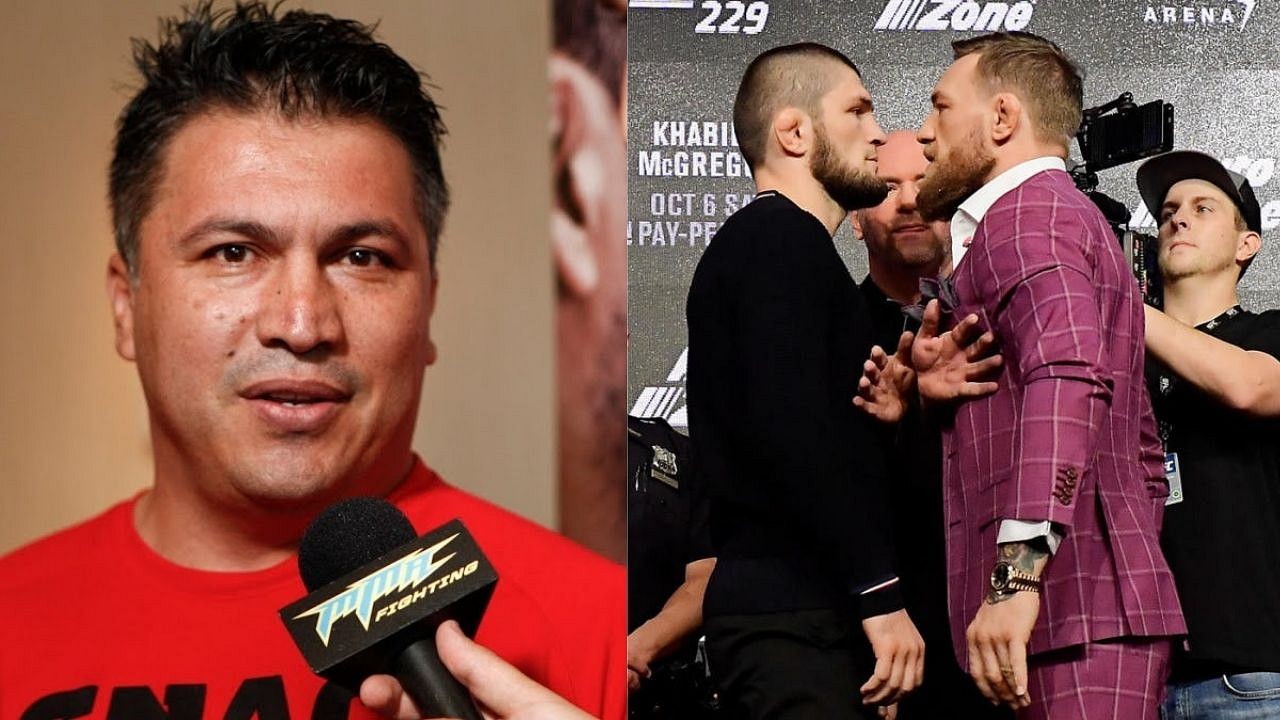 Khabib Nurmagomedov's coach Javier Mendez shares his opinion on the probability of a rematch between Khabib Nurmagomedov and Conor McGregor. 
In the run-up to the grand event that was UFC 257, Khabib Nurmagomedov met with UFC president Dana White, who disseminated the message that Khabib is leaving the window open for a return and a specular performance can give him objective to come back and defend his title.
While it seemed that UFC was hellbent on pushing the rematch between Khabib and Conor McGregor but, what transpired at UFC 257 has apparently hampered all the plans. At the event, Dustin Poirier secured a scintillating TKO win over McGregor and thereby became the undisputed No.1 contender for the Lightweight title. Had it gone the other way round, the path for the much-awaited rematch might have curtailed to a measurable distance instead, it is now turned into a distant dream.
Though Nurmagomedov had left the onus on the top Lightweight prospects to showcase him something special, however, Nurmagomedov's coach  Javier Mendez believes that even if McGregor would have prevailed in the match against Dustin, even then Khabib might not have considered fighting him again.
Speaking to Submission Radio, Javier Mendez expressed his thoughts on Khabib's future, a potential rematch with Conor McGregor, and revealed what advice he would give to Khabib.
Also Read: Henry Cejudo shows what a face-off with Francis Ngannou would look like
'Hold Out For GSP or Retire'
"I didn't even know if [Conor] was gonna do great that Khabib would even fight him, cause he's gotta ask his mother's permission first," Mendez said. "You guys gotta remember, the key thing is that he has to ask his mother too for permission. I didn't see GSP being offered, and I thought the only way he was gonna come out of it was if GSP was in that picture. But based on what happened, I don't see why he would want to come out and fight anybody. Why? This fight with Dustin is not gonna motivate him. He's not looking at the money aspect of it.
"But if they can put GSP on the table, maybe there's a chance there. And I'm not saying it will happen, because I don't know, but I'm just saying GSP might be the only one. I've always thought it was GSP, because that's what his father wanted, and I think if they can get that one worked out and he can get his mother's permission, I think that one could work. But I don't think anybody else is gonna work. Period."
"If he asked my opinion, I would say hold out for GSP or retire," Mendez added. "That's what I would tell him. But he's never asked me, so that conversation never took place."
Also Read: UFC 257 PPV Buys: Where Does UFC 257 Stand In The List Of All-Time Highest-Grossing PPVs?
Coach Javier Mendez weighs in on the possibility of a rematch between Khabib Nurmagomedov and Conor McGregor
"You're never gonna get that rematch," Mendez said. "Just like you're never going to get the Tony and Khabib fight. That's never gonna happen either. It's not gonna happen. I mean, Khabib doesn't need it. He seems fulfilled. And like I said, I think the only juicy part for him is what his father wanted, GSP. I've said it many times.
"And who knows, even that might be out of the question now. Maybe GSP doesn't want it, maybe Khabib don't want it now. I don't know, cause I never talked to Khabib about what he wants, I've always listened to him."
"It was nothing closely remotely to a camp," Mendez said. "He just [said] coach, 'Let's work pads.' And I go, 'Why?' And he goes, 'Just to work.' And I go, 'Bullsh*t, you might be thinking about it.' And he goes, 'No, no, I just want to train.' I go, 'Alright, whatever. I don't care, I'll train you anyways it doesn't matter.' You know, he wants to fight, he doesn't want to fight, I'll train him whenever he wants.
"I felt he was interested in a potential match if it was the right one, I did feel that. Otherwise, I don't think he would have asked for me to train him. But I think after the performance of what happened, I don't think there's any interest anymore, period. And I could be wrong, but I don't think there is."
Click Here For More UFC News
---
Share this article